After hearing fantastic things about independent brand Physical Drop, I knew I had buy one of their dresses. The brain child of the visionary designer Kuniko Kato, Physical Drop is known for its inclusive sizing, ease of care, and versatility. The brand combines all things I love from brands like Innocent World and Victorian Maiden, with a focus on gorgeous details like lace and construction rather than prints. I took the plunge and purchased a dress through Wunderwelt.
The dress I purchased was the Shirring Tiered Jumperskirt in "Navy and Grey Stripe". I agonized over this decision. I love the green colorway, but the color was listed as mint, and I couldn't find any worn pictures of it. However, I was afraid that the color would be "Easter egg" rather than dusty mint because I know that mint would not work with my wardrobe. Ultimately, I went with this colorway because I was confident my wardrobe had many items that would go well with it.
Ordering
I placed my order on Saturday February 22, 2020. The listing stated that the dress might take 5-7 days to ship. On Wednesday, March 4, approximately 7 days after I placed my order, I emailed Wunderwelt asking for an update. On Thursday March 5, Wunderwelt emailed me to let me know they hadn't received the dress from the brand. The next day, March 6, I received a notice from Wunderwelt that my order had shipped. I received my package on Saturday March 14. 
Wunderwelt has a notice on their website that shipping throughout Japan has been delayed because of the COVID-19 virus, but I also think that Wunderwelt Fleur doesn't have Physical Drop items in stock. This wasn't a problem for me, but it might be easier to order directly through Physical Drop's website if you need a dress in a hurry. I ordered through Wunderwelt because I had points saved up I wanted to put towards the dress. 
For reference, my measurements are bust 92 cm, waist 72 cm, height 162 cm. 
Details and Fit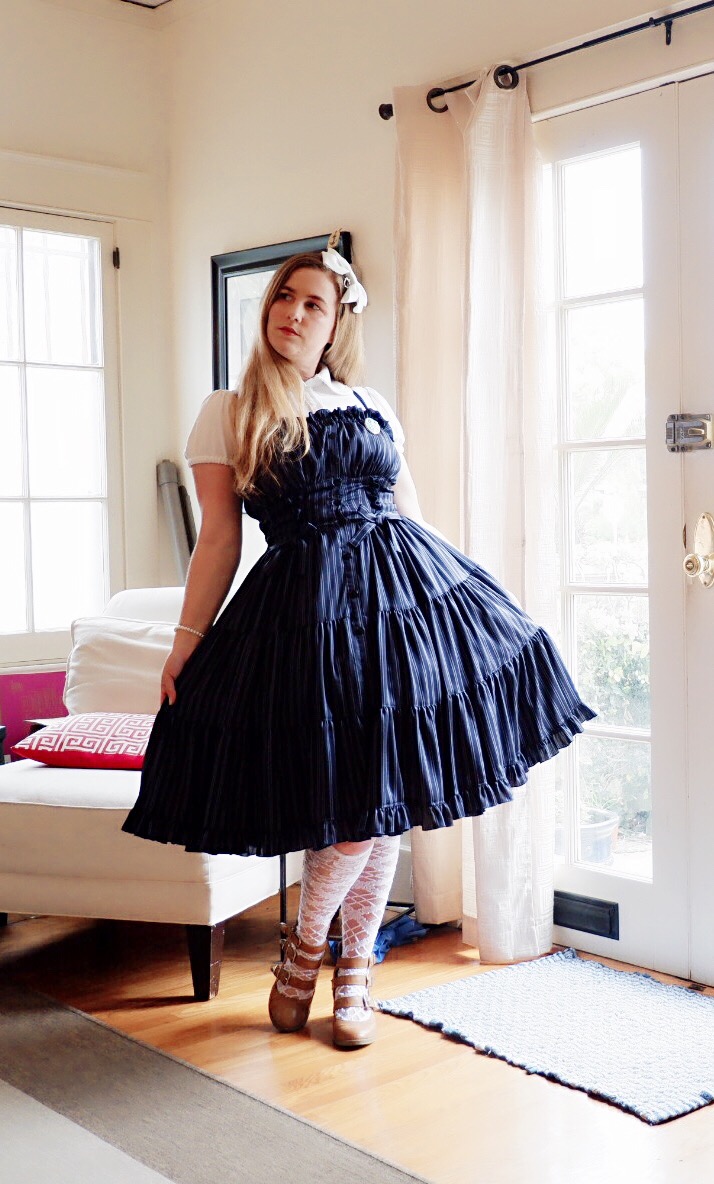 The dress is printed chiffon with blue and grey stripes. The dress is lined with a luxurious blue satin that feels super soft on the skin. The interior seams are finished with serging and the ruffles have rolled hems. There are buttons that begin just at  the center bust and run all the way down to the hem of the skirt. The buttons are plain plastic buttons, and the bows are attached to straight bar pins. The shoulder straps/neck ties are self fabric. There is full back shirring and elastic along the top seam so there is no gaping at the bust.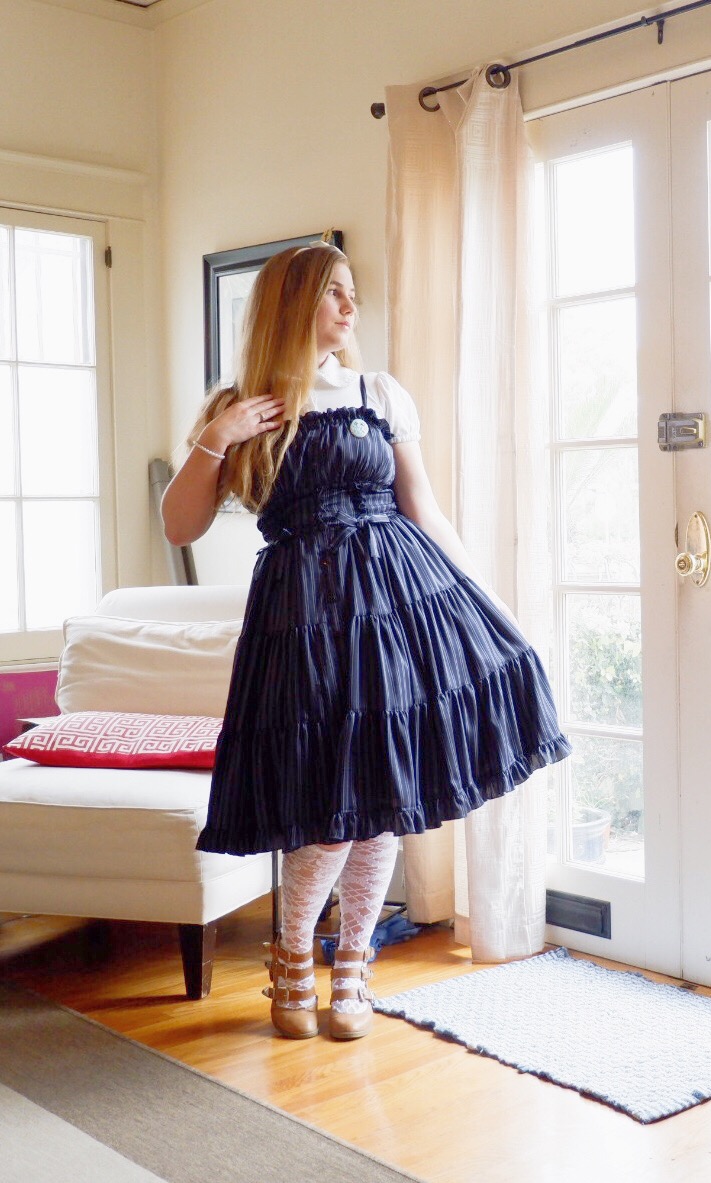 Change it up
One of the biggest selling points to me for this dress was how customizable it is. It features neckties, removable waist ties, and two clip on bows. The back has shirring, so one size will fit many. The buttons open the front of the dress to show off an underskirt. Stock photos from Physical Drop's Twitter also show this dress with one side of the skirt pinned up. 
Though the shirring is very generous, I wouldn't recommend this dress for larger sizes. The biggest limitation on the size of this dress is the buttons down the front. They allow for the entire front of the dress to open up, but when closed, the buttons will strain at the upper stomach area for those with larger measurements.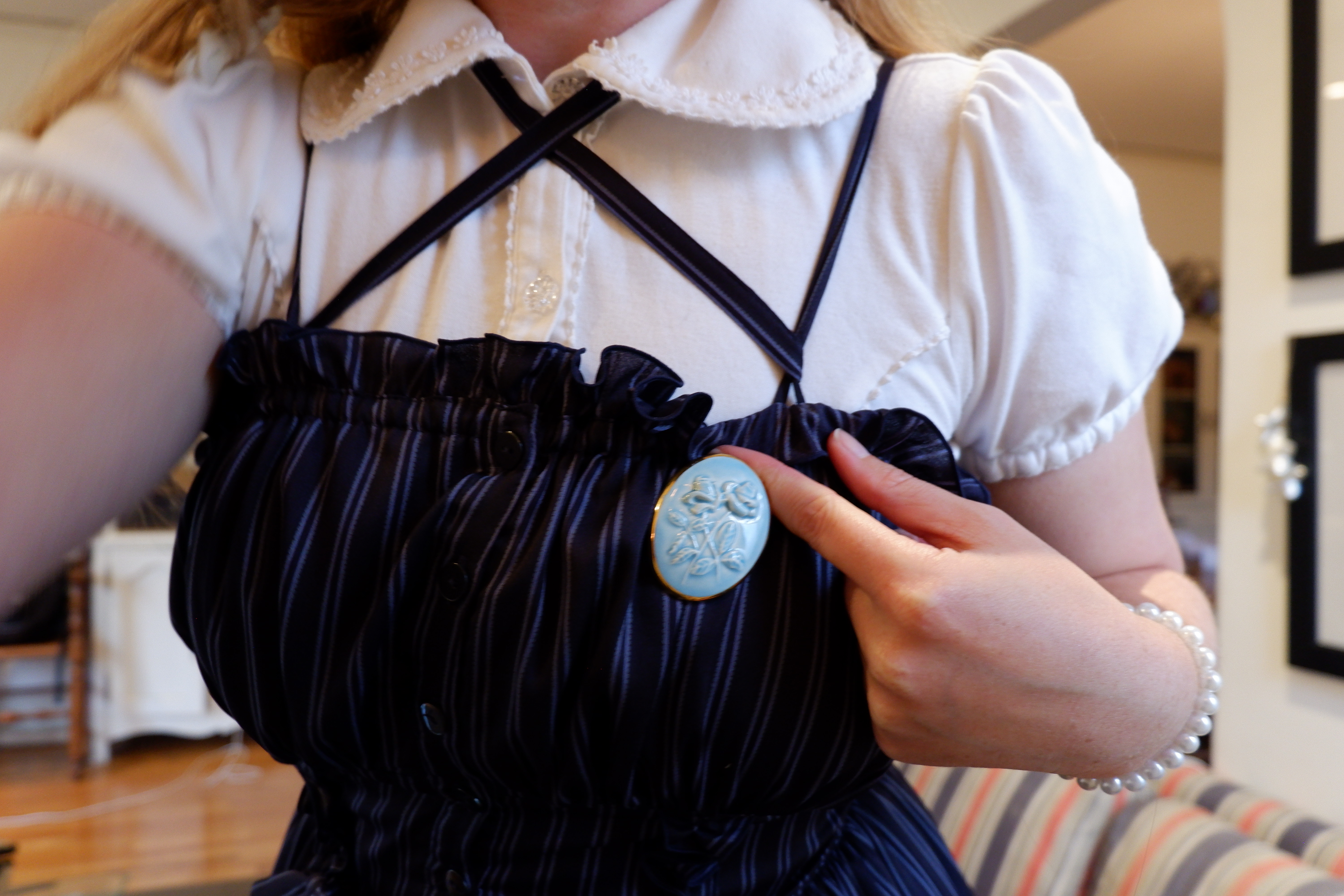 The most interesting feature on this dress are the neck ties. I have only ever seen removable neck ties, so I was surprised to find that the neck ties are sewn into the back and run through two loops at the chest before crossing around the neck. This means that this dress can hit you wherever you feel most comfortable, allowing for people with broad shoulders or larger busts to adjust the dress as necessary.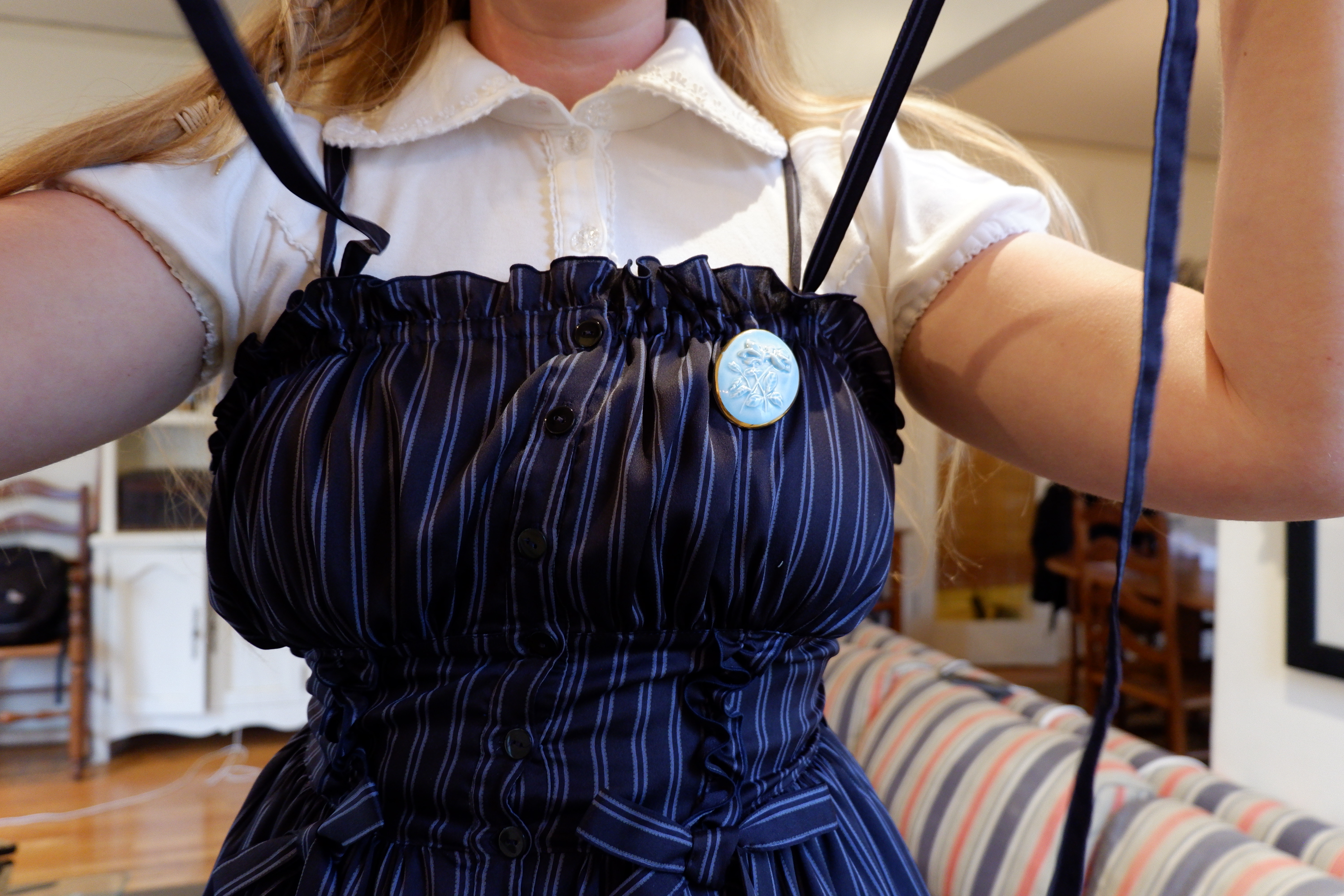 The length of the dress is just below my knees, so I imagine that even someone taller than me could comfortably wear this dress without an underskirt or peeking bloomers. 
Final thoughts
Though this dress has lots of customizable pieces, it is also an extremely comfortable piece to wear. The straps allow for complete range of shoulder movement. The shirring along the top means that your dress will hug you tightly without strangling you. Best of all, like all Physical Drop pieces, its machine washable, making it a great staple for everyday or casual wear. 
Obviously, non-printed dresses don't appeal to everyone, but if you are a fan of Innocent World, Victorian Maiden, or Mary Magdalene, I recommend Physical Drop. The details, versatility, and quality of material definitely make this brand worth your consideration. 
By day, Jenna is a legal professional living in Los Angeles, California. By night (and weekends), she is a frill wearing monster who loves Innocent World and lolita indie brands. When she isn't taking mirror selfies of her coordinates, she enjoys reading comic books, playing board games, and snuggling with her pup, Lily. You can see her mirror selfies on her instagram @lovelylaceandlies and contact her at lovelylaceandlies@gmail.com.