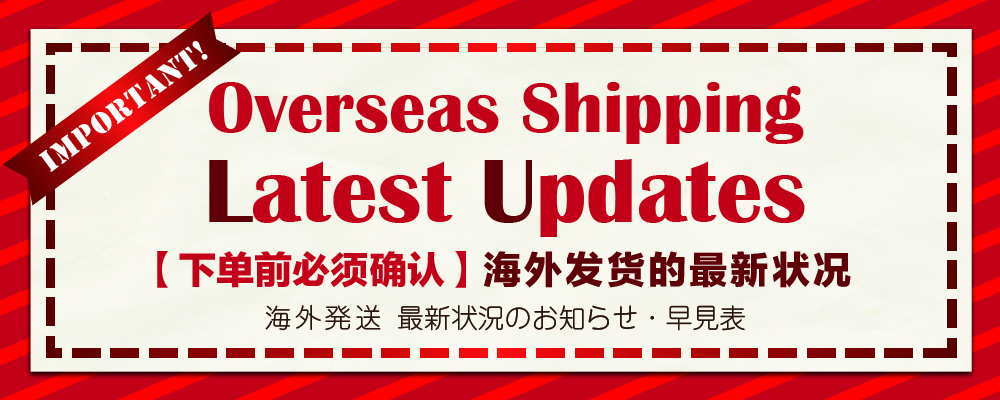 International shipping is currently disrupted due to the ongoing global COVID-19 pandemic.
Please check which shipping methods are available for your country  before placing an order.
If your country is not on this list please contact us before placing an order.
Order cancellations are not accepted.
The only available alternative shipping method for countries to where regular EMS and ePacket shipping is suspended is Yamato.
We do not offer DHL, UPS, FedEx or any other additional shipping method.
If you need a different shipping method than the ones we offer, we suggest finding a package forwarding service that fits your needs.
Orders to countries where neither of the three shipping methods is available currently cannot be shipped. This includes Canada and Russia. Any orders from these countries will be held until regular shipping resumes.
*For Canadian customers: We are happy to ship your orders to your family/friends in the US if you prefer. Please arrange shipping from the US to Canada yourself.
It is entirely unknown when regular shipping will be available again for any of the affected countries. We do not have an estimate.
Yamato shipping cost is mostly calculated by box size, so shipping big items like full-size umbrellas, big bags like heart bags, long boots and stiff hats like straw hats is very expensive to any country. We recommend having these items held until regular shipping resumes.
Yamato shipping is comparable to EMS shipping in price for most orders to the US, Australia (depending on order size and type of items ordered), but can get very pricey for orders to Europe, the Middle East and South America. If you are unsure please check shipping prices on the Yamato homepage before ordering.
If you have any questions at all please contact us before placing an order. Order cancellations are not accepted.
Thank you for your cooperation and understanding.
Countries/Territories
EMS
ePacket
YAMATO
AUSTRALIA
×
×
○
AUSTRIA
×
○
–
BELGIUM
○
○
–
BRAZIL
×
×
×
Yamato not available for private individuals
CANADA
×
×
×
DHL Shipment available
CHILE
×
×
△※
Yamato available for a limited number of regions (details)
CHINA
详情请戳我
CROATIA
○
○
–
CZECH REPUBLIC
×
○
–
DENMARK
×
○
–
ESTONIA
○
○
–
FINLAND
×
×
○
FRANCE
○
×
–
GERMANY
×
×
○
GREECE
○
○
–
HONG KONG
○
○
–
HUNGARY
×
○
–
IRELAND
○
○
○
ISRAEL
×
×
△※
Yamato available for a limited number of regions (details)
ITALY
×
×
△※
Yamato available for a limited number of regions (details)
LATVIA
×
○
–
LITHUANIA
×
○
–
MACAO
○
○
–
MADAGASCAR
○
○
–
MALAYSIA
○
○
–
MALTA
×
×
△※
Yamato available for a limited number of regions (details)
MEXICO
○
○
–
NETHERLANDS
×
○
–
NEW ZEALAND
○
○
–
NORWAY
×
○
–
PERU
×
×
△※
Used items not permitted
PHILIPPINES
○
○
–
POLAND
×
×
○
PORTUGAL
×
○
–
REPUBLIC OF KOREA
○
○
–
ROMANIA
×
×
△※
Yamato available for a limited number of regions (details)
RUSSIAN FEDERATION
×
×
×
Yamato not available for private individuals
SAUDI ARABIA
×
×
×
Yamato not available for private individuals
SINGAPORE
○
○
–
SPAIN
○
○
–
SWEDEN
×
○
–
SWITZERLAND
○
○
–
TAIWAN
○
○
–
THAILAND
○
○
–
TURKEY
○
○
–
UKRAINE
×
×
×
Yamato not available for private individuals
UNITED ARAB EMIRATES
×
×
△※
Yamato available for a limited number of regions (details)
UNITED KINGDOM
×
×
○
UNITED STATES
○
×
–

━━━━━━━━━━━━━━━━━━━━━━━━━━━━━━━━━━━━━━━━━
・中国大陆的订单默认寄【包税团发】←不需要写备注
EMS/ePacket虽然现在是恢复了,不过速度依旧堪忧,海关的问题也还是存在。
所以无论下单时选的什么发货方式,
中国大陆的订单依旧默认【包税团发】以保证不会被税,付完运费后3~4周左右到国内
・实在想发EMS/ePacket的请在下单时的【特别说明】框内填写
※选择EMS/ePacket发货的话万一被税,缴税问题我们不参与,也不予退运。
・美国和澳洲的订单我们可以发黑猫国际快递,
运费会稍微贵一点但是速度还算不错的,
所以愿意的话也请在下单时的【特别说明】框内填写
・加拿大,俄罗斯,智利等地EMS/ePacket停止收件了所以无法发货。
请联系客服改为发中国国内地址或者等待邮政业务再开。
・其他国家地区一律选的什么发货就是什么发货(寄送速度和是不是能发请仔细阅读一览表)
━━━━━━━━━━━━━━━━━━━━━━━━━━━━━━━━━━━━━━━━━

Wunderwelt Libreはロリータ・ゴスロリ・ゴシックファッションに関する情報発信メディアです。BABY,THE STARS SHINE BRIGHT・ALICE and the PIRATES・Innocent Worldなど人気ブランドの新作紹介やコーディネートから最新のトレンドをチェックできます♪