In the age of social media, there are so many ways to connect with fans of lolita fashion, from Facebook groups to Instagram to tumblr. Its even more fun to share your own ideas for coordinates with others. However, not everyone wants to get picture perfect and pose for a #ootd shot. Luckily, you can create flatlays or floordinates. Whether you don't want to post your face, can't find a photographer, or just don't feel like doing your make-up, here are some tips to make your coordinates pop without wearing your lolita clothes.
Animate your flatlays.
Flatlays or floordinates are arrangements of clothes on a flat surface to show off an outfit without wearing it. Usually, these configurations are roughly in the shape of a human body, but get creative. You can create shapes to show off prints, play with textures, or highlight accessories. You can also fold your clothes to make the floordinate fit in a frame better. Try different poses to see what works best.
Embrace your inner pin head.
If you have a dress form, make sure your clothes look their best with pins. Use them to fit a dress more closely, make a collar lie flat, or show off a sleeve. You can also pin accessories like socks to your dress to make everything closer together.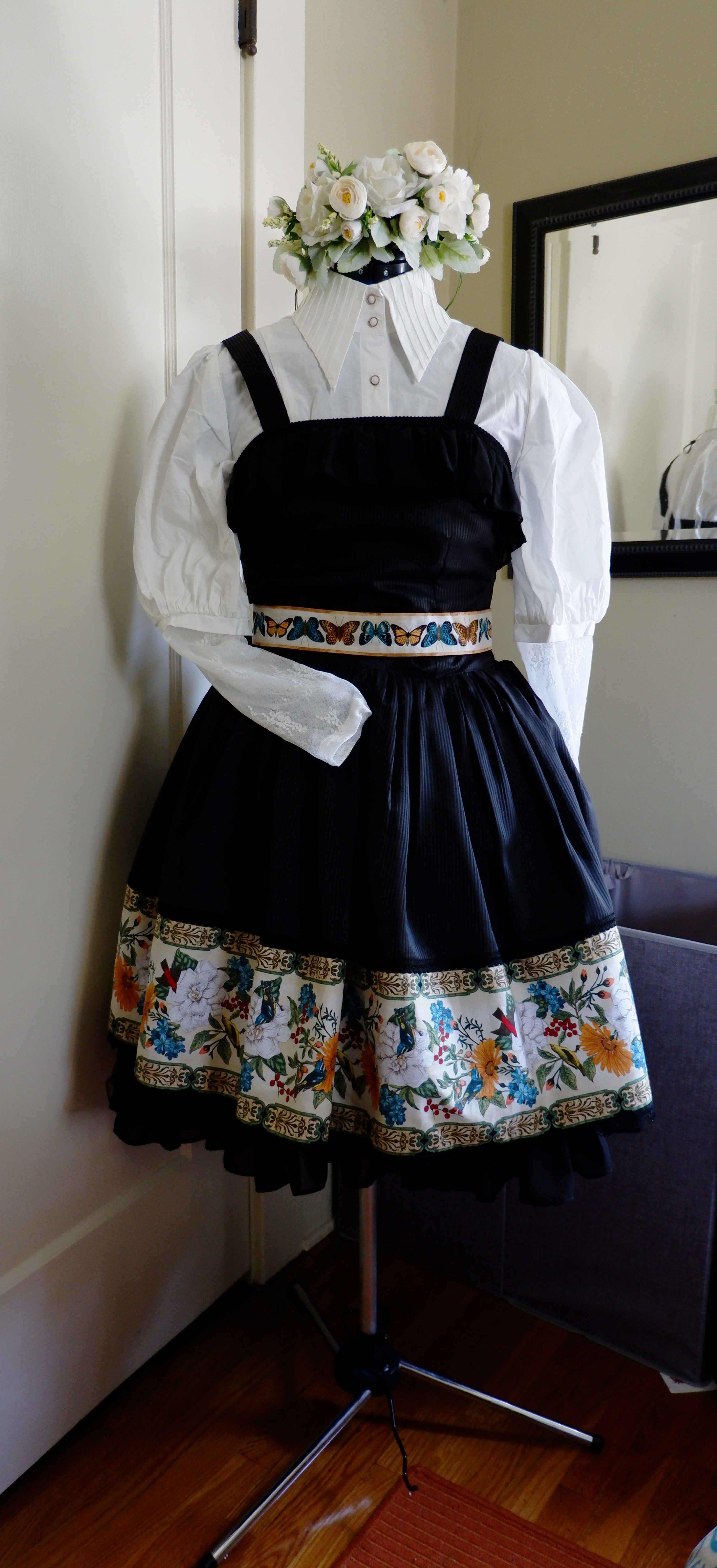 Get a good camera.
It goes without saying that having a camera that can capture the details of lolita clothing and accessories will make your photos stand out. While phone cameras have vastly improved in the last five years, having a good camera will elevate your coordinate. If you don't want to get a new device just for fashion, consider downloading a camera app besides the one preloaded on your camera. These apps will give you greater control over your photos and make a difference in how your clothes look.
Chose a good background.
Whether you're photographing a dress form or a flatlay, having a background free from distractions will keep people focused on your coordinate rather than on the pile of laundry lurking in the frame. Obviously not everyone has the room to make a dedicated photography studio, but simply clearing a space on your bed so you can take a quick snap shot doesn't require much more effort than creating a coordinate.
Pay attention to lighting.
Without fancy studio lights, natural light is best for photographing clothes. If you can, open your blinds and let the sun illuminate your coordinate. Of course, if you can't photograph during the daylight hours, you can improvise. Use two light sources to reduce shadows, and get yellow bulbs so you can get soft light. Even a humble desk lamp or reading light can work to get your photo looking good. (Check check out the difference between artificial light (top), and natural light (bottom).)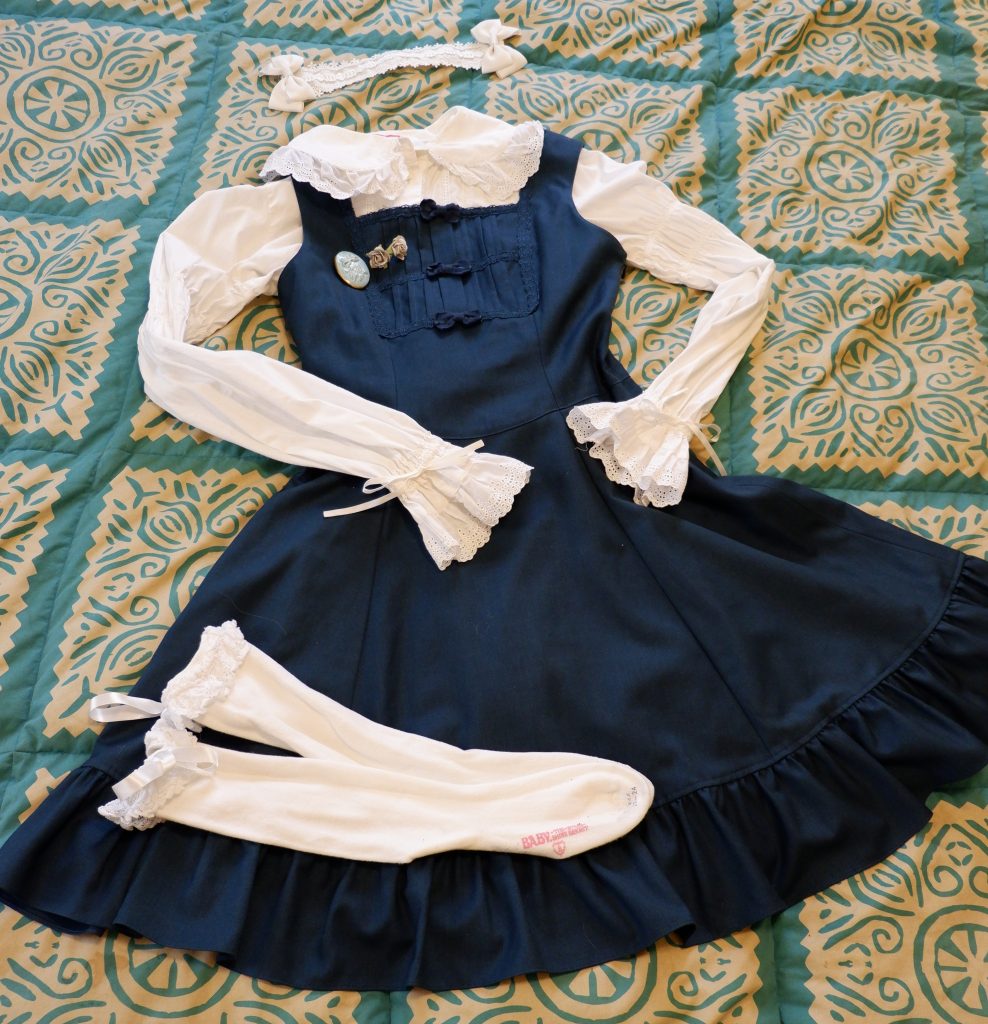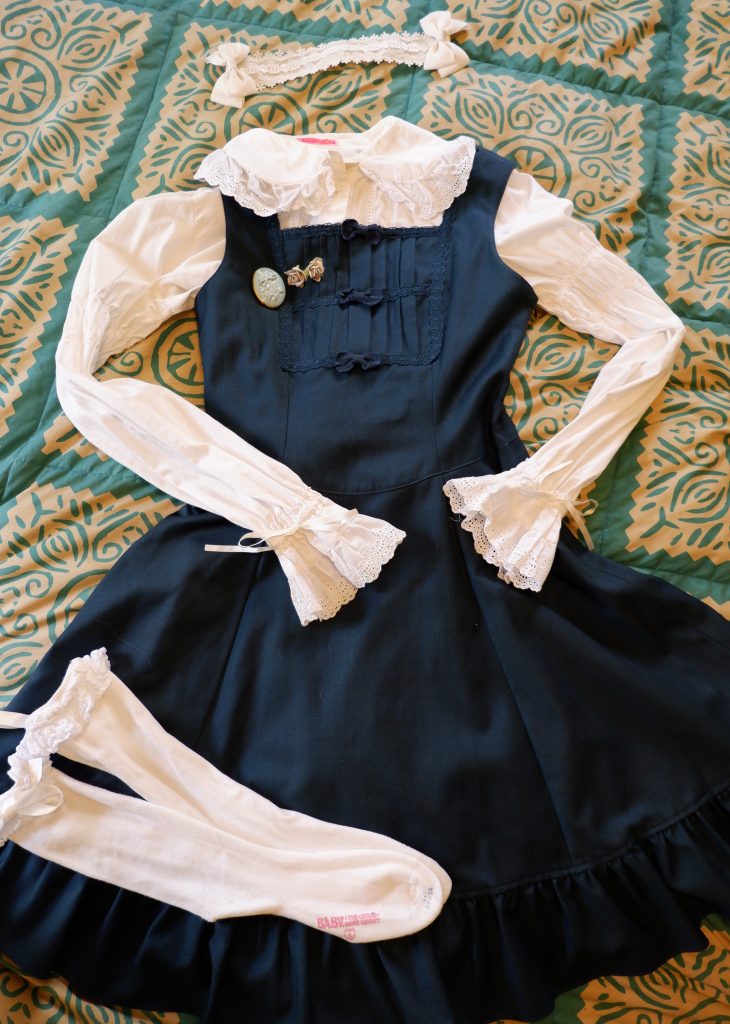 Use detail shots.
Flatlays are a great time to showoff accessories, prints, buttons, and lace. If you have a favorite part of your dress, let the world know! Take a close up of the collar to highlight your brooch collection, or let people take a peak at the lace on your bloomers.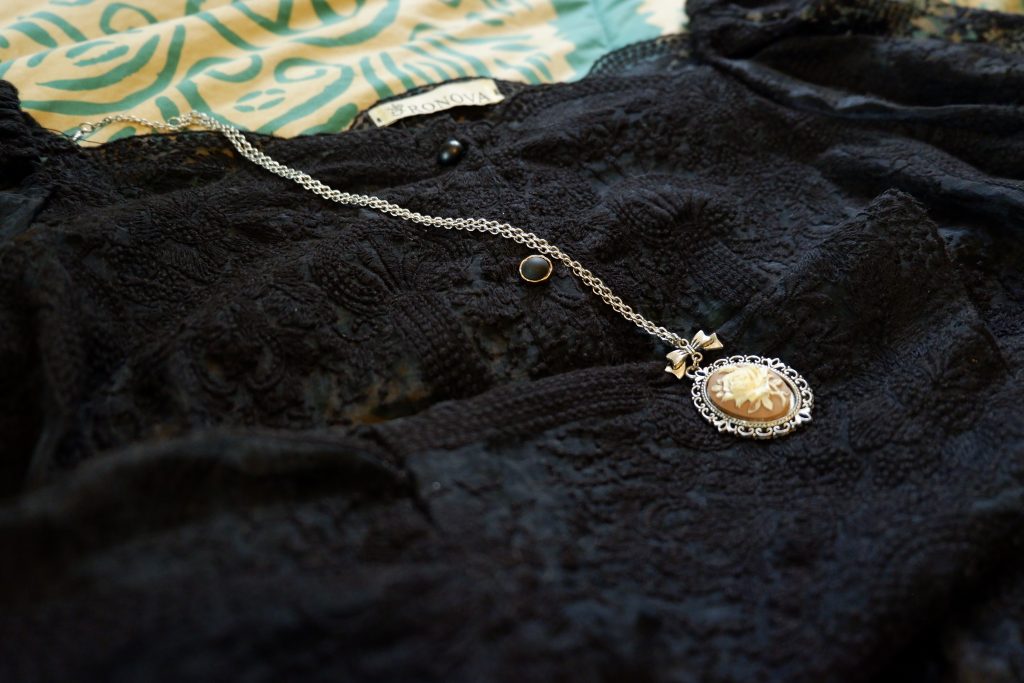 Whether you're sweltering in the heat of summer, or suffering through a sunless winter, I hope these tips help your celebrate your inner frill monster, even if you can't wear the frills yourself. 
By day, Jenna is a legal professional living in Los Angeles, California. By night (and weekends), she is a frill wearing monster who loves Innocent World and lolita indie brands. When she isn't taking mirror selfies of her coordinates, she enjoys reading comic books, playing board games, and snuggling with her pup, Lily. You can see her mirror selfies on her instagram @lovelylaceandlies and contact her at lovelylaceandlies@gmail.com.