Summer is often a challenging time for lolita fashion enthusiasts. The "it's too hot for a blouse" excuse comes up time and again from those determined to wear frills. On the other hand, newcomers to lolita fashion are still discouraged from trying blouseless coordinates too soon in the spirit of 'walk before you run'. For all of you out there who may be scared of getting it wrong, let me introduce you to three JSK cuts that make blouseless coordinates really easy!
Blouseless Boatnecks
Boatneck JSKs can be tricky to find a blouse for because most collars clash with this neckline. However, this is precisely what makes them excellent for easy blouseless coords. The collar extending onto your arms adds a bit of interest to an area that would otherwise be empty. If you can actually pull your JSKs neckline into an off-shoulder look, then all the better!
Blouseless Halternecks
Another JSK cut that makes blouseless coordinates easier to pull off are halternecks. Note that they may require adjusting, either literally on the body or with styling, to avoid showing too much cleavage. On the other hand, you don't necessarily need to own a halterneck dress cut. If you want a blouseless coord and have a JSK with detachable straps, simply tie them at your neck instead! This is also a great hack if you need a little bit of extra wiggle room.
Blouseless Bustiers
Whilst this is the hardest of the three to pull off really well, it also offers the most upper body breeze in a blouseless coord. You could always throw a lacy shawl or cape over your shoulders for modesty. But I believe that with a good enough core outfit concept and clever styling bustier cuts are excellent for getting balanced looking coords. Probably best left to classic and gothic styling, though again, it's not impossible with sweet either. You just need to focus on the right idea.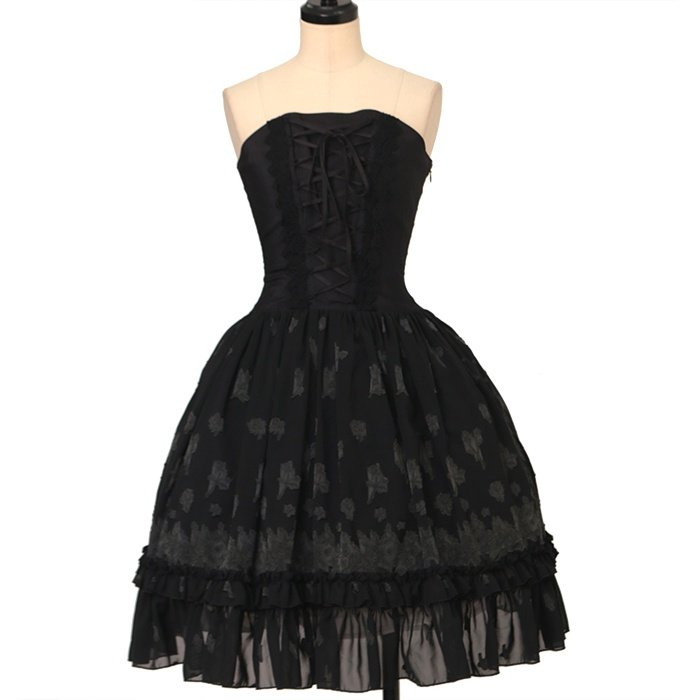 A bustier cut looks perfectly elegant blouseless, though it's harder to make it still read as lolita.
It's Not Just Those Cuts
Of course, you can wear blouseless coordinates with many other JSK cuts. You can wear your clothes however makes you happy and however you like. If you are concerned about your coordinate remaining firmly taggable as 'lolita', then the above three will make this easier for you. But I encourage you to experiment with what you have to find something that you enjoy. And then share it on social media, like on Alice Holic!
She/her.
29-year-old Capricorn, Polish-born, UK-based and in love with Japanese fashion (predominantly Lolita). I enjoy a good bargain, OTT coords, cats and baking, and when in Japan I'm a self-confessed purikura addict. When I don't blog, I work in the education sector, overseeing international exchange programs, and sometimes I get to do some exciting freelance translations on the side.