Not everyone who's into J-fashion is into lolita–and that's ok! J-fashion doesn't only mean lolita, ouji, kodona, pastel colors, and decora. There's other street fashions out there too, and I don't even know the name of most of them. Just because you might not quite jive with one of the "popular" styles in the community right now, doesn't mean that there's not a spot for you here too.
I've not really "fit in" with one of the standard styles popular in the USA at he moment ,so recently, I've been exploring other fashions popular on the streets of Tokyo, specifically mode and other darker streetwear, and mixing them together. A big part of this is stepping outside of the main brands we think of today (like Angelic Pretty, Alice and the Pirates, and SEX POT ReVeNGe) and into more mainstream brands, then putting them together in new ways. For example, I recently got a Hugo Boss jacket to wear with mode styles at Goodwill.
While I was poking around websites to help me rediscover my style, I discovered a few brands that I love. Many of them are higher end and outside the lolita fashion space, but I figured I would go in depth into a few of my favorites in this post!



Depression
Meet Depression, a unisex streetwear brand focused on wearable art. They've been featured in Fashion Week, style museums, and a bunch of other ~legit~ fashion spaces. While their prices are definitely on par with another favorite of mine, Yohji Yamamoto, I couldn't help but fall in love with their pieces and all the tiny details. Just look at the construction of those pants!
My dream item: Three-Collar Cape
Yohji Yamamoto
This is the brand that started it all. Yohji Yamamoto has been a fashion designer from 1977 (the year he launched his first collection) and has shown in fashion weeks around the world. He's won many awards all over the world for his designs, and has even designed costumes for a few operas!
I first discovered his brands from a video on YouTube exploring fashion in Japan. When I went to the Ground Y store in Shibuya 109, I wanted to try on items so badly, but I knew that I wouldn't have been able to afford anything at the time (except maybe a belt), and I really didn't want to waste their time when I couldn't afford anything!
My dream item: There's so many items on Yohji Yamamoto's store that it's difficult for me to choose. However, when I first discovered them a few years ago, they had a black tote bag that had a quote: "Black is modest and arrogant at the same time. Black is lazy and easy but mysterious. It means that many things go together, yet it takes different aspects in many fabrics." I love that quote so much, and I wish I could find that bag again. It also comes as a shirt design, but the bag is much more my style.
Another, more tangible item is the coat that Kaito has in this post:
Since I run hot most of the time (and I hate the heat), the idea of a mode coat with an open back just makes sense! Since it's not on the website anymore, I expect to only find this coat secondhand, and I know it'll probably cost a few thousand dollars…. Still, a guy can dream!
CIVARIZE
I've been following CIVARIZE for quite a while. They have a more punkish vibe than Yohji Yamamoto and Depression do, but also run a lot cheaper and therefore more approachable. Unfortunately, they aren't as size inclusive as I'd hope since they target a younger audience than the two before. However, I love their designs and I'd love to incorporate them into my workwear.
My dream item: For some reason, I've always wanted this (above) red and black sweater from them. It's iconic, in my opinion, and a lot of other people have designs similar to this, but I want theirs.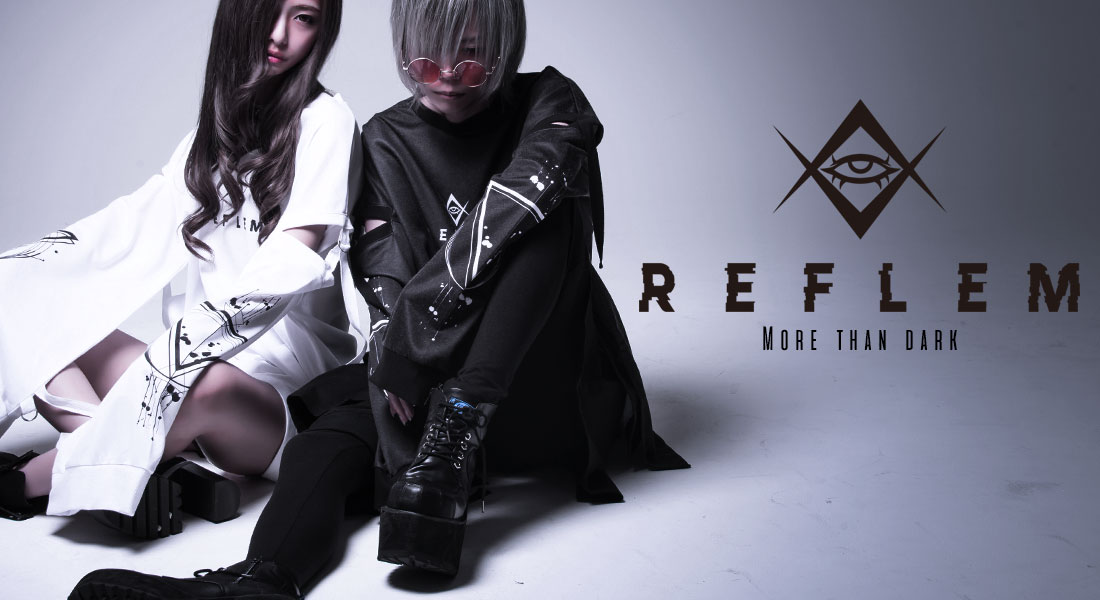 REFLEM
REFLEM is almost like a sister-brand of CIVARIZE that has more of a lounge goth feel. They focus on oversized cuts and edgy prints and fabrics, but more gothic and less punk. The instant I saw one of their first releases, I knew I had to buy it (below).
This shirt is one of the most versatile ones I own, since it's a mesh overlayer meant to add texture to whatever is below.
My dream item: I already own it!
Fun fact: In the plot twist of the century, REFLEM did a collaboration with Sanrio!
If you're into these brands, please take a look at their websites and poke around on secondhand sites! I love these lesser-known brands in our community (lesser known, but more well-known on the global stage in some cases). Don't be afraid to look up more brands via snaps on wear.jp and tokyofashion.com! Both are invaluable resources to find new items and new brands you love.
Kal from Lightningsavage Photography specializes in creative portrait photography for J-Fashion enthusiasts and more. He has served as the J-Fashion event photographer for Oni-Con 2016–2020, as well as fashion shows, meetups, and personal shoots. He is also a co-owner of Kuroshiro Kawaii. You can follow him on Instagram at @lightningsavage_photography and @kaldec_
He is currently into visual kei and EGA fashions.