This year I was fortunate enough to model in the Fanime Con J-Fashion Show. Fanime is held in San Jose, California as part of a weekend long celebration of anime, fandom, and all things Japan. The fashion show featured more than 40 models who wore clothes from 8 designers, ranging from creators of accessories to designers of dresses and skirts. Modeling didn't give me time to speak with every model or designer, but I did spend a fair amount of time around the models and designer of one brand: The Black Ribbon!

I modeled for The Black Ribbon, an western indie brand based in San Francisco by designer Halley Malison. In addition to practical accessories like petticoats and bloomers, Malison creates tops and main pieces inspired by the textiles she loves. The Black Ribbon has pieces that encompass styles from lolita to decora and embraces fashion lovers of all shapes and sizes. All models are credited below with their Instagram handles. 
The Looks
The Black Ribbon had six models with a wide range of styles. Model m.is.for.morbid wore a denim JSK with scalloped pockets and a printed blouse. Her sneakers and fluffy earrings reflected the fun, casual style of the JSK, a dress that seems perfect for just throwing on and running errands in.
Model honeycolor wore a printed unicorn and card JSK trimmed with holographic fabric, along with a pastel wig and accessories that highlighted the sweet, quirky dress she wore. Mallison stated in the Q&A following the fashion show that she is heavily inspired by the textiles she finds, so it is no surprise that this print inspired a sweet styled dress. It will certainly find its way into the hearts of sweet lolitas.
Model kurokosplay wore a high waisted skirt of The Black Ribbon's new print, "The Naturalist". Her coordinate was topped off with a black hat with a ribbon that matched the print of the skirt. She looked every bit the Victorian lady the print and styling of the skirt suggested.
Model hdoll28 wore "Lulu Sparkles", a JSK in holographic purple with criss crossed straps and a vibrant purple wig. The dress suggested more decora or fairy kei than lolita but the dress is undeniably eye catching and is sure to delight all kinds of j-fashion lovers.
Model mintypile wore the show stopper: a historically inspired lolita couture dress, dripping with wisteria and trimmed with brown bias tape, suggesting a wooden trellis for the gorgeous flowers. Malison stated that the coordinate consisted of seven different garments and was not for sale. The look was elegant and beautifully constructed and was certainly a fan favorite with those who attended the show.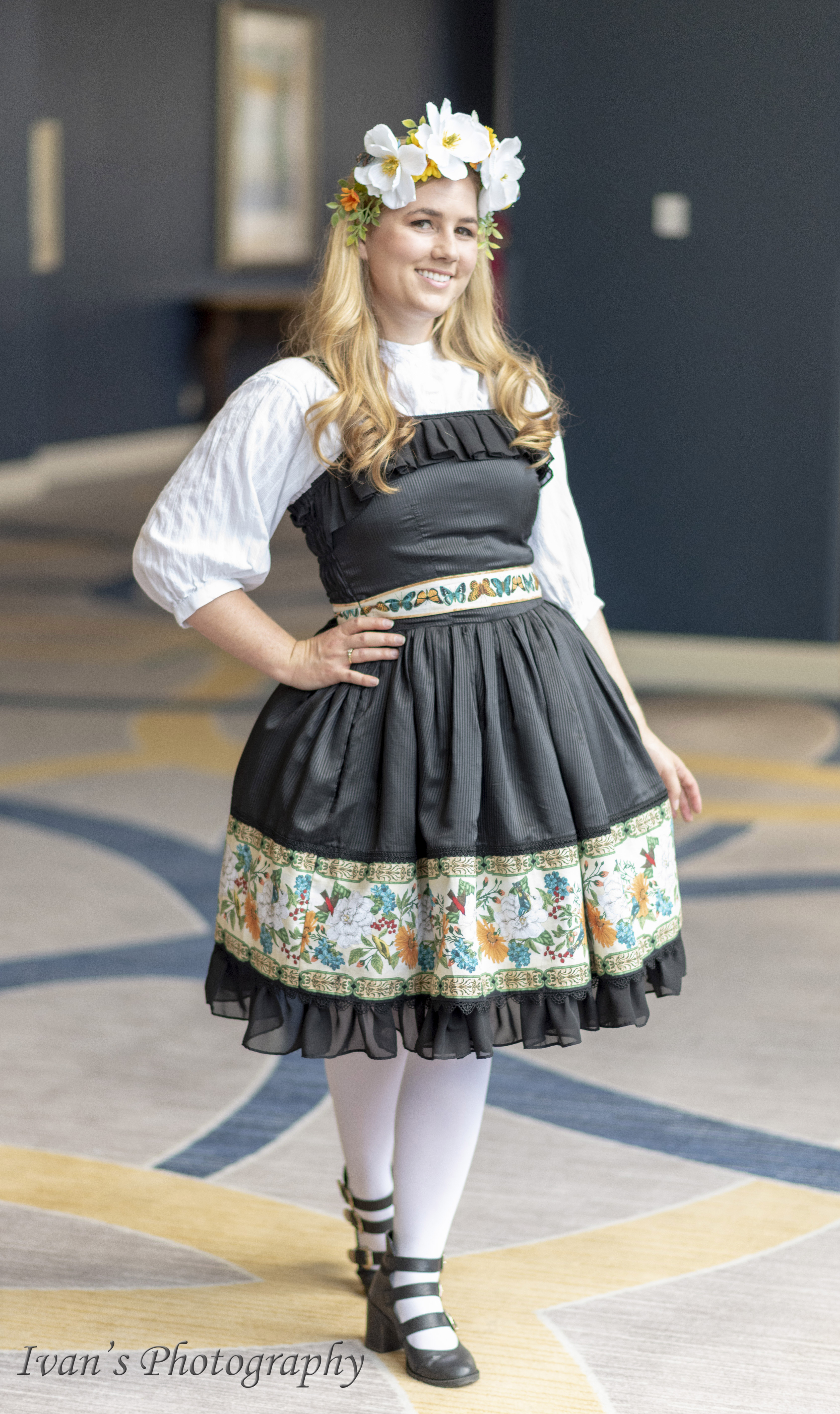 I wore a JSK version of "The Naturalist", a beautiful dress with back shirring, adjustable button straps, and best of all two deep pockets. I also wore a flower crown created by Mallison, complete with butterflies, magnolias, and a bird. The dress was extremely comfortable and flattering, and anyone who has ordered one is going to be extremely satisfied with the fit and design of this gorgeous dress.
I highly recommend looking at the photos from the fashion show (provided by photographer Ivan Aburto) and checking out all of the designers, which including A. Gato Designs, Lipton Cunningham, Paradise Rose Shop, Eat Me Ink Me, Lily of the Valley Designs, Puvithel, Nerdy Bit, and Miss Octopie. Their designs range from casual to over the top, and their models encompassed a wide range of sizes and genders.
The community in the San Francisco Bay Area has worked hard to include j-fashion at Fanime Con and their work shows. From the helpers backstage to the photographers to the show runners, the fashion and trunk shows were clearly a labor of love. It was a pleasure to model for this show and I encourage everyone to look for more j-fashion content from this convention in the future.
By day, Jenna is a legal professional living in Los Angeles, California. By night (and weekends), she is a frill wearing monster who loves Innocent World and lolita indie brands. When she isn't taking mirror selfies of her coordinates, she enjoys reading comic books, playing board games, and snuggling with her pup, Lily. You can see her mirror selfies on her instagram @lovelylaceandlies and contact her at lovelylaceandlies@gmail.com.