Fanime is an anime convention held in San Jose, California over Memorial Day weekend (the last weekend in May). In normal years, this convention takes over downtown San Jose. It usually encompasses a convention center and surrounding hotels. While it's focus is mostly fan content for anime lovers, it also features program for cosplay, gaming, and of course, j-fashion.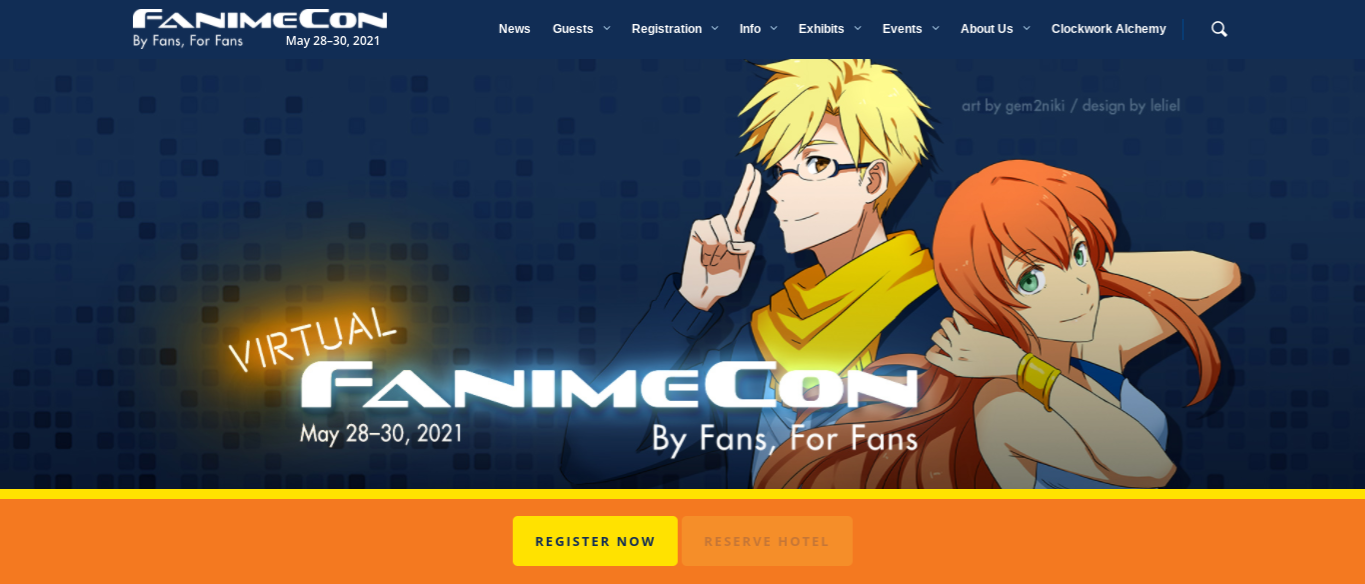 Whova
For 2021, Fanime went virtual. Tickets were $10 and gave attendees access to video panels, discussion boards, and attendee led meet-ups via the conferencing app Whova. Purchasing a ticket was easy and signing up with Whova was straightforward.
Whova's interface is clearly geared toward industry or academic conference, but it functioned pretty well for a social/hobby convention as well. The "agenda" was searchable, so you could find the types of panels and content that you wanted to find. It was easy to see summaries of panels and to add them to your agenda, so you could keep track of interesting content.
One thing that I didn't love is that the app asked for attendees' full name upon sign up. The attendees were also all visible in a large database with their full names and uploaded pictures for anyone attending the convention to see. While an industry convention would likely encourage networking, anime conventions don't necessarily need the same kind of information sharing. I certainly would have appreciate the option to use a "display name" rather than my full name when I first signed up.
On Day 0 (Thursday, May 27), the message boards were alive with attendees trying to recreate the feeling of being a convention. There even a panel for "Line Con", a tongue in cheek reference to the long waits for badges on Day 0.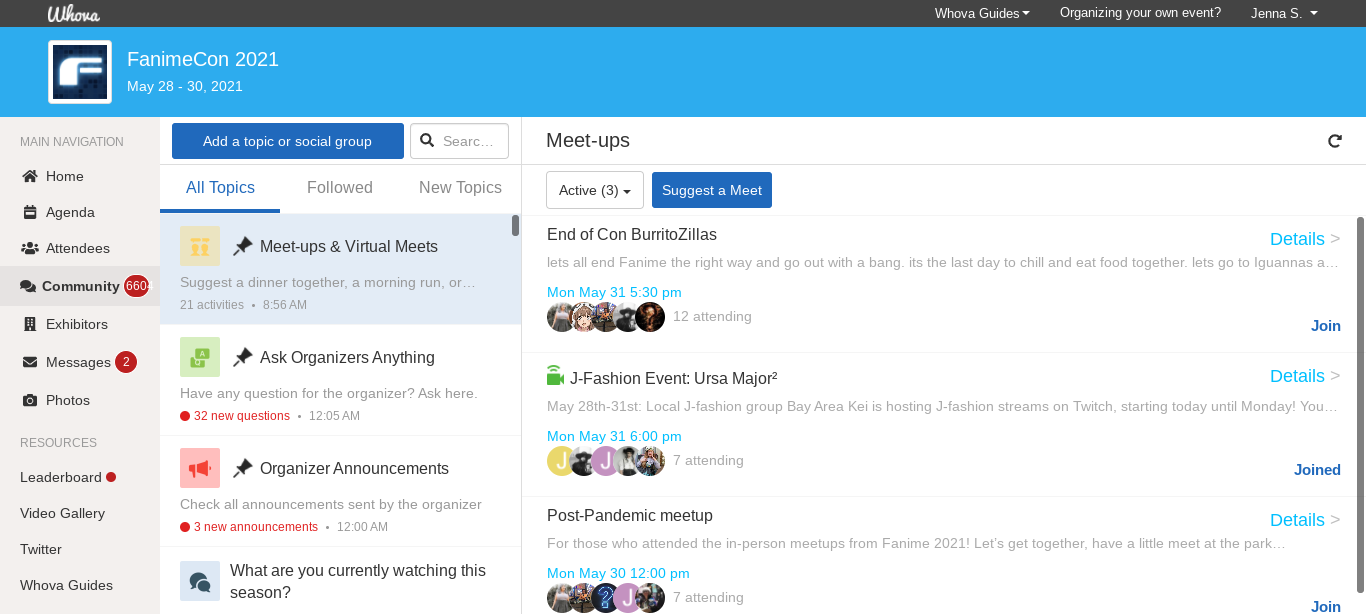 J-fashion content
In addition to running Ursa Major 2, several members of Bay Area Kei volunteered to put on panels. These included 6 panels as part of the "J-fashion Track". Because Fanime is a general anime convention, these panels were more geared to a general audience, rather than a j-fashion experienced audience.
Intro and history of lolita fashion – Obsixwi and Puremaiden gave a detailed overview of the history of lolita. Their slides included timelines, pictures, and personal anecdotes about their memories of different eras of lolita fashion. The panel was prerecorded, but both panelists ended the with a short Q & A. Obsixwi was also in the chat, answering questions and responding to comments. Both panelists were well rehearsed and knowledgeable. This panel fit right into an anime convention with an audience who might be "j-fashion curious".  
Despite some technical difficulties, the j-fashion design showcase was a great way to see different brand's items in action. There were approximately 20 minutes of detail shots of pieces from Belladona, The Black Ribbon, Eat Me Ink Me, Summer Tales Boutique, Cottonbook, Empire Noir, and Iris Garden.  Most of us are used to having to purchase an item without seeing it in person. Having a video to show details, and even just how the fabric moves is so helpful in determining whether you want to purchase something. Best of all, because most of these brands were vending at Ursa Major, it was possible to buy most of the items.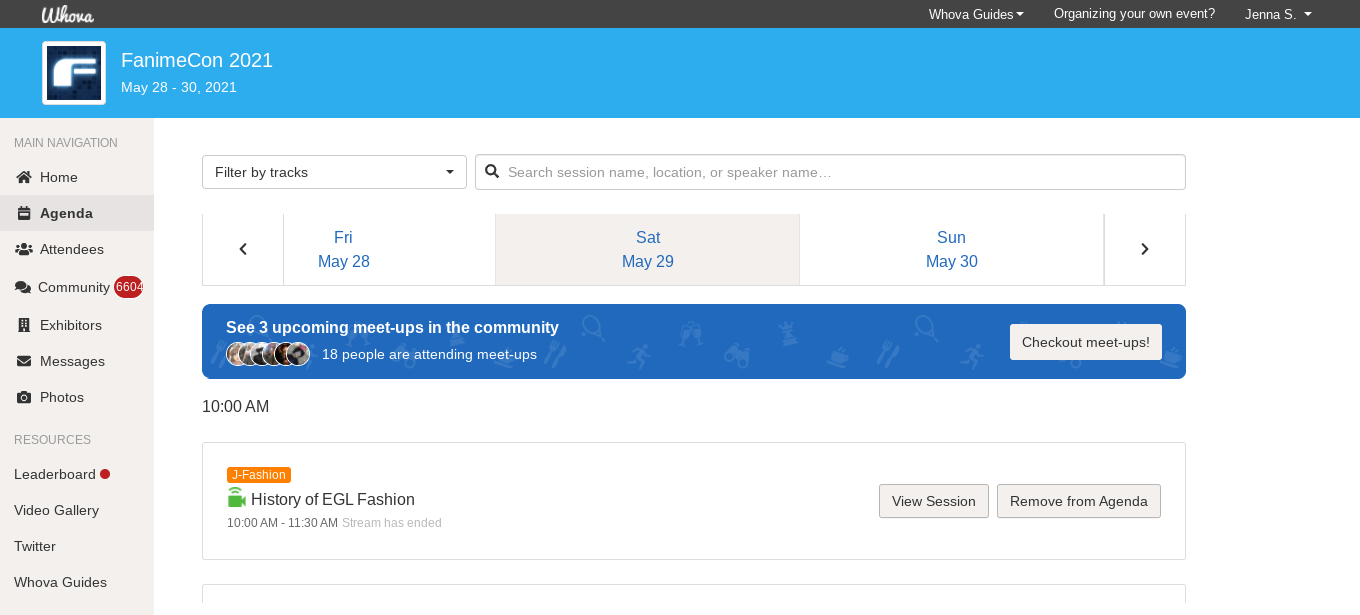 Other content
Beyond just the j-fashion panels, I also checked some of the maid cafe panels, which included some jackbox games for audience participation and some live let's play streams. While obviously not as intimate as getting to interact in person, Jackbox in particular allowed for fun audience participation. I also looked in some of the "Black and White" ball panels. At Fanime, there are social dancing classes all weekend, which culminate in a formal dance which has a black and white dress code. Though dancing with strangers wasn't in the cards this weekend, the dance related programming was a cute nod to this unique tradition at Fanime. 
In general, I think that the size of this virtual event made it difficult to meet people and have the random encounters that make conventions memorable and unique. However, virtual panels seem like they would be a great option for people who want to learn more about anime and Japanese culture. Watching panels from the couch and in my pajamas meant that I could drop into events I might not have seen otherwise. I would have loved to be able to access panels after the fact since I wasn't able to see all of them when they aired. 
I can't wait to attend Fanime in person, but this event was a wonderful reminder of the wonderful chaotic energy that makes this event so great. 
By day, Jenna is a legal professional living in Los Angeles, California. By night (and weekends), she is a frill wearing monster who loves Innocent World and lolita indie brands. When she isn't taking mirror selfies of her coordinates, she enjoys reading comic books, playing board games, and snuggling with her pup, Lily. You can see her mirror selfies on her instagram @lovelylaceandlies and contact her at lovelylaceandlies@gmail.com.