About one month after the event, the last of my Sea of Serenity purchases have arrived. This particular purchase traveled all the way from Finland to get to me, thanks to the skilled artisans behind Cloudberry Lady. 
Cloudberry Lady
During the Sea of Serenity event, Cloudberry Lady, a Finish lolita company, posted a limited run of their Adela, Arista, and Aquata skirt, a gorgeous mermaid print skirt. The muted colors, detailed print design, and cheeky little tentacles made this a no brainer purchase for me. I messaged Cloudberry Lady checking on the status of the skirts they advertised, then emailed to make my purchase. Cloudberry Lady sent an invoice via Paypal and confirmed the details of my garment. I opted for their ready made skirt with a matching belt, although I had the option of a custom made garment. 
Shipping
On September 30, Cloudberry Lady emailed me with a tracking number (and apologized for emailing me so late) and on October 1, my package arrived. Shipping was quite expensive, but I understand that shipping internationally right now is challenging, so I don't think that Cloudberry Lady's charges were unreasonable. The skirt was packaged in a sturdy cardboard box. The garment itself was inside a plastic sleeve to keep it protected from the element. I also received a sweet note with care instructions for my skirt. 
First Impressions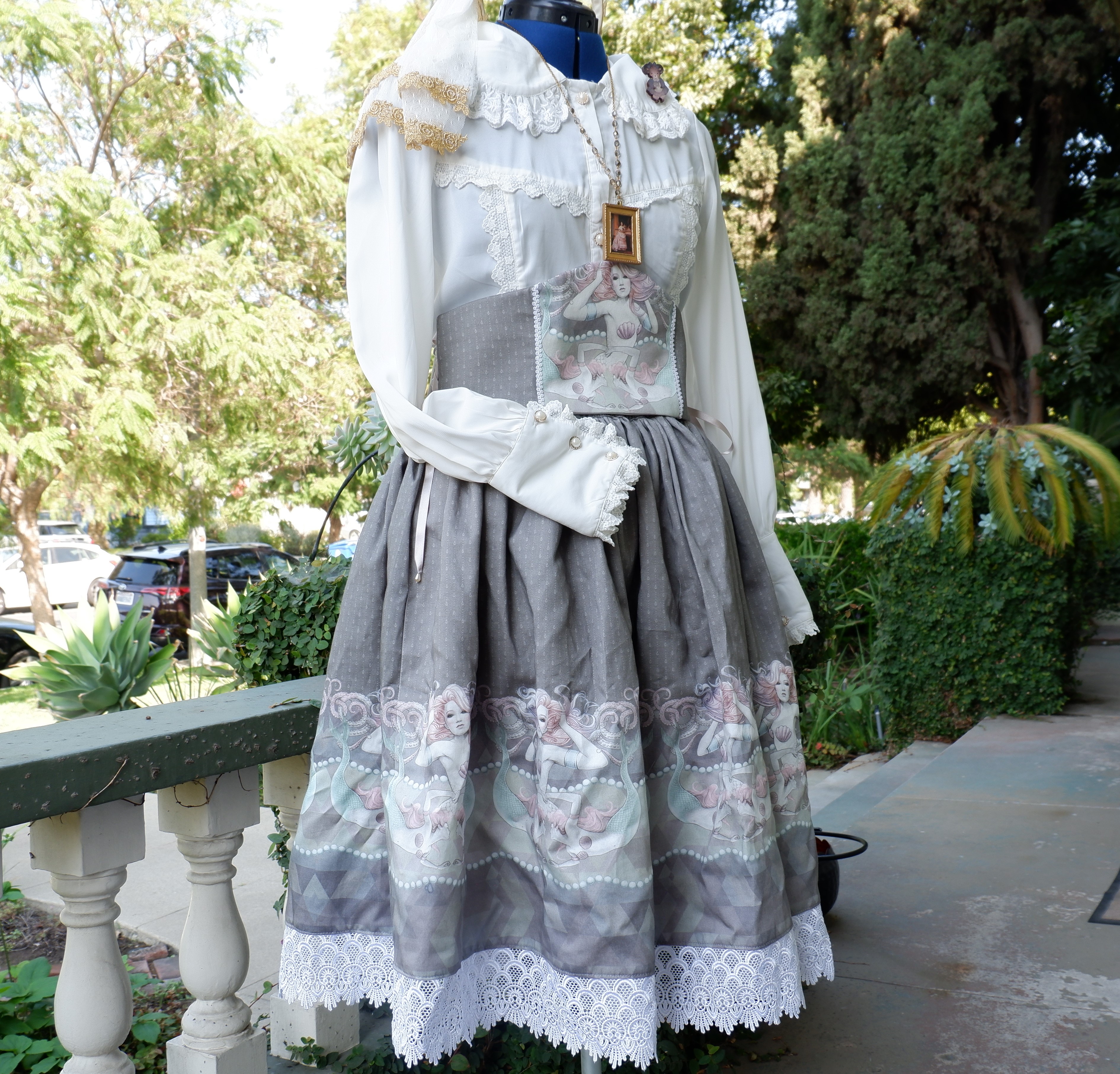 My skirt was a "misprint" but honestly, I can't tell you where the mistake is. The print later is a thick, textured polyester with subtle details throughout the whole skirt. The mermaids are beautifully rendered and the colors of the skirt are wonderfully muted, perfect for classic lolita. The waist is fully shirred and has a zipper in the back with two buttons closures. There is a single pocket on one side. The hem of the skirt is lined with a looping shell shaped lace. The skirt is lined with a thin satin polyester. The seams full finished with serging or enclosed hems.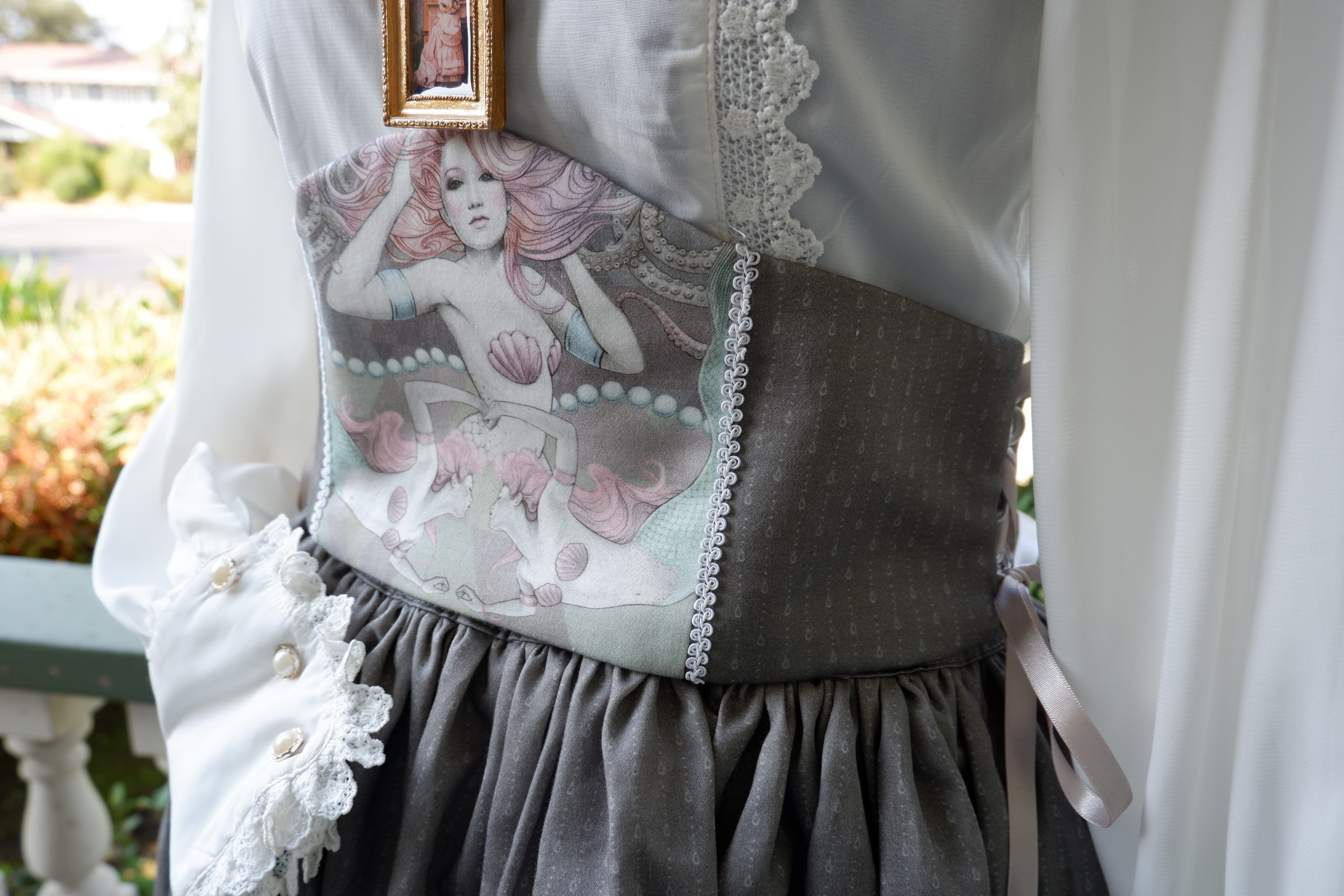 Truly, though, Cloudberry Lady blew me out of the water with the stunning belt. The center panel is a printed mermaid, while the side panels are made from the textured, printed plainer parts of the skirt. There is trim lining the mermaid, delicate decorative corset loops, and satin ribbon with tiny pearl beads at the end. This piece feels luxurious and the craftsmanship is top notch.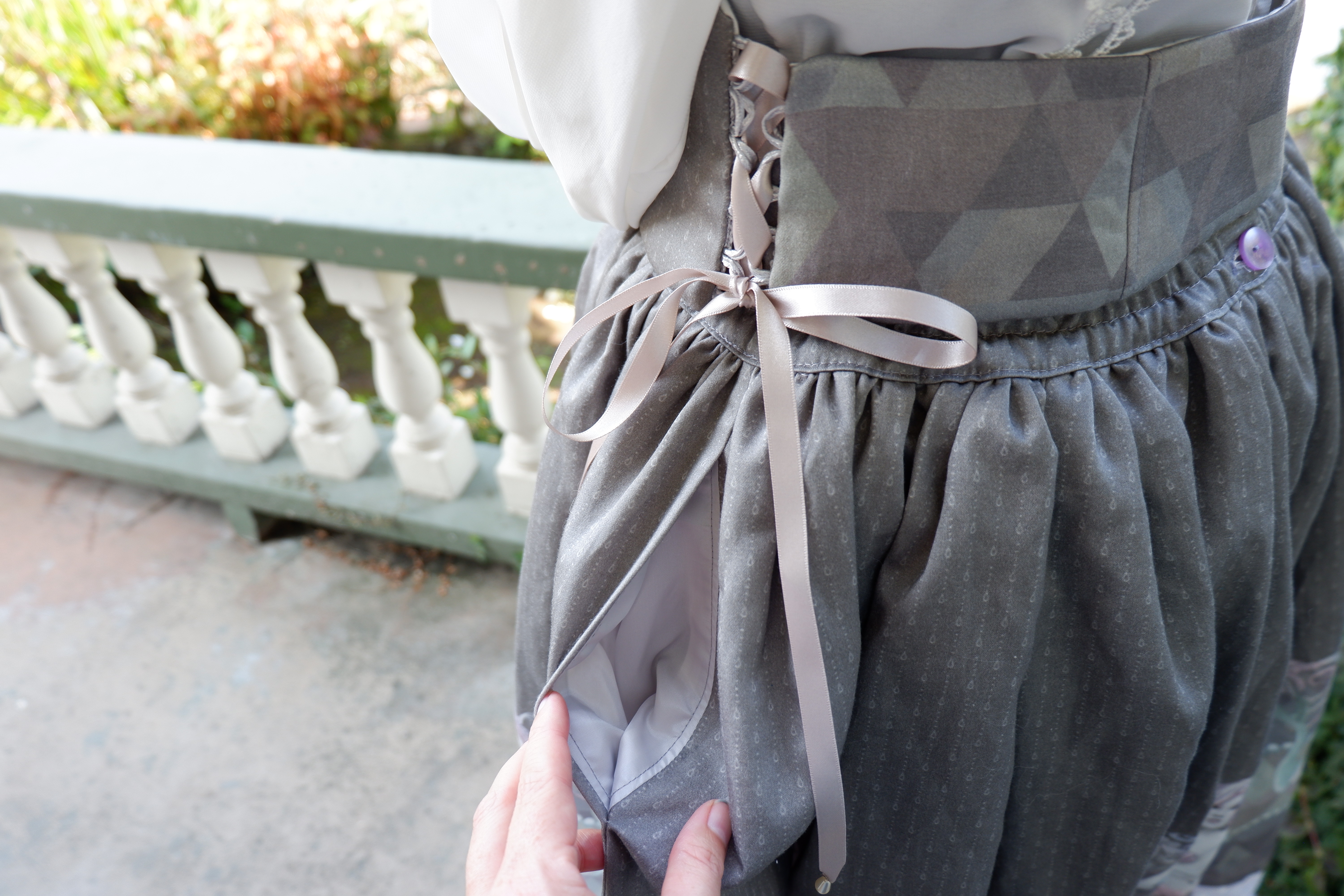 Final Thoughts
I'm delight that I added this piece to my wardrobe, and I'd definitely recommend them for their excellent customer service and high quality pieces. I'll definitely keep an eye out for future releases from them!
You can find Cloudberry Lady on Facebook and Instagram.
By day, Jenna is a legal professional living in Los Angeles, California. By night (and weekends), she is a frill wearing monster who loves Innocent World and lolita indie brands. When she isn't taking mirror selfies of her coordinates, she enjoys reading comic books, playing board games, and snuggling with her pup, Lily. You can see her mirror selfies on her instagram @lovelylaceandlies and contact her at lovelylaceandlies@gmail.com.