As the holiday season gets closer, the well meaning friends and family of j-fashion fans try to find the perfect gift. Sometimes they need a little push in the right direction. Feel free to email this guide to your siblings, print it out for grandma, or leave it open of your significant other's computer. They'll get the hint.
This guide is designed to be as painless to use as possible for the uninitiated, so it mostly features sellers whose site are in English. If you don't know your lolita's measurements, you can always buy a pair of socks, jewelry, or hair accessory where sizing doesn't matter as much.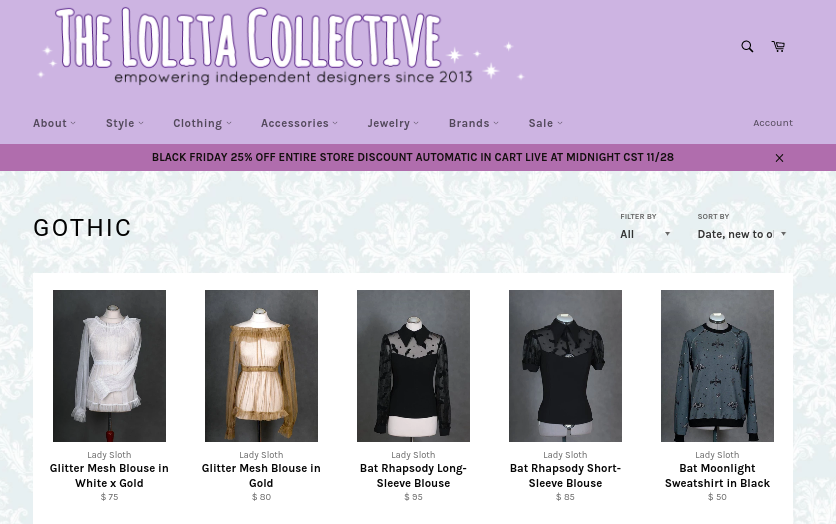 Ships from the US
This website is a massive store front that features brands from all over the world and includes clothing and accessories for many j-fashion substyles. The website is easy to navigate and everything ships from the United States. A gothic lolita is sure to love a necklace from Restyle, a batty hair bow from Eat Me Ink Me, or a skirt from Atelier Pierrot.  If you're not sure of your lolita's size, stick to things like hair accessories, jewelry, or other accessories.


Ships from Poland
Restyle's accessories are a staple of the European gothic lolita community and with good reason: they're spooky as heck! For lolitas, stay away from the t-shirts and dresses and check out the blouses, accessories, bags, and corsets. Double check with your lolita for their size. 


Ships from the US
Based in Texas, KSKawaii has a selection of clothing from Japanese punk brand Sex Pot Revenge. Their website is easy to navigate and their checkout process is straightforward, so you can gift your lolita authentic Japanese brand without the hassle of ordering overseas. They've got a great selection of accessories so you don't have to worry about what size to order.


Ships from the US
Based in California, Ficklewish has a selection of j-fashion apparel and gifts, including vinyl toys, stickers, and clothing. If you're in the Los Angeles area, you can visit their brick and mortar location for even more Japanese brands, including Liz Lisa. Online, they have a selection of ACDC Rag and Sex Pot Revenge, both of which have punk and gothic clothes and accessories.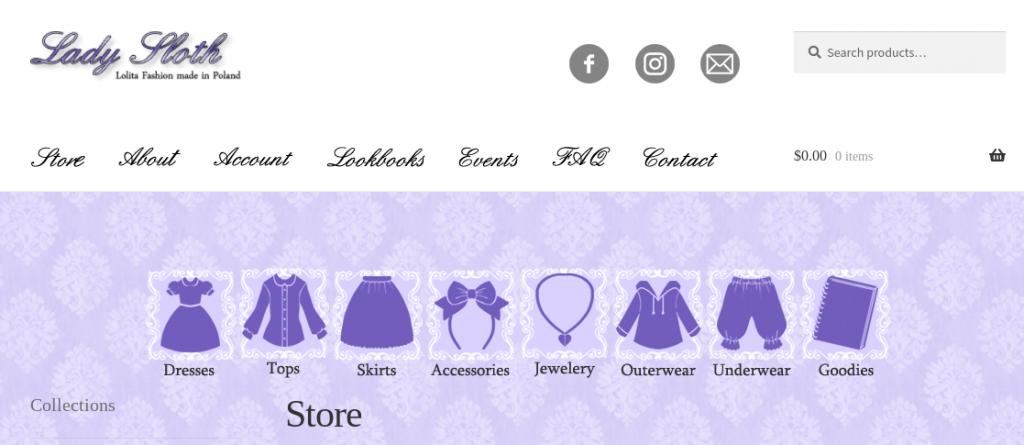 Ships from Poland
Lady Sloth is a lolita apparel company with a selection of dresses, blouses, underskirts, bloomers, and accessories that are reasonably priced and can be made to your specifications. Some of their items are made to order, so make sure you check the estimated shipping date when you purchase. The "Gone Batty", "Where's the Bat?" and "Winter Cemetery" prints are sure to dazzle your gothic lolita, but Lady Sloth's underskirts, bloomers, and blouses are equally impressive. Be sure to double check with your lolita about their size, as made to order items can't be returned.


Ships from the US
Petals and Poison is a California based maker of accessories for those who appreciate elegant gothic beauty. Their gorgeous candle accessories are definitely something your gothic lolita will appreciate. They also offer free shipping in the US. 


Ships from the US
This Texas based company has a variety of bags and socks that including fantastic gothic details like architecture, bats, and blood. Treat your lolita to a real leather bag, which is practically unheard of from even the most expensive Japanese brands. Plus, their shop is on Etsy, which you may even have an account for already. Nothing could be more simple to order from. 


Ships from Japan
If none of these shops suit your lolita, you can always check out the ever changing selection of Japanese brand at Wunderwelt! Wunderwelt has English speaking staff and their website has a simple cart system. Chose from a selection of new and used clothes and accessories that your lolita will totally love.
Your lolita is sure to love a gift from any of these shops. Happy shopping!
By day, Jenna is a legal professional living in Los Angeles, California. By night (and weekends), she is a frill wearing monster who loves Innocent World and lolita indie brands. When she isn't taking mirror selfies of her coordinates, she enjoys reading comic books, playing board games, and snuggling with her pup, Lily. You can see her mirror selfies on her instagram @lovelylaceandlies and contact her at lovelylaceandlies@gmail.com.