Its officially September, which means that school has begun for many people. To celebrate back to school season, here are three coordinates you can buy right now on Wunderwelt. 
All items were in stock at the time of posting (09/10/2020) but some have limited availability.
Back to (Old School)
Coordinate Run Down
One Piece and Bolero by Emily Temple Cute
Straw Hat by Leur Getter
Socks and barrette by Angelic Pretty
This Emily Temple Cute OP is a cute dress that would would be adorable for a first day of school coordinate. Keeping that in mind, I created a simple, casual coordinate that wouldn't be too cumbersome to wear for a day in a desk. The striped socks add a touch of whimsy, but you could easily swap them out for crew or ankle socks if you wanted something more subtle. In the same vein, the straw hat may run up against school dress codes, so you could just got with the blue bow barrette instead.
Wizard School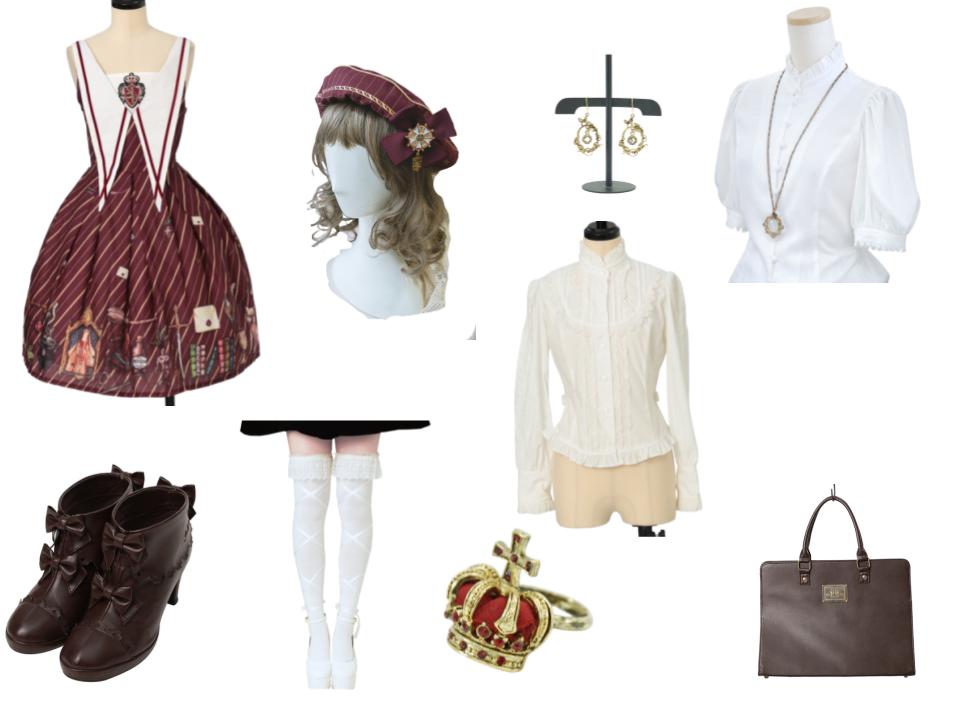 Coordinate rundown
Jumperskirt by Violet Fane
Blouse by Innocent World
Beret, earrings, and necklace by Surface Spell
Ring by Sheglit
Purse by Metamorphose
Boots by Baby the Stars Shine Bright
Socks by Moi Meme Moite
Violet Fane's Wizard School JSK is a fantastic print inspired by the Harry Potter series. The huge collar is a great statement piece. I opted for a high neck blouse from Innocent World that didn't distract from it. The Surface Spell beret with its emblem works so well with the print and theme, and matches surprisingly well. The accessories are all red and gold to pick up the details of the print. I finished it off with a huge bag from Metamorphose so you can carry around your notebooks, quills, cauldron, etc.
On a related note, if you enjoyed the Harry Potter series and are struggling with its author's damaging comments about the trans* community, consider supporting the Trevor Project or the Harry Potter Alliance, both of whom definitely embody the ideals the characters in the books strove for.
College Kei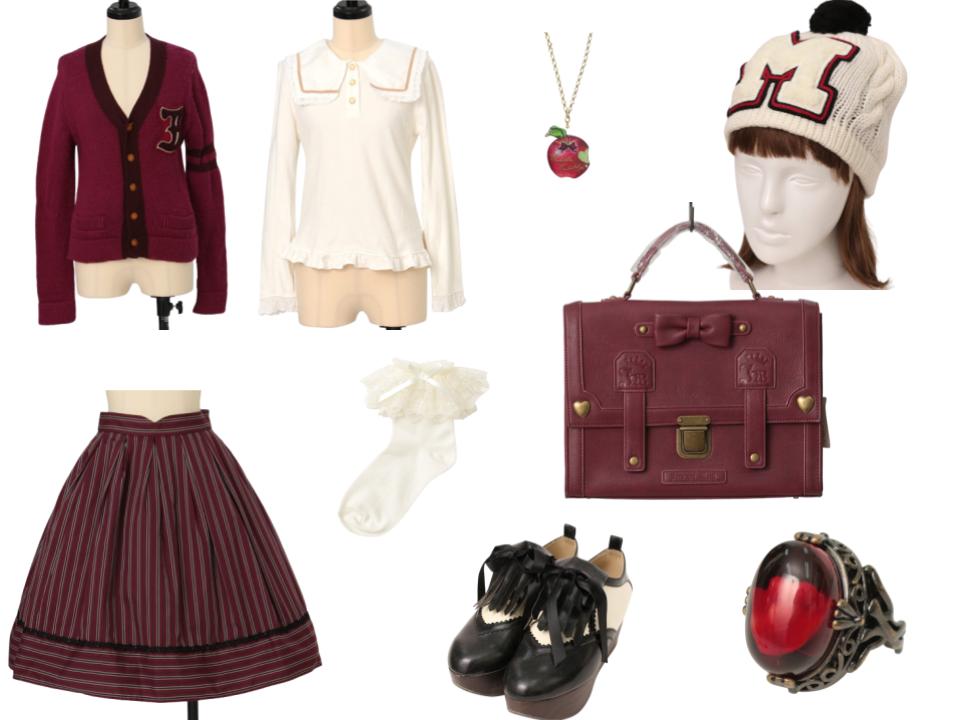 Coordinate rundown
Skirt by Victorian Maiden
Sweater by Jane Marple
Beanie by Milk
Blouse by Baby the Star Shine Bright
Necklace by Echantic Echantilly
Socks and Ring by Moi Meme Moite
Purse by Innocent World
Shoes by Alice and the Pirates
This coordinate is pretty experimental, but I kind of want to try making something like this now. I was inspired by 50s/varsity aesthetics. Normally I wouldn't recommend wearing a long sleeve sweater with ankle socks, but the saddle shoes with short socks definitely looks like it would work with a poodle skirt. If its actually cold where you live, swap the crew socks for slouchy ankle socks or layer the socks over plain white tights. I added the Moite ring because it looked like a class ring. Top it off with the Jane Marple beanie and the emblem bag and you're ready to take your place at your new university.
Hope that this inspires you to create some cute coordinates for your back to school season.
By day, Jenna is a legal professional living in Los Angeles, California. By night (and weekends), she is a frill wearing monster who loves Innocent World and lolita indie brands. When she isn't taking mirror selfies of her coordinates, she enjoys reading comic books, playing board games, and snuggling with her pup, Lily. You can see her mirror selfies on her instagram @lovelylaceandlies and contact her at lovelylaceandlies@gmail.com.