Tea parties are the quintessential lolita activity. Most Japanese brands host them several times a year in countries all over the world, and local communities often have their own to celebrate International Lolita Day or any other occasion. So whether you're spending a little more time home than usual or just looking to treat yourself, having some cute tea accessories is essential to a DIY tea party. 
Messalyn Art
Months ago, I saw Instagram user artdunoir post a picture of an adorable tea set decorated with old school lolita motifs. I immediately fell in love, then tried to convince myself I didn't need a lolita tea seat. I'm not very convincing, so on November 8, 2020, I placed an order with Messalyn Art. 
Ordering
Messalyn's porcelain items are hosted on a different shop than her art and the website is all in French. Google Chrome translated the site to English automatically, so I didn't have any problems with it. The site has a simple cart system that was easy to navigate. There is not an option to convert currency, so make sure you convert it from euros to your currency. 
I follow the artist on Instagram and I was concerned about shipping during These Trying Times (™), so I messaged her to check about shipping from Europe to the US. She answered me the same day, assuring me that she would ship it that week. I also received a notification from the website confirming my order. 
On November 10, 2020, she messaged me that she had dropped my order off at the post office and provided me with a tracking number. In addition, I received a tracking number from the website. 
Unboxing
On November 23, 2020, a package from France arrived at my house in Los Angeles, California. The porcelain was meticulously packaged in layers of bubble wrap and tightly packed in a cardboard box. Everything arrived in one piece!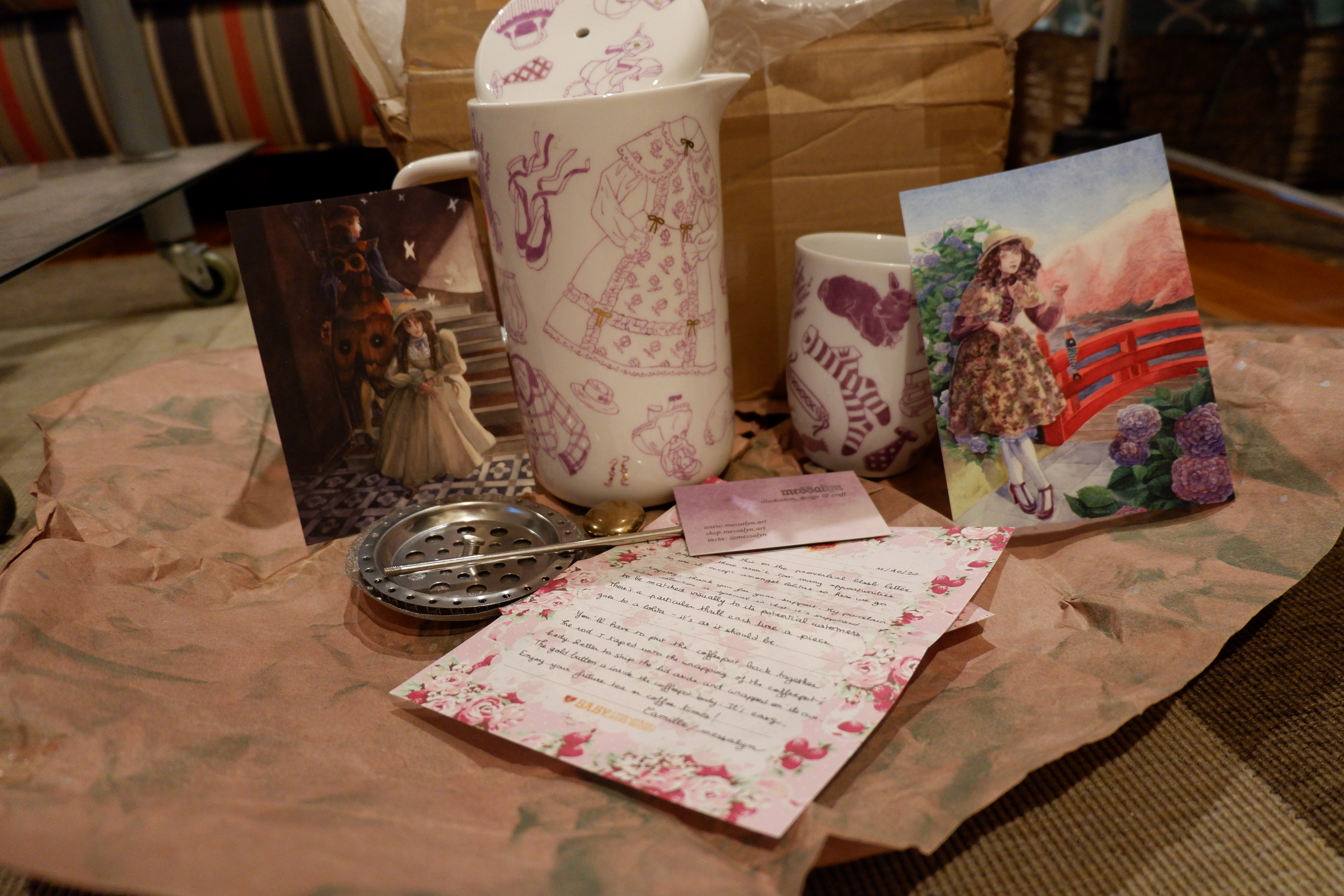 My items were the "Cafetière – Oldschool Lolita" and "Mug – Oldschool Lolita" in the mauve color. Despite the fact that I've waxed poetic about tea throughout this article, a "cafetiere" is what Americans call a "French press" for coffee. However, the plunger can be removed, so I've been using it as a teapot. I'm going to call it the teapot from here out.  
The illustrations on both pieces are different, though they're clearly meant to be part of the same set. There are iconic dresses, rocking horse shoes, and even Mana himself makes an appearance. The teapot is accented with gold leaf and is topped with a gold nob, which makes the set feel extra luxurious even if I've just making tea for myself. The mug doesn't have have this detail, which is great since it can microwaved.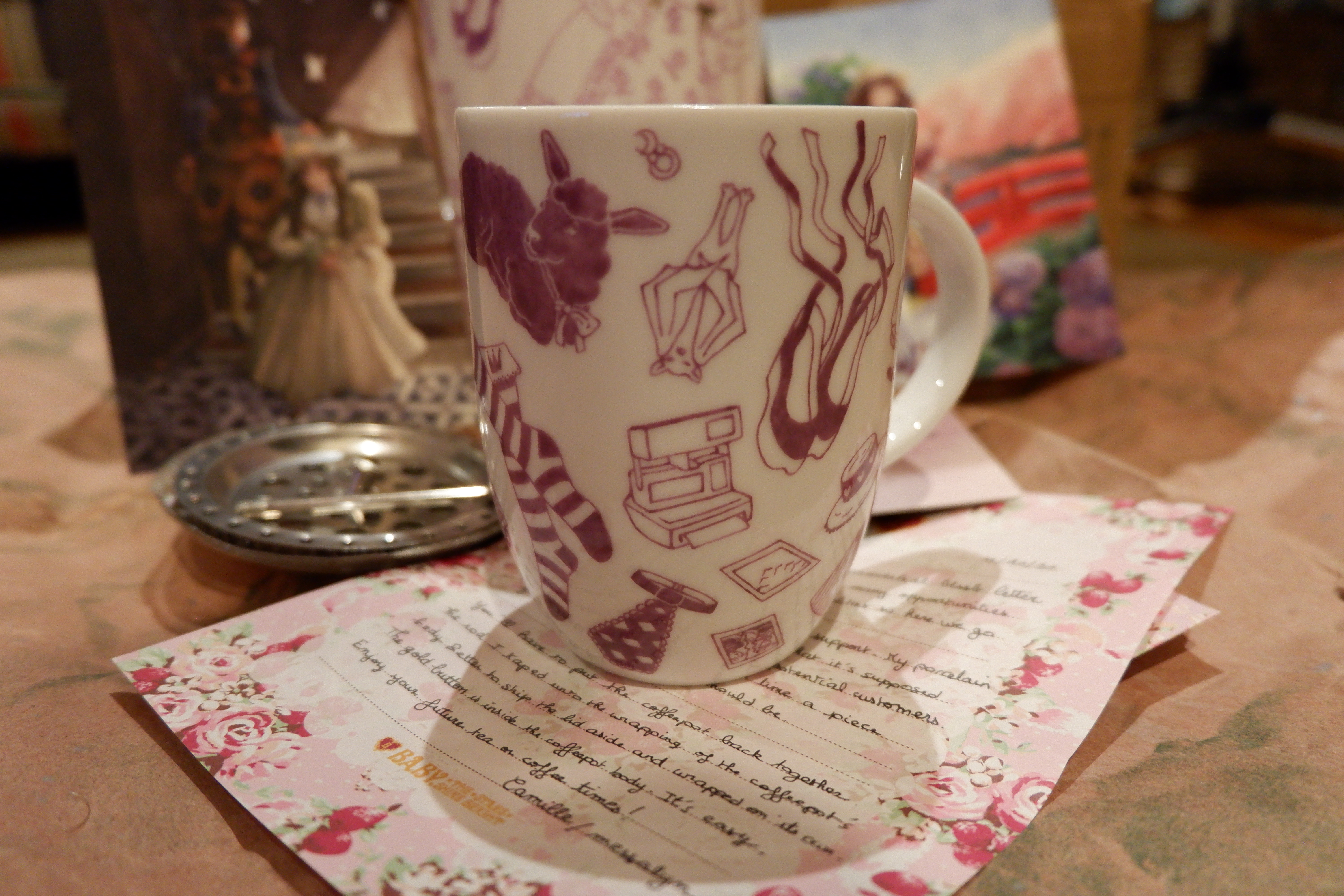 My package also included some beautiful prints of Messalyn's traditional art and a handwritten note on Baby the Stars Shine Bright Stationary. Obviously the lolita pieces in her shop aren't for every buyer, so I'm glad to have brought them into my home.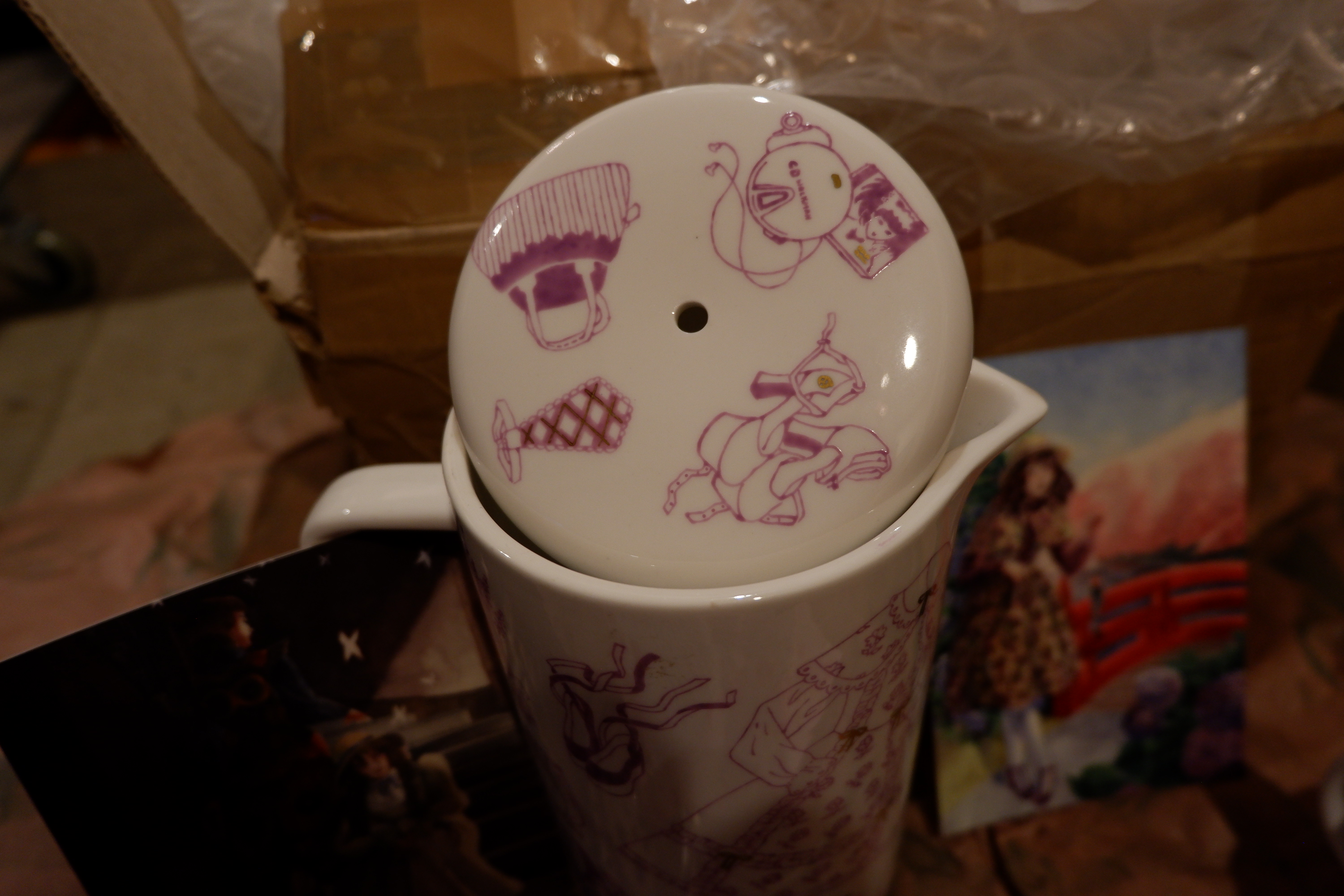 You can find Messalyn on Instagram and see her porcelain pieces on a dedicated page as well. Her art is available for purchase on her website. You can find her porcelain on its own site at Le Hibou Philosophe. 
By day, Jenna is a legal professional living in Los Angeles, California. By night (and weekends), she is a frill wearing monster who loves Innocent World and lolita indie brands. When she isn't taking mirror selfies of her coordinates, she enjoys reading comic books, playing board games, and snuggling with her pup, Lily. You can see her mirror selfies on her instagram @lovelylaceandlies and contact her at lovelylaceandlies@gmail.com.