Another weekend, another fun virtual event! This past weekend, Rose Foret hosted their inaugural event, Winter in the Woodlands, in collaboration with Jfashionondemand, Bay Area Kei, and Pretty Princess Club.
Content to see the content
It seems that each event this collective hosts goes more smoothly than the last. Like their previous events, Winter in the Woodlands featured an online market place, a charity raffle, panels, a fashion walk, a Discord server, and a tea party. However, Jfashionondemand and Bay Area Kei aren't content with just having the same event each time. Though many of the panelists are familiar faces at this point, the content they present is different each time. In the closing ceremonies, organizers stressed their commitment to not just hosting "lolita 101" content. Its very obvious that panelists are truly making the content they want for their communities, including a pattern making panel hosted by Miss Carol Belle, including patterning demos; organizing your lolita wardrobe; a very comprehensive plus sized lolita panel hosted by Michelle and Amy, and a layering panel hosted by purestmaiden and Avina. 
Panels
The weekend didn't just focus on lolita fashion though. Blackbird Finery hosted two panels and was a vendor for the menswear enthusiasts, Kawaii Riot returned for another panel focusing on activism in j-fashion, there were Gyrau 101 and Para Para panels for gals, and a panel on Shoujo aesthetics for all the nerdy anime kids. The diversity of panels really speaks to the organizers' dedication to not just making a space for lolitas, but for as many j-fashion fans as they can fit into one weekend.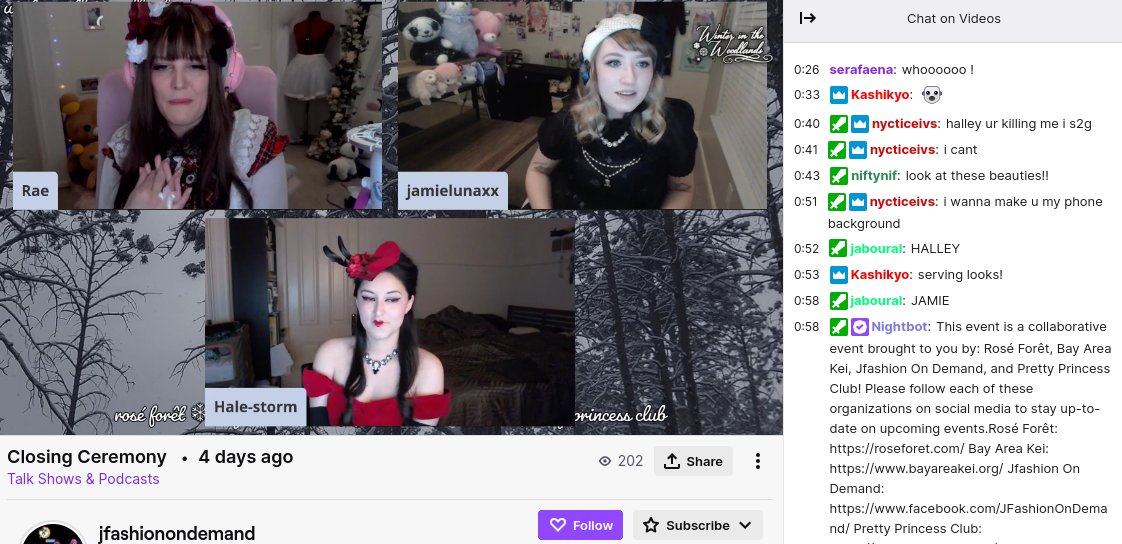 One particularly highlight for me this time was the demo panels. There were multiple food and drink panels, including tasty treats for the tea party or just getting cozy on a warm winter night. Rose Foret posted suggested ingredients ahead of time, making it possible for participants to prepare the recipes alongside the panelists. There were also crafting panels with demonstrations. I was particularly impressed with how many of the panelists had multiple cameras, so they could have a camera for their face and for their hands while they talked. It made it much easier to follow their instructions, and makes for great content later on Jfashionondemand's Youtube. 
The panels after the fashion walk tend to get a little sillier and have a more "con after dark feel to them". The content is still fantastic. Halley's kimono panel continues to inform and delight, even though I really don't need another expensive fashion hobby. Kawaii or Kowai is still one of my favorites. It's a panel that is definitely best enjoyed live (although the recording is still good for laughs). The audience interaction via Twitch is perfect for the panel.
Winter Marketplace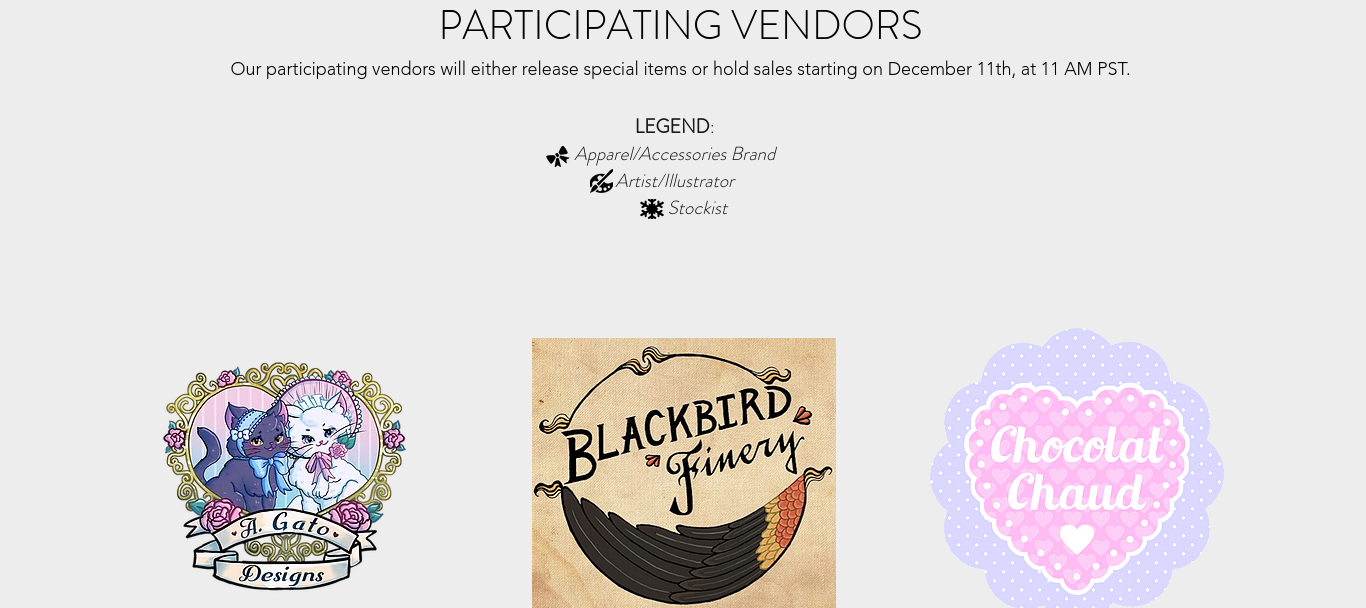 The virtual marketplace featured new and returning artists. There continues to be a great selection of art, accessories, and apparel for lolitas, kawaii closets, and goths. Some brands offered discount codes, some released new items for Christmas or winter, and some donated prizes to the raffle or contests. I personally snagged a new pair of tights from Teja Jamilla (they were offering free shipping). I also got a lucky pack of pins from Sirisbound, whose gorgeous art I've admired for some time. 
Fashion
Of course, the weekend wouldn't be complete without fashion. In the weeks preceding the event, Rose Foret put out the call for coordinates around their themes "Cozy" and "Frost". Participants did not disappoint, and there was an incredible display of coordinates from people all over the world. This contest allowed participants to create looks around their themes, regardless of style. The winners announced on Sunday included Alice, Aricelius, Quinn Magick, dearie_dawn, Emily, and Alexis.  
Woodlands and beyond
Rose Foret is planning an inperson event in Colorado in 2022, and if their online event is any indication, it will be great. Bay Area Kei announced their next online event in February, just in time for Valentine's Day. Hats off to the organizers of these events have continued to host these conventions, powered by their volunteers and non-profit organizations. I hope that online events continue to have a robust presence when we can meet in person.  
View this post on Instagram
By day, Jenna is a legal professional living in Los Angeles, California. By night (and weekends), she is a frill wearing monster who loves Innocent World and lolita indie brands. When she isn't taking mirror selfies of her coordinates, she enjoys reading comic books, playing board games, and snuggling with her pup, Lily. You can see her mirror selfies on her instagram @lovelylaceandlies and contact her at lovelylaceandlies@gmail.com.