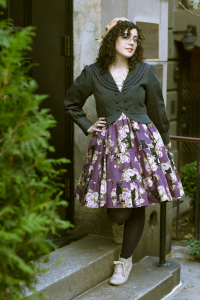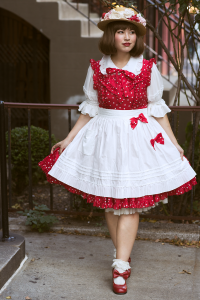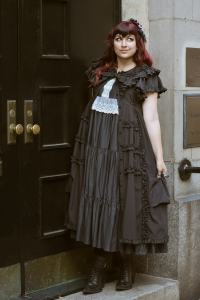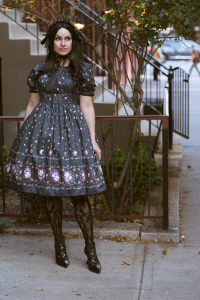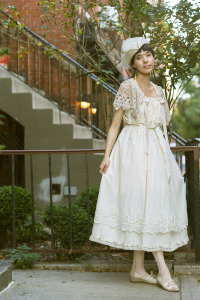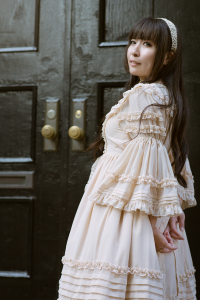 Photos by Perception Crisis Photography
Earlier this summer, ticket sales were announced for a tea party with designer guest Kuniko Kato of Physical Drop, and former designer for Metamorphose: Temps de Fille. At the scheduled time, in what seemed like a matter of seconds, all the tickets were completely sold out to the devoted lolita community in the New York City area. Those nostalgic for some of the more light-hearted and fun prints from Metamorphose in the early 2000s tend to be deeply dedicated, hunting down old designs such as the well-known Teddy Motors mechanic jumpsuit, camouflage print set, and heart leopard print. Others, such as myself, have been inspired by the new designs from Kato under her Physical Drop label which at first glance have a simple appearance due to the solid colors, but are extremely technically detailed, with lots of pintucks and ruffles that form a gorgeous and sumptuous quality, making a dress that can be worn with little effort, but still feels special and elegant.
After seeing the huge response to the ticket sales, event coordinator Abby Woods added an after party for those who couldn't get into the tea party. When the date of the event arrived, I was thrilled to see the incredible results of her hard work put in to make it all happen. King's Carriage, a popular place for NYC lolita events, but unfortunately small (as is typical in the area, hence the limited seating), had been entirely booked out for this tea party, transforming the downstairs sitting area into a pop-up shop for all of Physical Drop's latest pieces, while the back room became a changing area and waiting room for the guests of honor as well as the models for the coming fashion show. Upstairs, guests found in both of the two rooms a gift packet waiting for them at their seat, which included a packet of tea, a cookie, a bow pin, and a Physical Drop postcard, as well as a little bear pin which had a lottery number written on the back.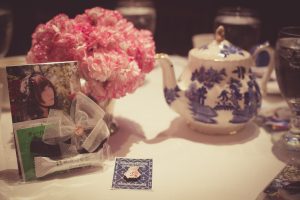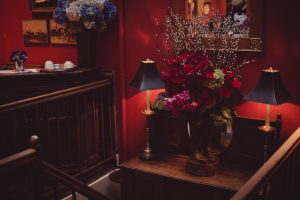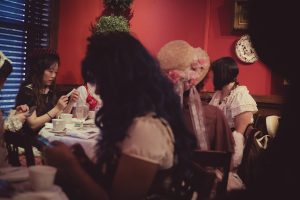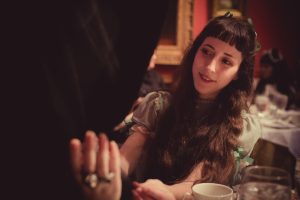 Guests mingled and enjoyed tea, finger sandwiches, desserts, and scones as they were brought out to the tables. I found a seat next to Youtuber Alice TY (Alice's Adventures) and indie brand runners Sheri Branson and Adel Hagar (Ikemen Mode), among others, which made for entertaining conversation on everything from designing clothes to sake. Host Abby Woods appeared around the venue to make announcements to the tables about the raffle that would take place after the fashion show (to which the lottery numbers on our pins coordinated), and was calmly and welcomingly professional during the whole event, giving an appearance of an effortless handling of the affair that was doubtless much more complicated than she made it look. Kuniko Kato and her former shop girl and model Aya (who also acted as translator) walked around to the tables to say hello before everyone made their way downstairs to do a little shopping.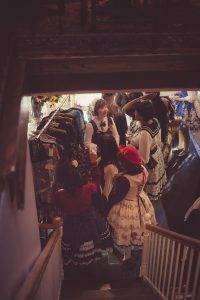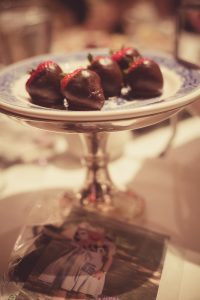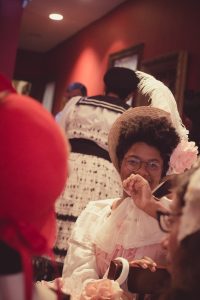 At that point, upstairs, Abby and the King's Carriage staff had begun to transform the upstairs area into the setting for a fashion show. By the time I made it upstairs, nearly everyone had been seated, and I was lucky to get a front row seat that was just being added as I arrived. Six beautiful looks were shown, and afterwards, Kato-san and Aya explained the ideas behind each one. Through that explanation and the subsequent Q & A session that took place, Kato-san told us several interesting things about her life as a designer, what influences her, and the way in which she responds to lolitas' needs.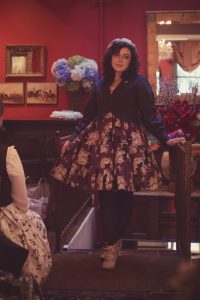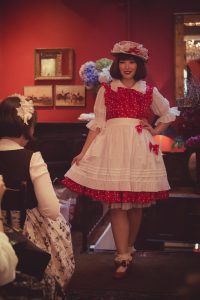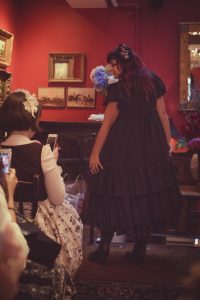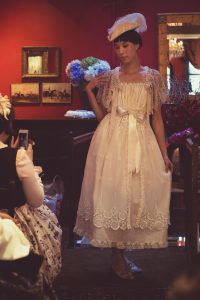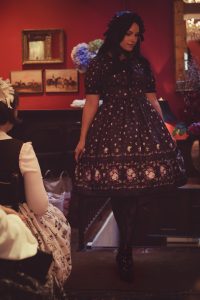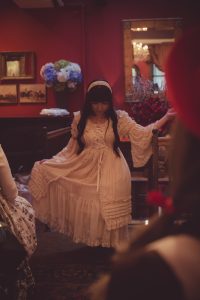 What was most remarkable was that considering the slowness of Japanese brands to respond to the needs for sizing accommodation, Kato-san was very responsive and forward-thinking. She not only had a variety of flexibly-sized skirts and dresses in the pop-up shop (mostly full-shirring skirts and slightly larger dress sizes with partial shirring), but talked about how certain designs she showed were created with aging lolitas or pregnant & mother lolitas in mind. She had dresses that would open easily in the front to make breastfeeding easy, and dresses that were long and elegant for older lolitas that would look flattering and less ostentatious. Amusingly, Kato-san shocked the room when she, the designer for many cat prints, revealed that she is actually a dog person! She explained that she liked cats as a motif better than dogs, but prefers dogs in real life.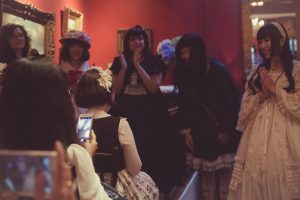 Afterward a raffle of cutsew dresses and houjicha, downstairs in the shop Kato-san was incredibly kind and answered lots of questions, and accommodated photo requests with many guests, including myself and friends. While Abby and her staff helped Aya and Kuniko Kato close up the pop-up shop, the rest of the group migrated over to the next venue for the afterparty, The Auctionhouse bar. Some from the tea party went home while others who hadn't snagged a tea party spot showed up for after party festivity, and took lots and lots of photos together, certainly a favorite activity. The shop was moved to the new location, and everyone enjoyed a drink included with their ticket (and a few more after) while shopping, chatting, and generally agreeing what a good afternoon and evening it had been.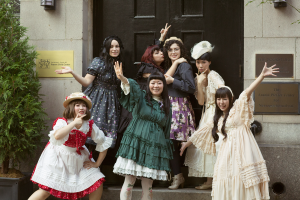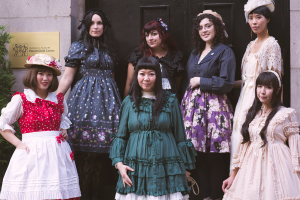 Checking the event page during the next week, an outpouring of cheerful comments from event-goers thanked Abby and everyone who helped for putting together such a wonderful party. Not everyone was sure what exactly the magic sauce had been, but we all agreed that there should be more like it. So many of us hadn't seen each other in a long time, and we enjoyed the chance to mingle with other lolitas, since the New York community is so large that we don't often know when we'll be at the same meetup at once. The Physical Drop tea party was such a must-go event that it drew a lot of us who don't make it out as much, and we were happy that we all finally not only saw each other, but enjoyed each other's company in a cozy, intimate, and elegant space (in both locations), and all that was incredibly heightened by the extraordinary experience of meeting a designer and seeing her work so closely and personally. Abby Woods was a calm, collected, and very hospitable hostess whose incredible efforts and attention to detail made a well-planned and well-executed event that will be memorable for all of us, and set a standard for guest tea parties in the future. I can't wait to go to another beautiful meetup like this one!
Lucy is a full-time textile designer & illustrator, and the creator of fledgeling indie brand Cottonbook. She loves lolita, otome, and mori girl, and is obsessed with clouds.