I thought I'd give you a little run down of my favorite accessories that I use for masculine styles like ouji and EGA, with some examples of how I coord them. These are pretty random accessories, but I really enjoy them for how they match with tons of other pieces in my wardrobe.
Tragedy Night Bow Necklace
This is just a simple necklace from a Taobao brand called Tragedy Night, but I love how quickly it can pull together a coord. It's the perfect length for an ouji necklace and, even though it has a bow, it's not overly feminine—or feminine at all, really. This is a most-worn item of mine, and I don't intend to stop wearing it any time soon.
Vintage Gothic Brooch
I bought this off Etsy after I saw it, because I knew I had to have it. It's a silver and black brooch that has three skull charms hanging from it, if you can't tell in the photo above.  It was a bit pricey (I paid about USD 30 for it at the time) and waiting for it was a bit of a pain since I had bought it without tracking from the UK. I love it, though, and I love pairing it with all kinds of different styles. It's my most-worn brooch.
Alice and the Pirates Black x Gold OTKs
I'm lumping these in with accessories because I feel like that's how I think of them in my head. They can really help pull an outfit together.
I love that the color of these OTKs go so well with pretty much anything that I have, and that the pattern on them slims my legs down and makes them look long. I have another pair of these in green x gold, but I haven't really been able to successfully coordinate those yet. I'm also wanting to get these OTKs in the blue x black and red x black colorways. I don't wear much ouji these days, but I do love these socks!
Black Rings
I bought this pair of black interlocking rings from Amazon for about USD 10. They're black, so they go with pretty much anything, and I try to wear them when I can with any coordinate. They're not made of that cheap metal that colors your fingers, and they're fun to play with and put on different fingers during the day. I wear them not interlocking most of the time, but I can also create a more strange look by wearing the interlocking bits opposite from each other. These rings are also good for other J-Fashion styles that I'm into. Dare I say these are the perfect gothic rings?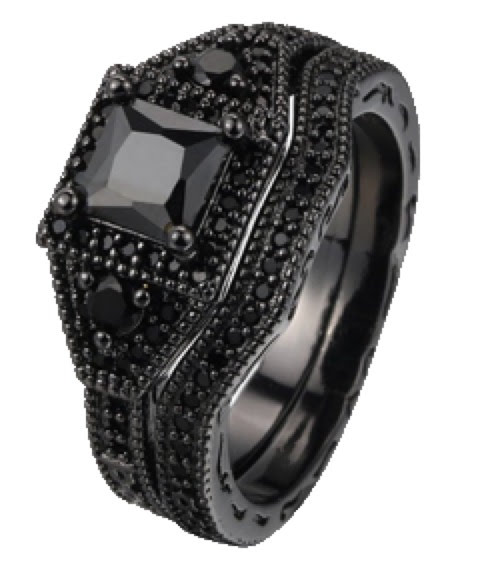 Sugar Hai Crown
This crown has a unique story to it. I had been searching for a crown to pair with one of my first coords, when I came across the Sugar Hai brand's facebook page. It was inactive, but I loved the look and design of this crown, and so I figured that I'd contact them anyway and at least try to order from them. Sure enough, the owner of the page contacted me back within a day explaining that life had taken over, so she hadn't been able to work on her brand. She seemed really happy to get back to work and make this crown for me, which made me really happy. The crown itself is a bit flimsy for my liking, and considering the price, but despite this I'd still like to order other colors of this beauty. This crown is one of my most-lended out accessories. It seems like if I'm not wearing it, someone else is! Unfortunately, I don't have many photos of it worn, but you can see it a little bit in the blue coord I showed for the Tragedy Night necklace, as well as the first image in this post.
Black Brooch
Again, I got this brooch off Amazon. I get compliments every time I wear it and even though it cost me about USD 5, people constantly ask me if it's vintage!
h.naoto Necklace
On its own, this necklace doesn't really do much for me. It's an odd color of brown, and looks a bit too steampunky for my liking. I got it in a lucky pack way back when I was just startign to get into J-Fashion and visual kei. The strange thing about this? It seems to go well with both brown and black things, and really any color in between. It hasn't looked out of place in many of the coords I've tried to put it with. Plus, back when I was 40 pounds heavier, it felt good to wear a bit of brand that I could actually fit into!
Puvithel Ouji Pin/Brooch
I love this two-tiered ouji pin/brooch from Puvithel. It's a unique way to add a bit of color to your top half, which can sometimes be difficult. It's very versatile and can be worn pretty much anywhere. I've seen it worn on vests, coats, jackets, hats, and in wigs as a hair chain. I prefer to wear it on my coat and/or vest, and I've been trying to incorporate it into more coordinates recently, even branching outside of ouji and EGA.
Kal from Lightningsavage Photography specializes in creative portrait photography for J-Fashion enthusiasts and more. He has served as the J-Fashion event photographer for Oni-Con 2016–2020, as well as fashion shows, meetups, and personal shoots. He is also a co-owner of Kuroshiro Kawaii. You can follow him on Instagram at @lightningsavage_photography and @kaldec_
He is currently into visual kei and EGA fashions.