Ouji fashion items, as well as Lolita fashion items are easy to buy through Wunderwelt.
Recently, I ordered some Ouji Fashion items through Wunderwelt and thought it would be a good opportunity to review the service.
I've used Wunderwelt a lot over the years, and have always found them to be reliable.
My first ever blog post for Wunderwelt was creating co-ords using lolita fashion items I bought through them.
I did not review the service back then.
This time, I am buying Ouji fashion items, and have a few more years of good experience shopping with Wunderwelt.
(CLICK HERE for Video Review!)
I placed my order on April 22nd.
Wunderwelt sent my shipping confirmation on April 25th.
The UK post sent my customs notice on May 3rd, and finally
it arrived with me on May 8th.
That's roughly two weeks from placing the order, to having it in my hands.
Including the time it spent in UK customs, which can often be the slowest part of any parcels journey.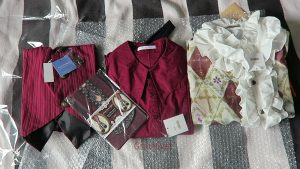 The UK post service is quite rough with parcels, so the outer box was bashed up a lot.
Wunderwelt packaged the items inside very well in, so everything was safe and clean.
Each item was insdie an individual plastic bag, and then all three of those were wrapped up together in bubble wrap.
The two layers protected everything from getting hurt by the postal service.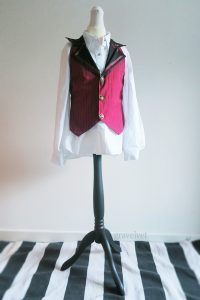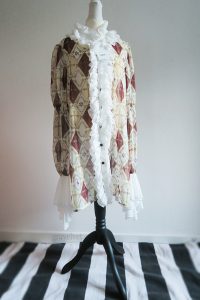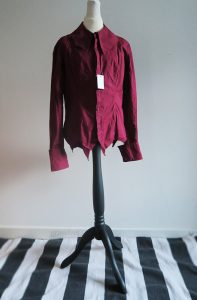 My haul included the wine-red Putumayo waistcoat, matching red putumayo shirt, and the white and red Triple Fortune Antique Cross Blouse.
The waistcoat caught my eye because it is is halter-neck style. This style will be easy to wear with wing accessories because the back is open.
I posted an example of this style on AliceHolic.
I liked the red shirt for the bat-wing style edges. Red is a prominent colour in my wardrobe, and so are bat motifs.
I already own the Triple Fortune blouse in black and am looking forward to making matching opposite outfits with both of them.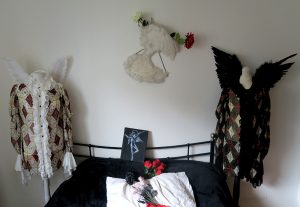 You can find images of all the clothing shown in this post being worn on my Instagram.
Vampire Ouji from Scotland