Just because you're a elegant gothic aristocrat doesn't mean you can't have cute Christmas nails. Here are three ideas to bring some festive cheer for your black manicures.
O Holy Fright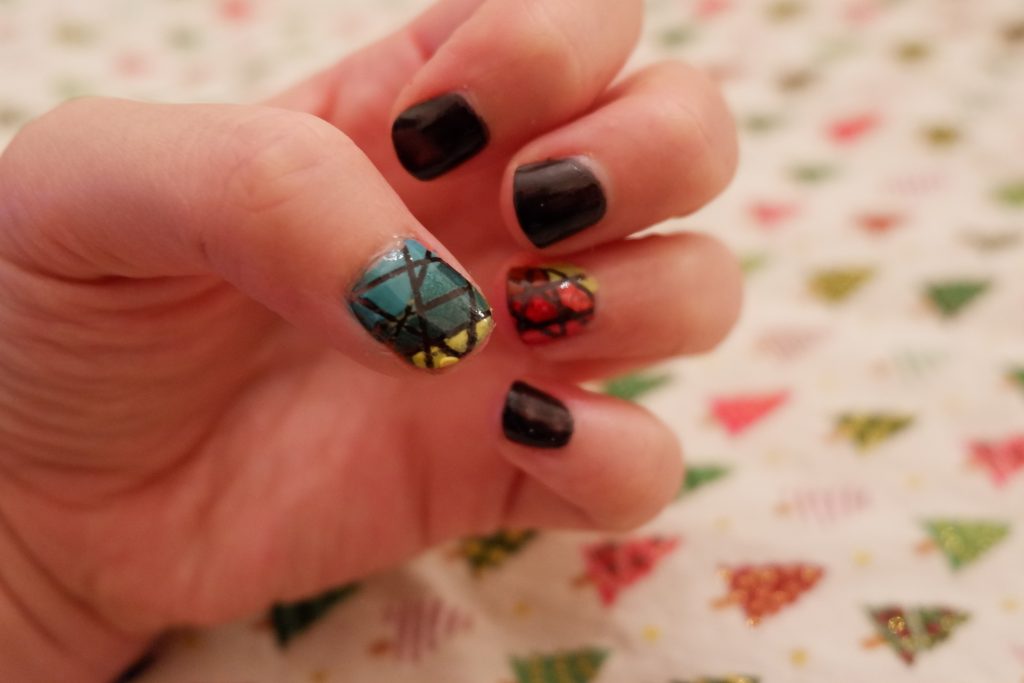 A stained glass manicure will look fantastic with all the stained glass prints in your wardrobe.
Prep your nails as desired and paint your nails black. Top with a quick dry top coat and wait for them to fully dry. Wait an extra five minutes for them to dry. Make sure they're really dry.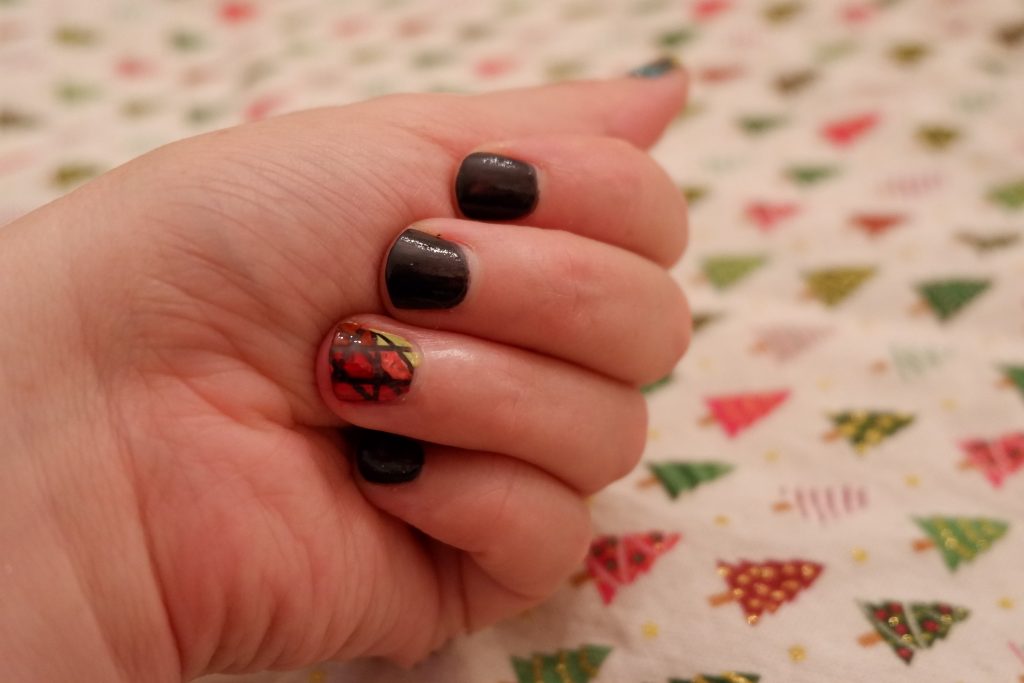 Get some striping tape or cut strips of tape very thin. I'd aim for about 6 pieces per nail. Carefully apply the tape in random geometric patterns and make sure that it tightly adheres to your nail, especially at the edges.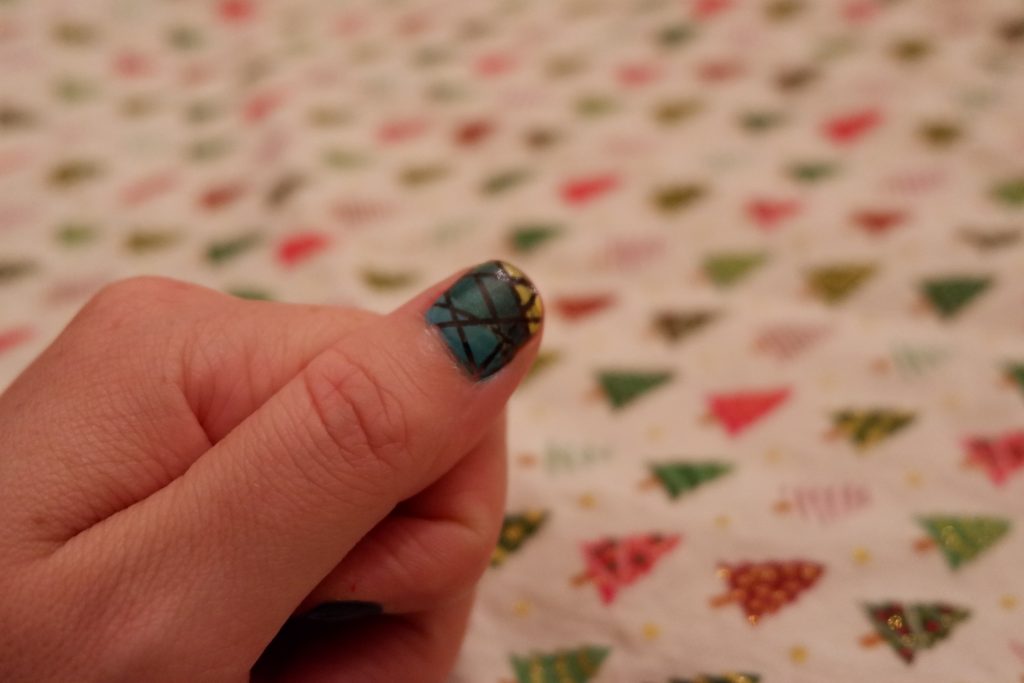 Apply a colorful mosaic over the tape and the black polish. You can do this with brushes, sponges, or a dotting tool. Ideally, this coat should be relatively thin, but still enough to cover all of the black. Once you have the color pattern you desire, remove the tape. Apply a top coat.
Candy Kingdom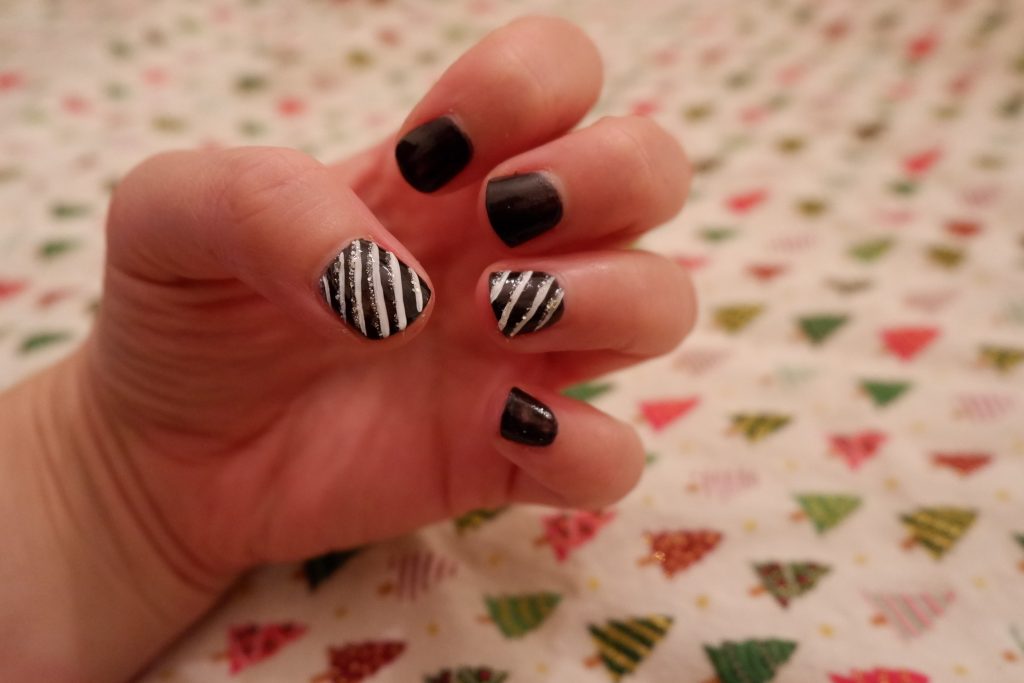 Candy canes are a staple of the season but they don't always go with an all black wardrobe. Try out a more sophisticated version with a black and white twist on the seasonal treat.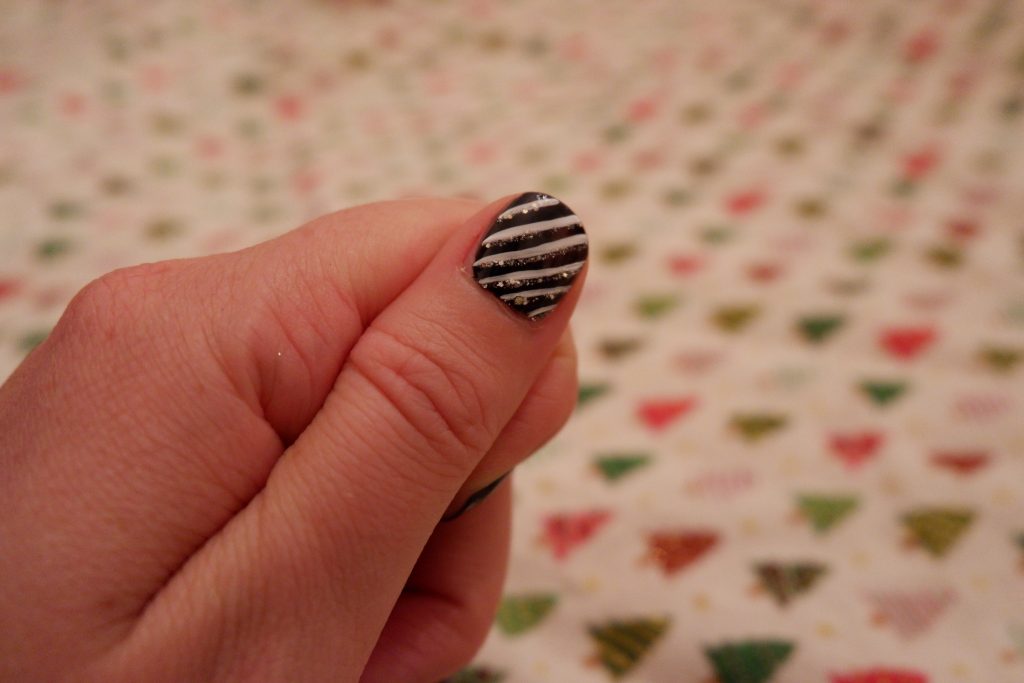 Prep your nails as desired and pain your nails black. Top with a quick dry top coat and make sure your black coat dries completely.
Take a striping brush and begin applying white paint to your nails diagonally. If you'd like, you can also use acrylic paint to allow for more detailed line work (this is also easier on your detail brushes because you can clean them with soap and water). For extra flair, paint a line of silver or gold glitter on top of or right next to your white stripes. Top with a quick dry top coat.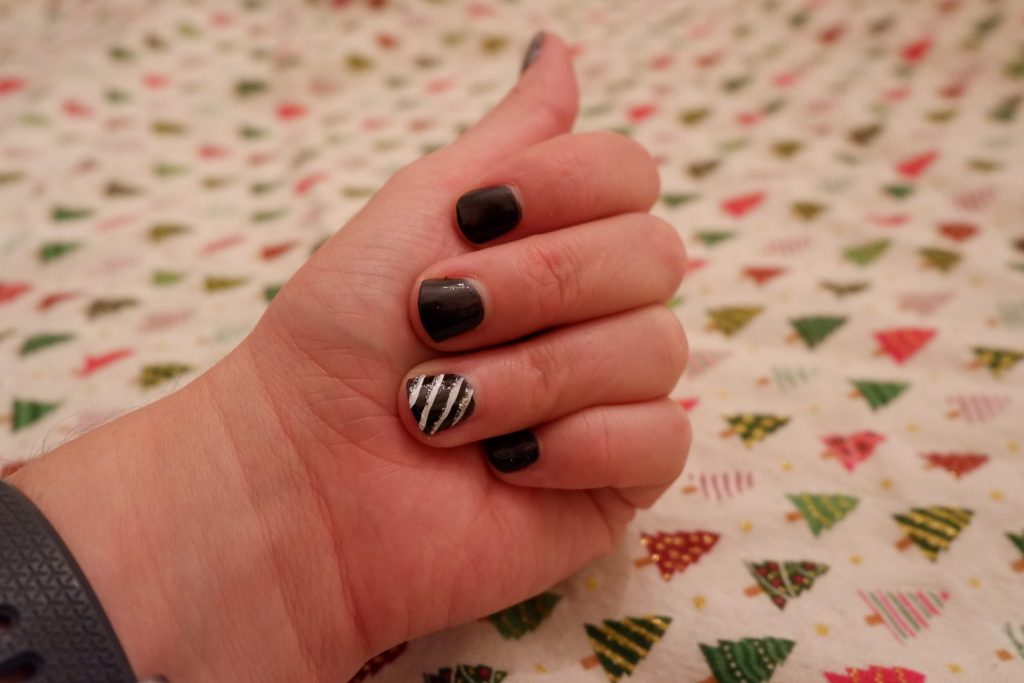 Tip: you may run out of polish part way through your line. To make your lines as even as possible, turn your nails (rather than dragging the brush). 
White, but make it black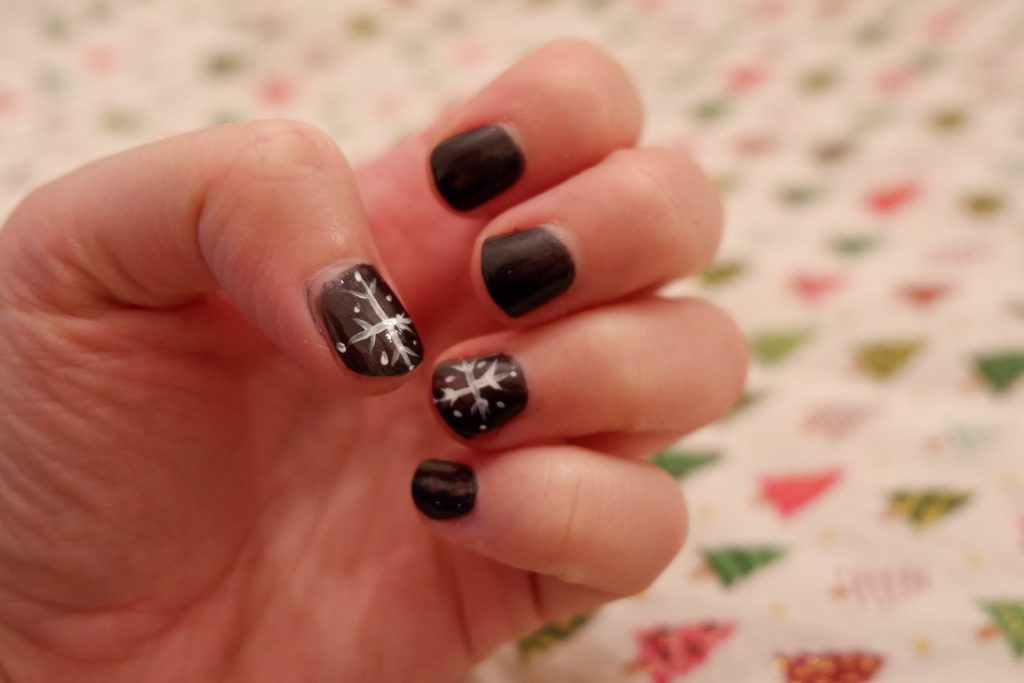 A simple black manicure looks great all year round, and a simple snowflake says "Ice Queen" without too much effort.
Prep your nails as desired and paint your nails black. Using a thin striping brush, draw a white line down the center of your nail, thinning the line towards the tip of your nail and your nail bed.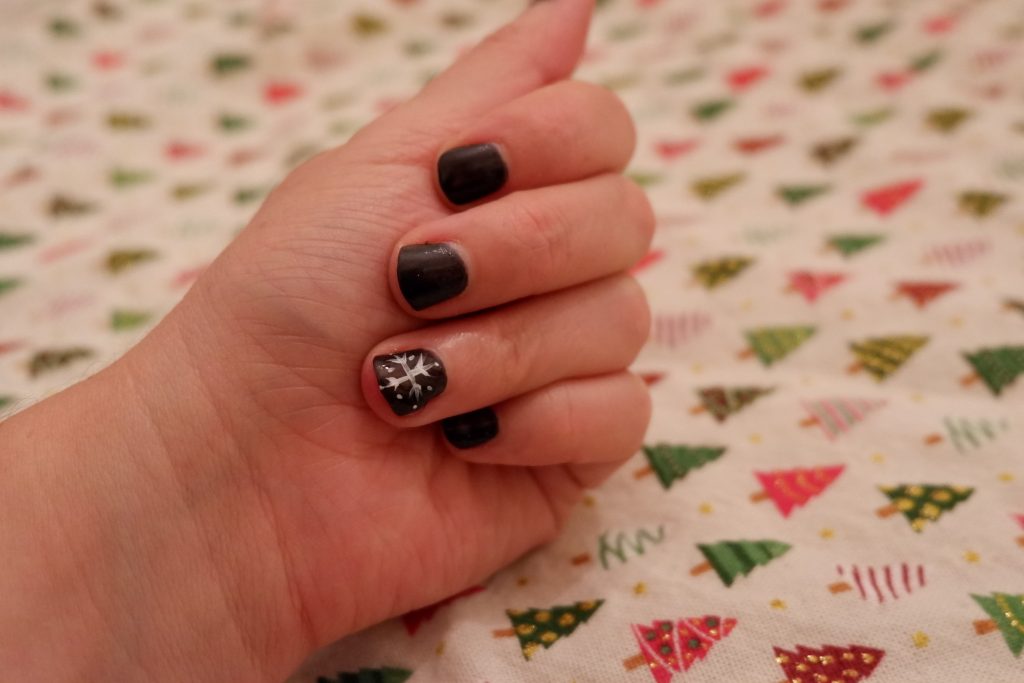 Divide the line horizontally down the center to make a cross. Make short diagonal lines at the ends of the lines.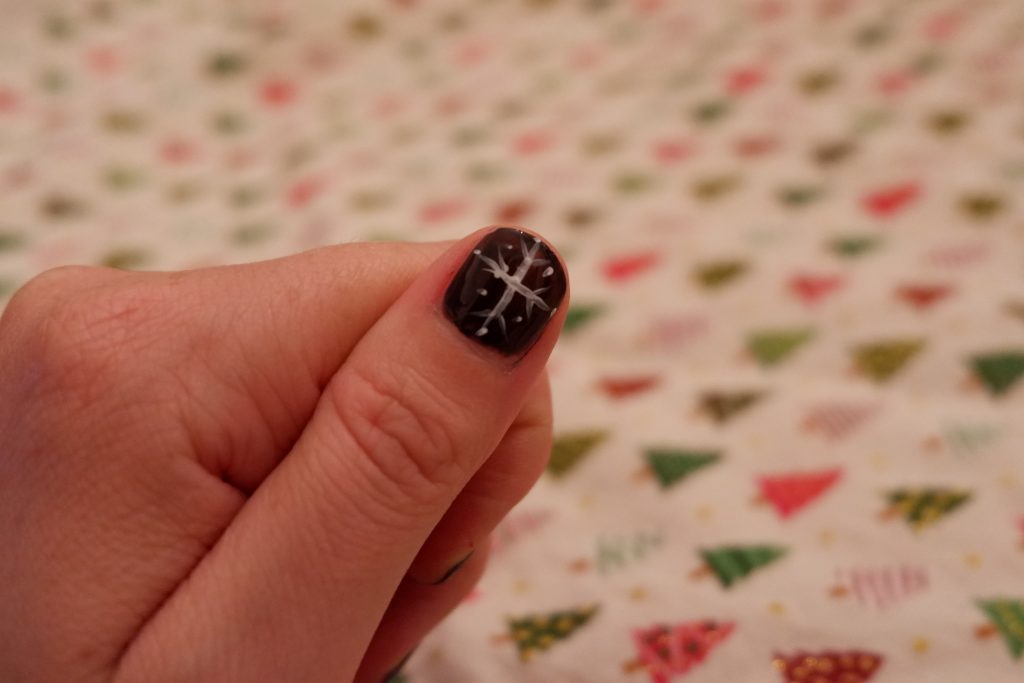 Add dots around the edges and top with quick dry top coat.
By day, Jenna is a legal professional living in Los Angeles, California. By night (and weekends), she is a frill wearing monster who loves Innocent World and lolita indie brands. When she isn't taking mirror selfies of her coordinates, she enjoys reading comic books, playing board games, and snuggling with her pup, Lily. You can see her mirror selfies on her instagram @lovelylaceandlies and contact her at lovelylaceandlies@gmail.com.