I know it's been quite a while since I've published a post—but for good reason. Since last year's wardrobe post, a lot has changed in my life, including becoming the co-owner of a fully fledged J-fashion store! Between that, photography, and my day job, much of my life is booked these days. Because of that, I will be reusing some photos.
Still, I thought it would be important to post an update to my 2018 wardrobe post, considering my goals from 2018.
In summary, I had considerable growth in jackets, blouses, legwear, and accessories. At the beginning of the year, I scored a great deal on a velvet Roland jacket on Lace Market and it quickly became my favorite piece to wear. I spent much of the year adding to my jacket collection and managed to find the black Captain Hollow on Lace Market as well—and instant buy considering how rare it is to find a men's size in black that has all the pieces. Later on in the year, I sold my beloved Rose Cross Print Long Gilet (2009) from Moi Meme Moitie to buy a blouse and silver and gold diamond socks from Alice and the Pirates, a hat from Corgi-Corgi, my first Kumakumya (named Kuma-kun), and a bunch of oujiable accessories from Wish. I then managed to flesh out my wardrobe on Wunderwelt with another vest and an Incubus blouse in red (which I'd been waiting for ages to pop up on the used market in men's size).
Blouses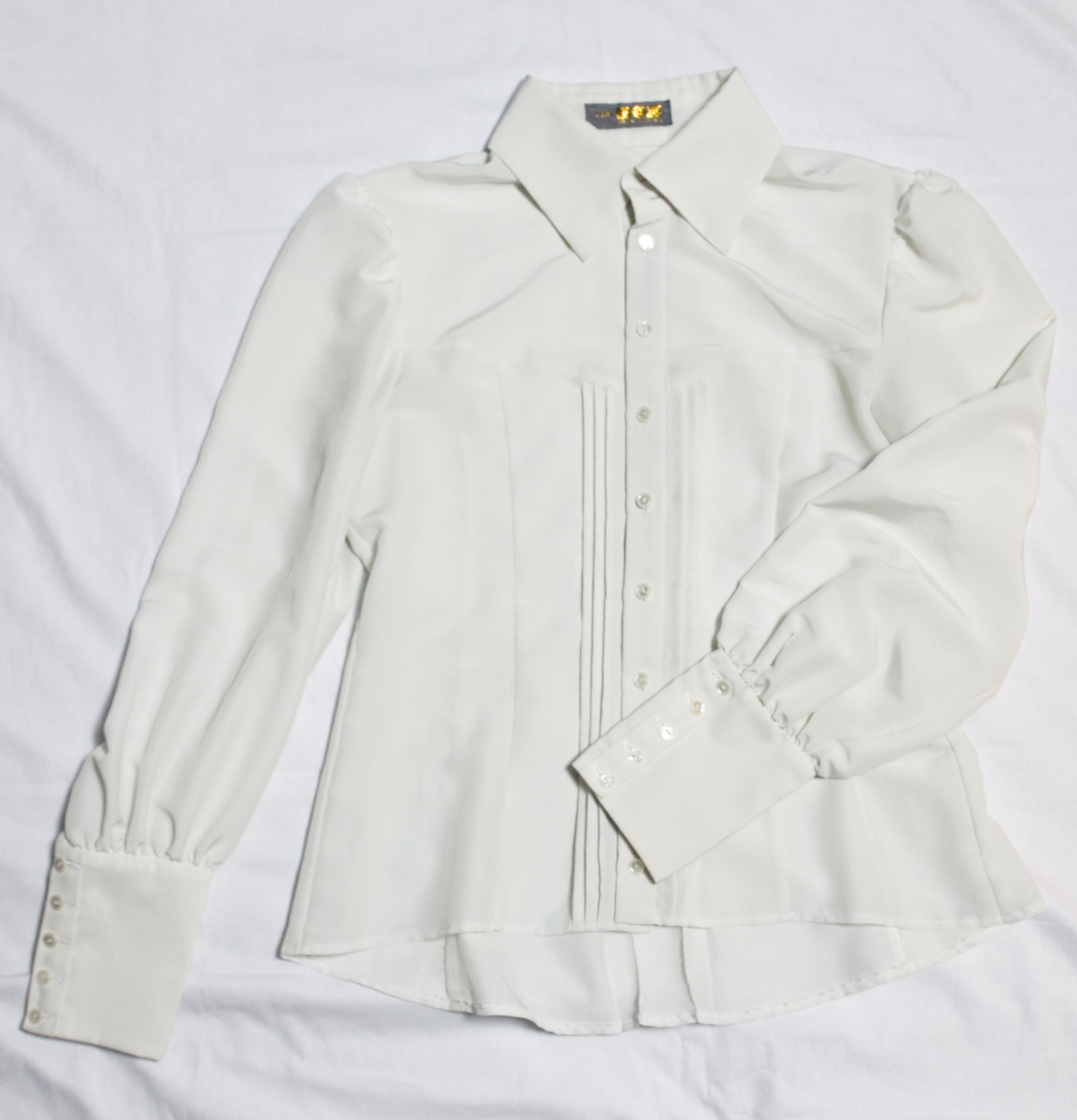 Atelier Boz Mistress Blouse (2006)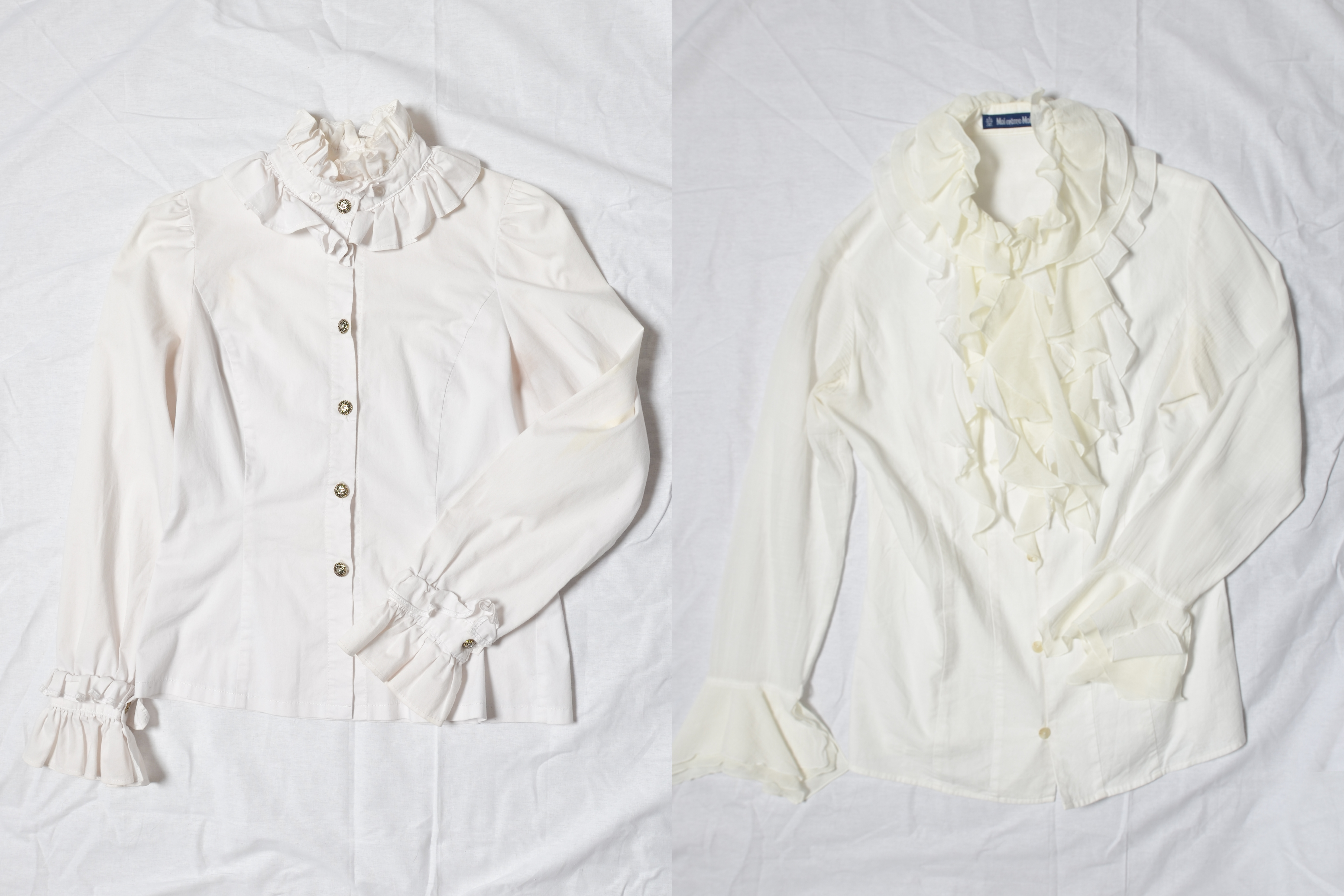 Fanplusfriend White blouse
Moi-même-Moitié Double Gauze Blouse (2011)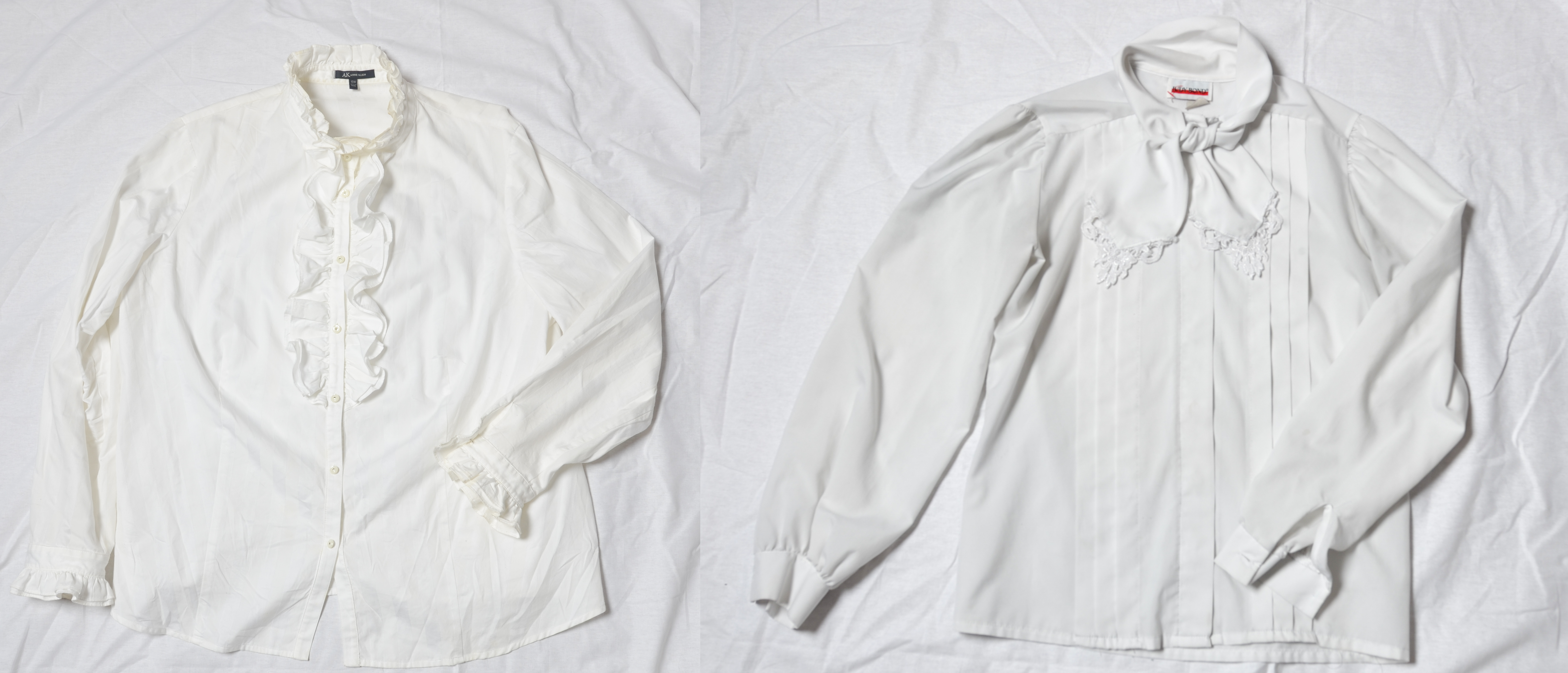 Offbrand White stripe blouse
Offbrand White tie blouse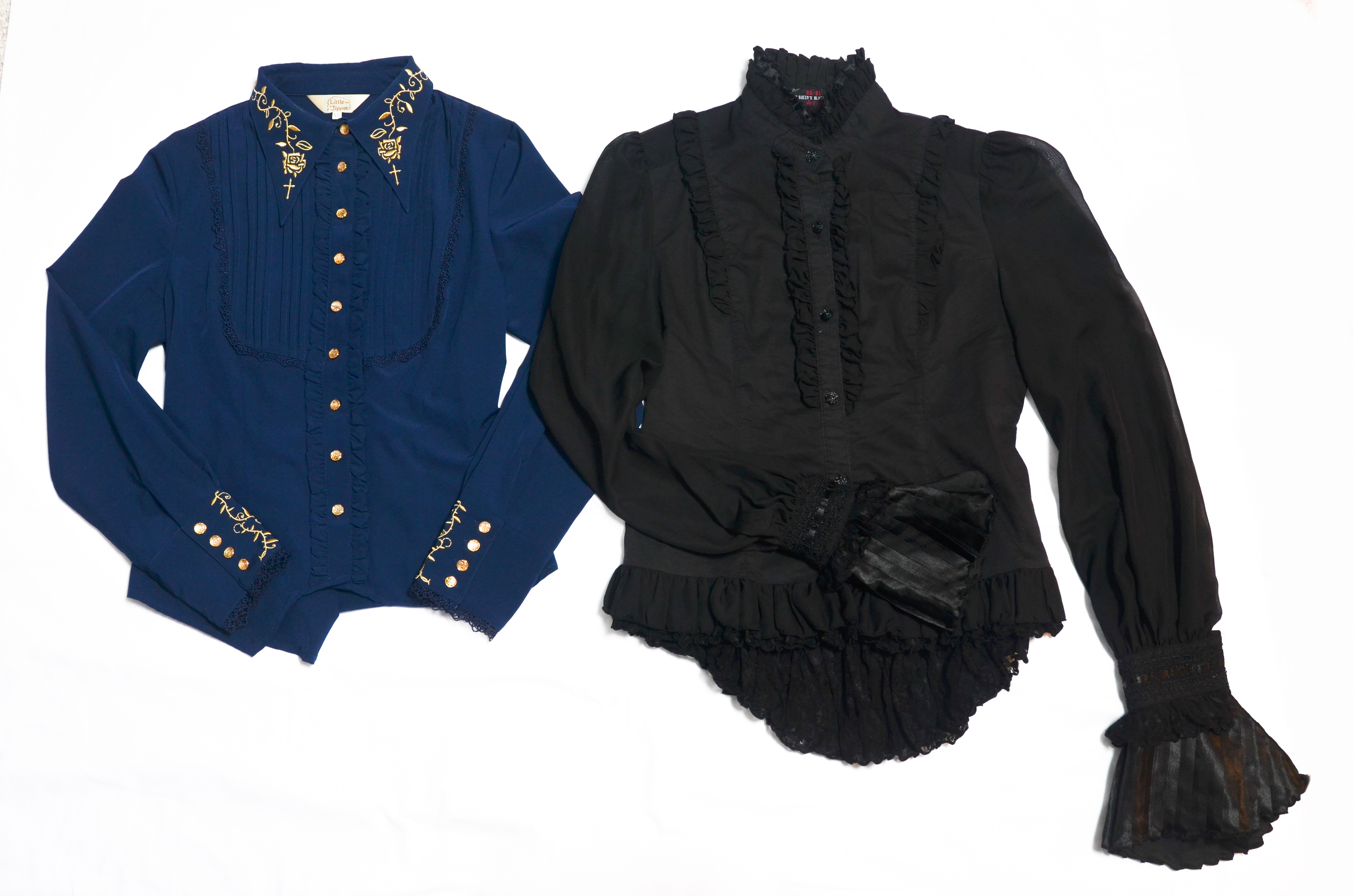 Little Dipper Rose Embroidery Blouse (2017)
Red Queen's Black Legion Black standing collar blouse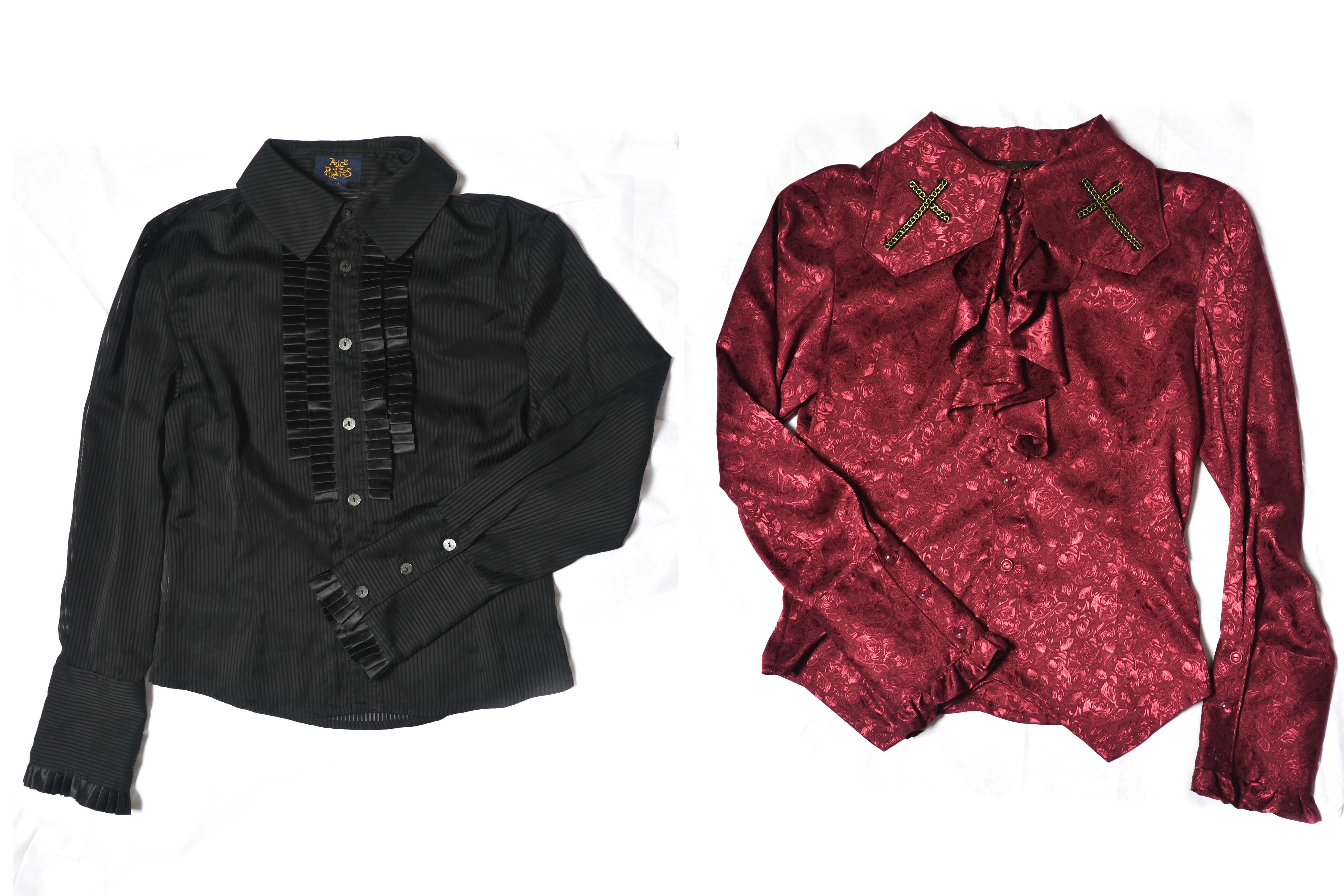 Alice and the Pirates Drag Star Blouse
Alice and the Pirates Incubus Blouse
Vests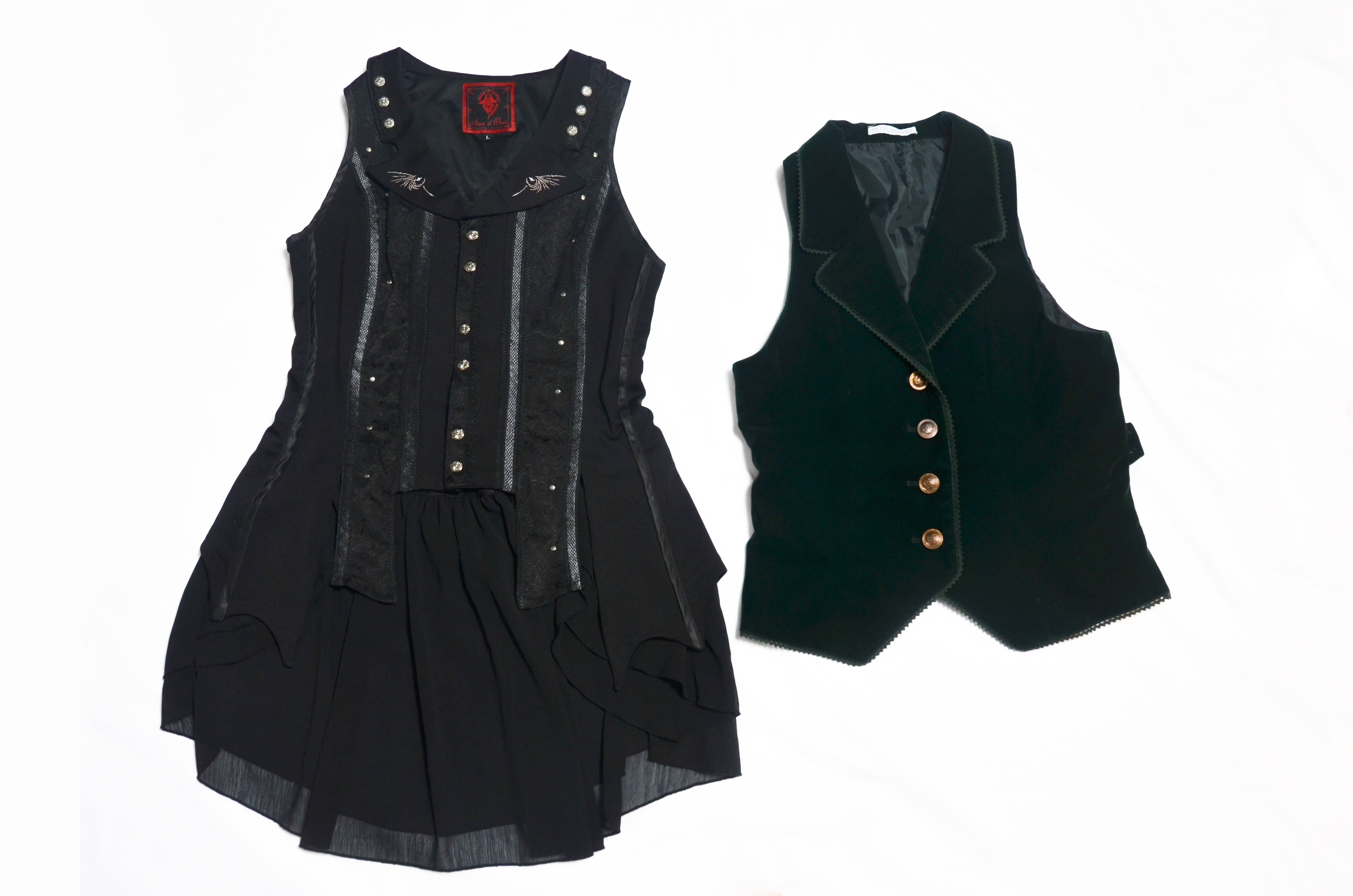 Arca et Ovis Gothic Prince Vest (2017)
Putumayo Green velvet vest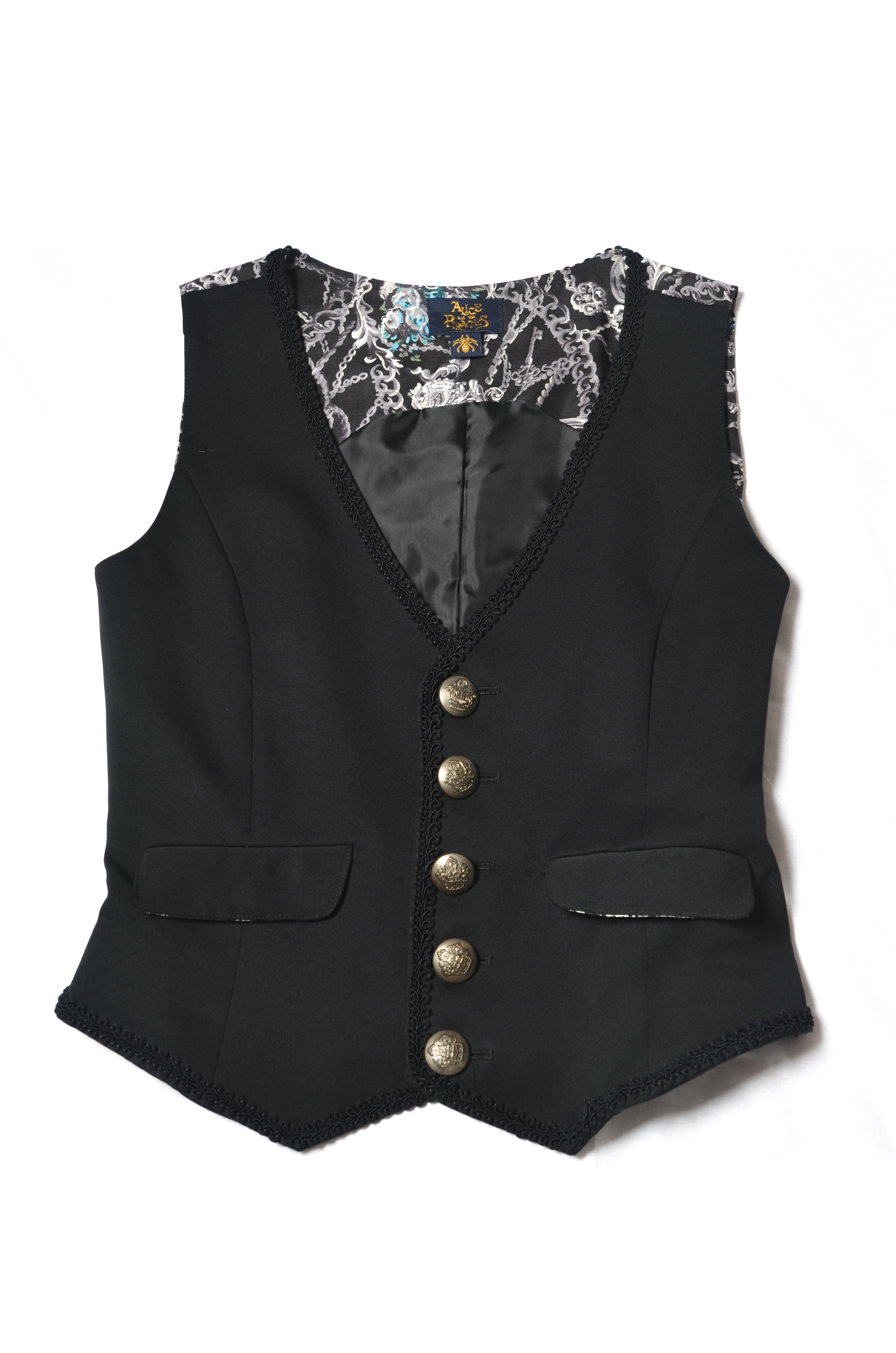 Alice and the Pirates Chain Bouquet Vest (2011)
Jackets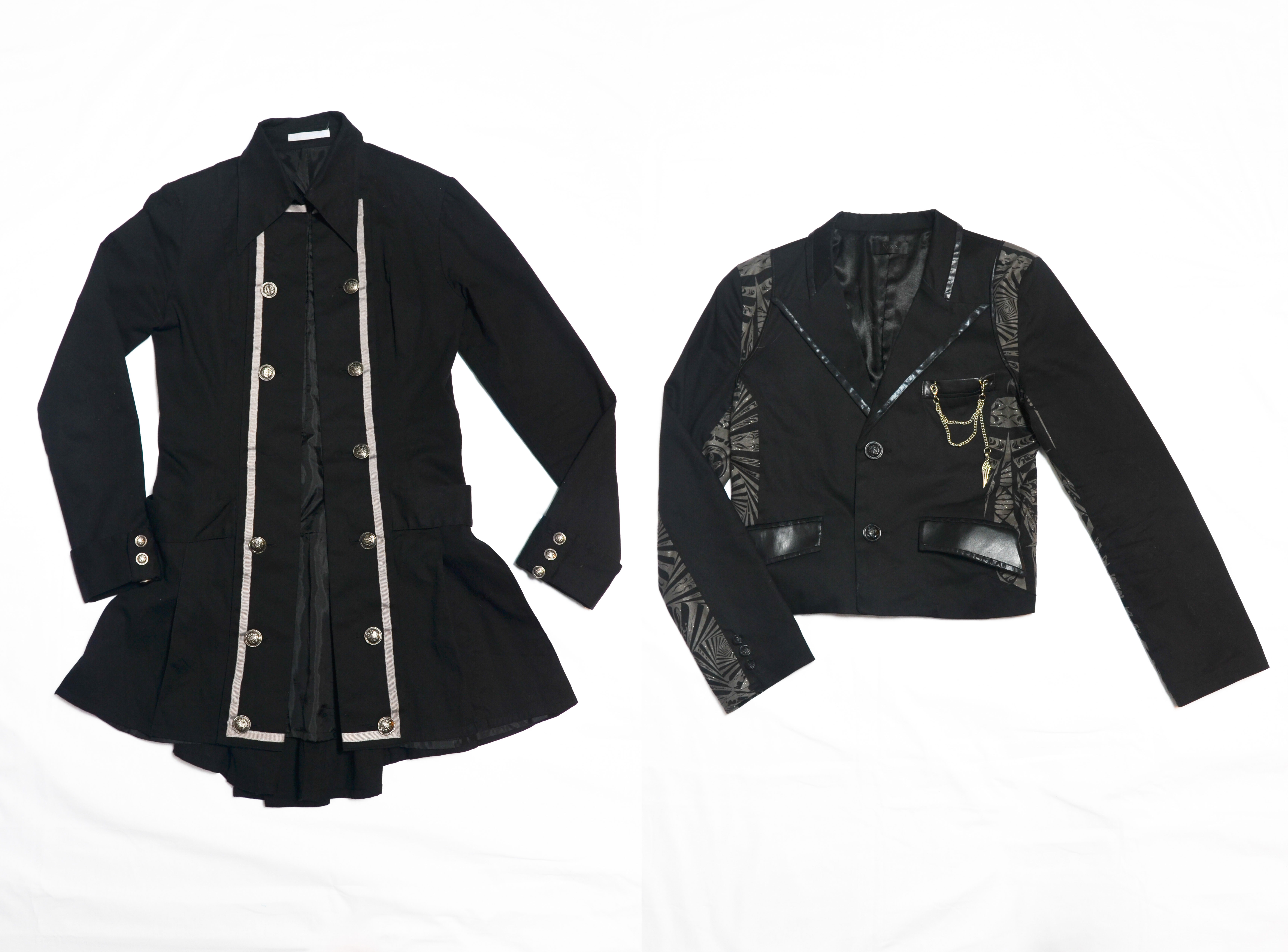 Putumayo Layered Wind Ouji Jacket (2017) featuring a missing button D:
h.Naoto Sixh Embroidery jacket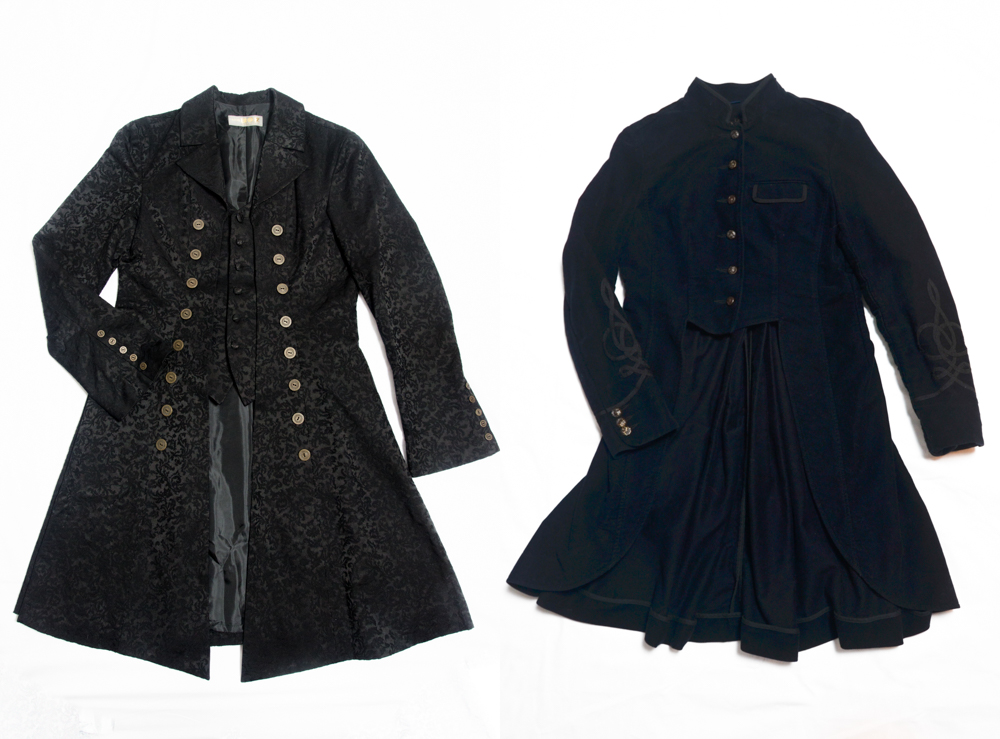 Atelier Boz Schwarz Roland Jacket (2013/2014)
Ralph Lauren Suede leather jacket (navy)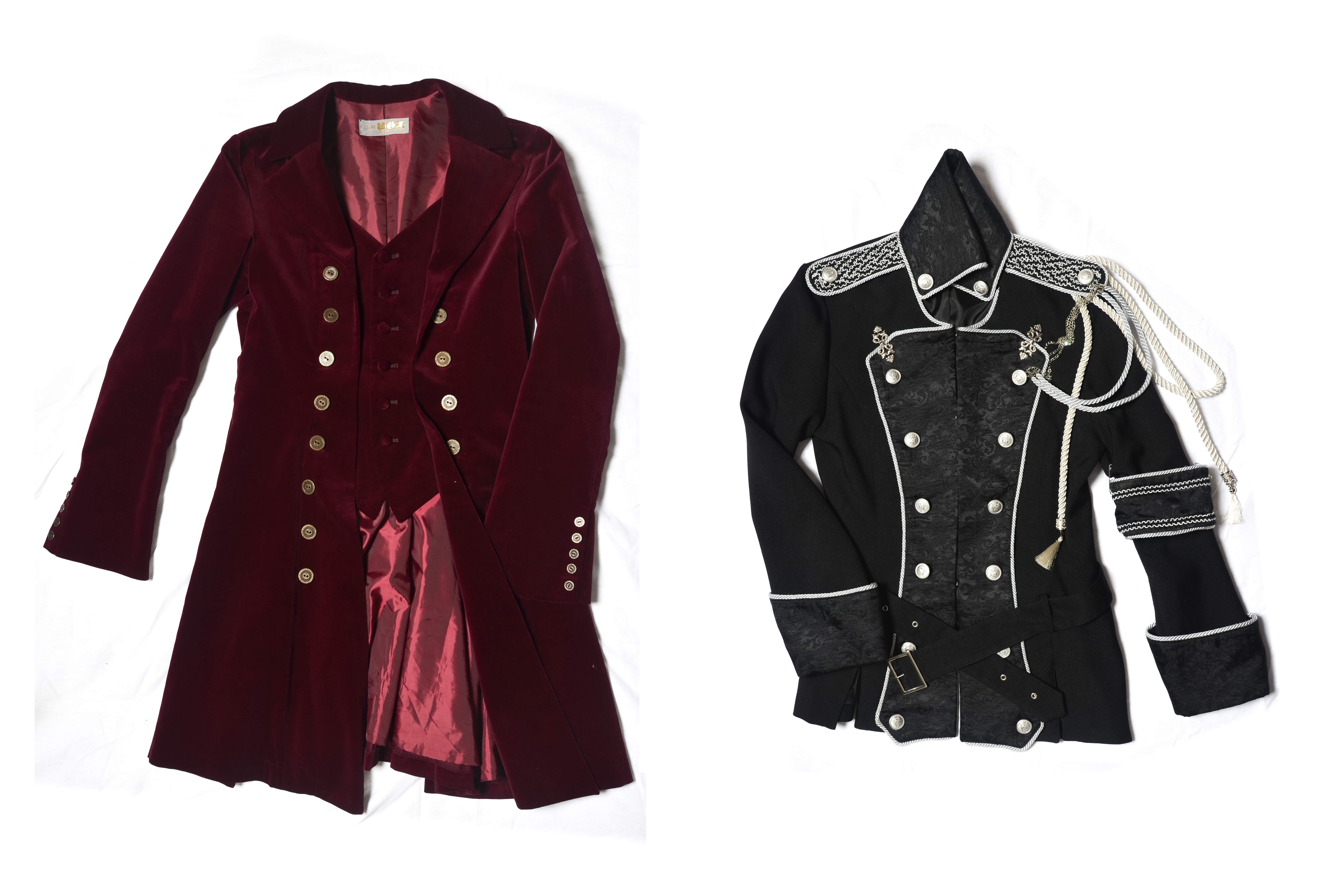 Atelier Boz Velvet Roland Jacket (2010)
Alice and the Pirates Captain Hollow Jacket (2012)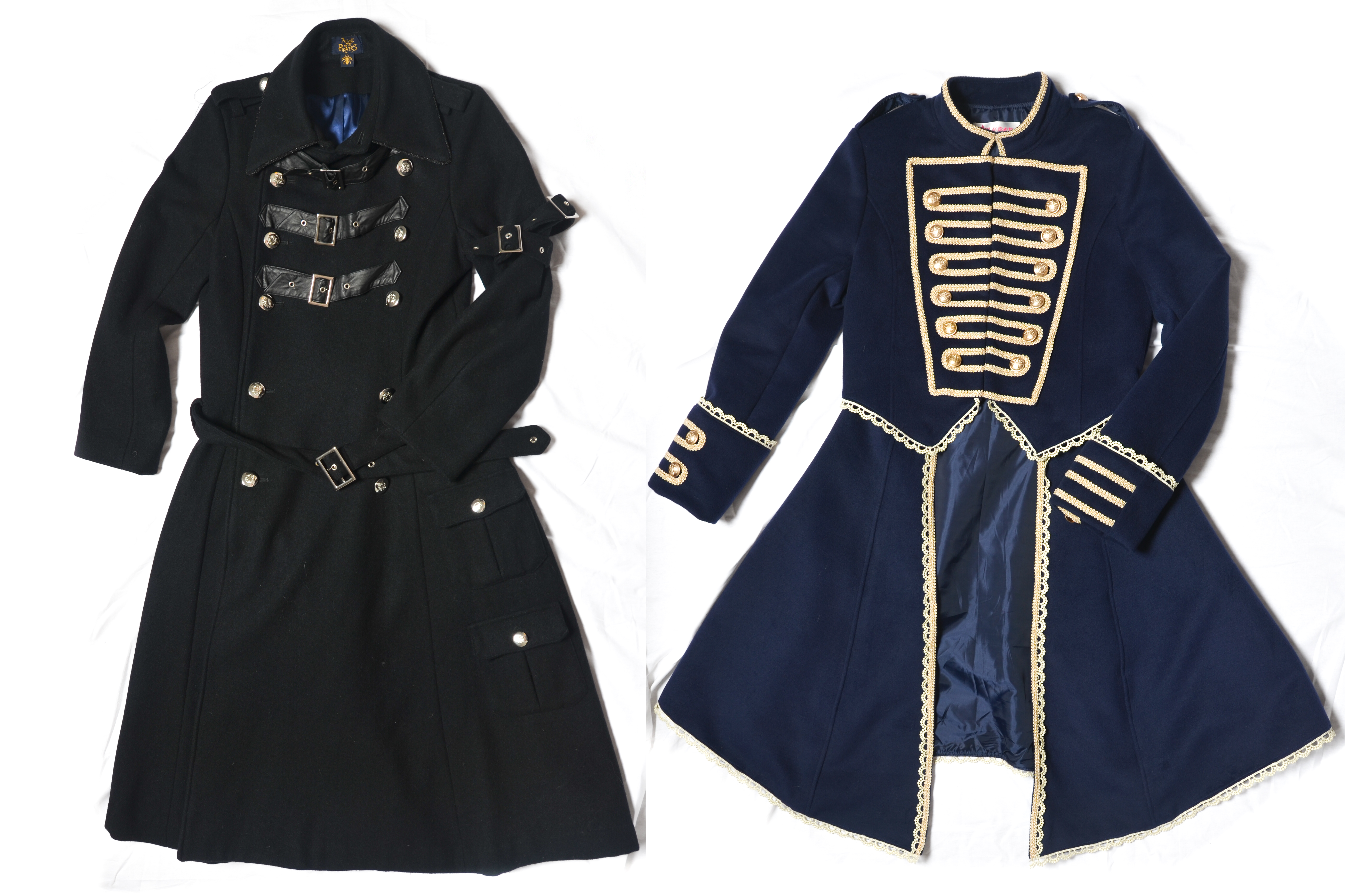 Alice and the Pirates Ludwig Coat (2011)
SY Royal Knights Jacket
Capes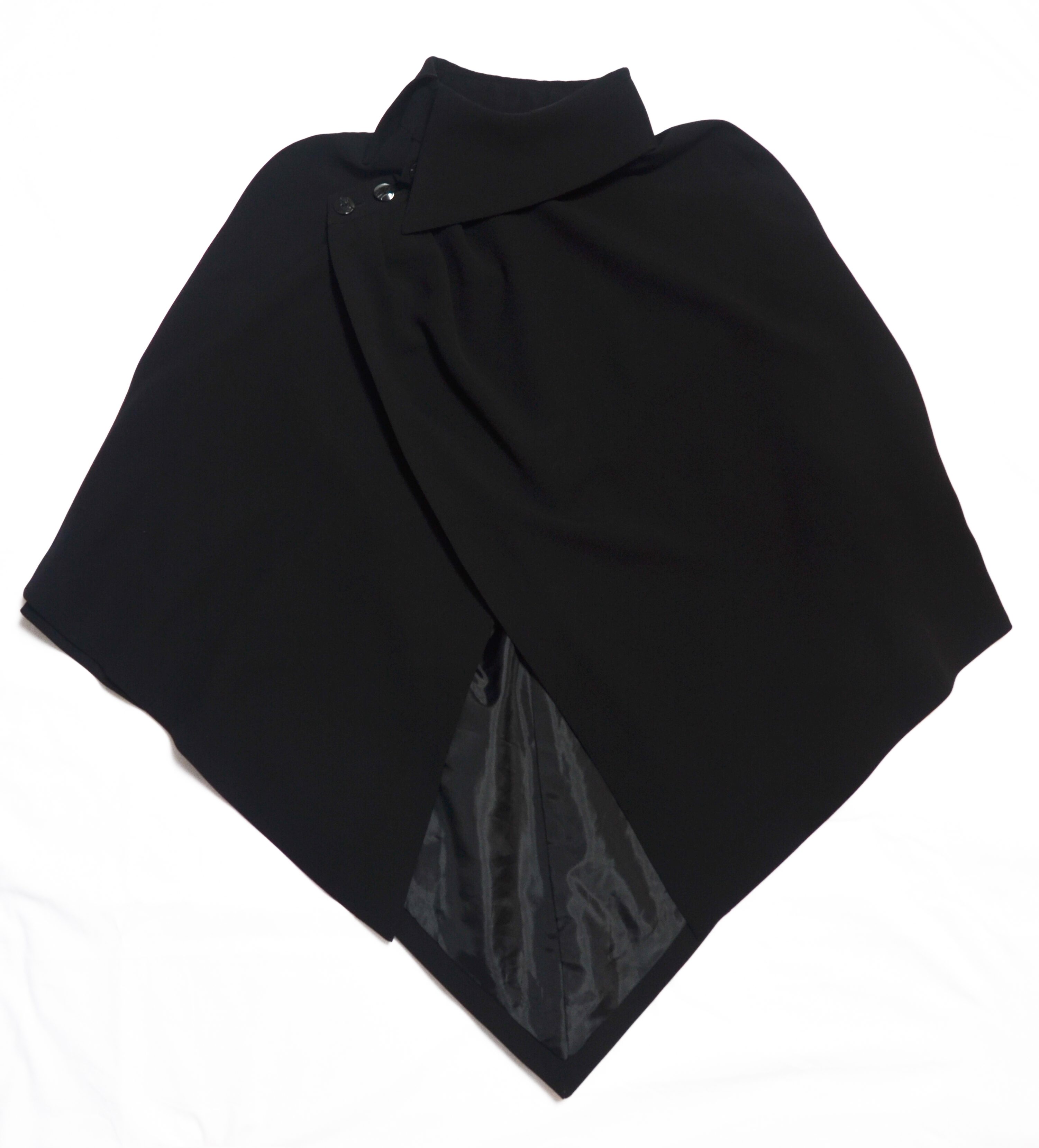 Atelier Boz Ailos Cape (2013)
Pants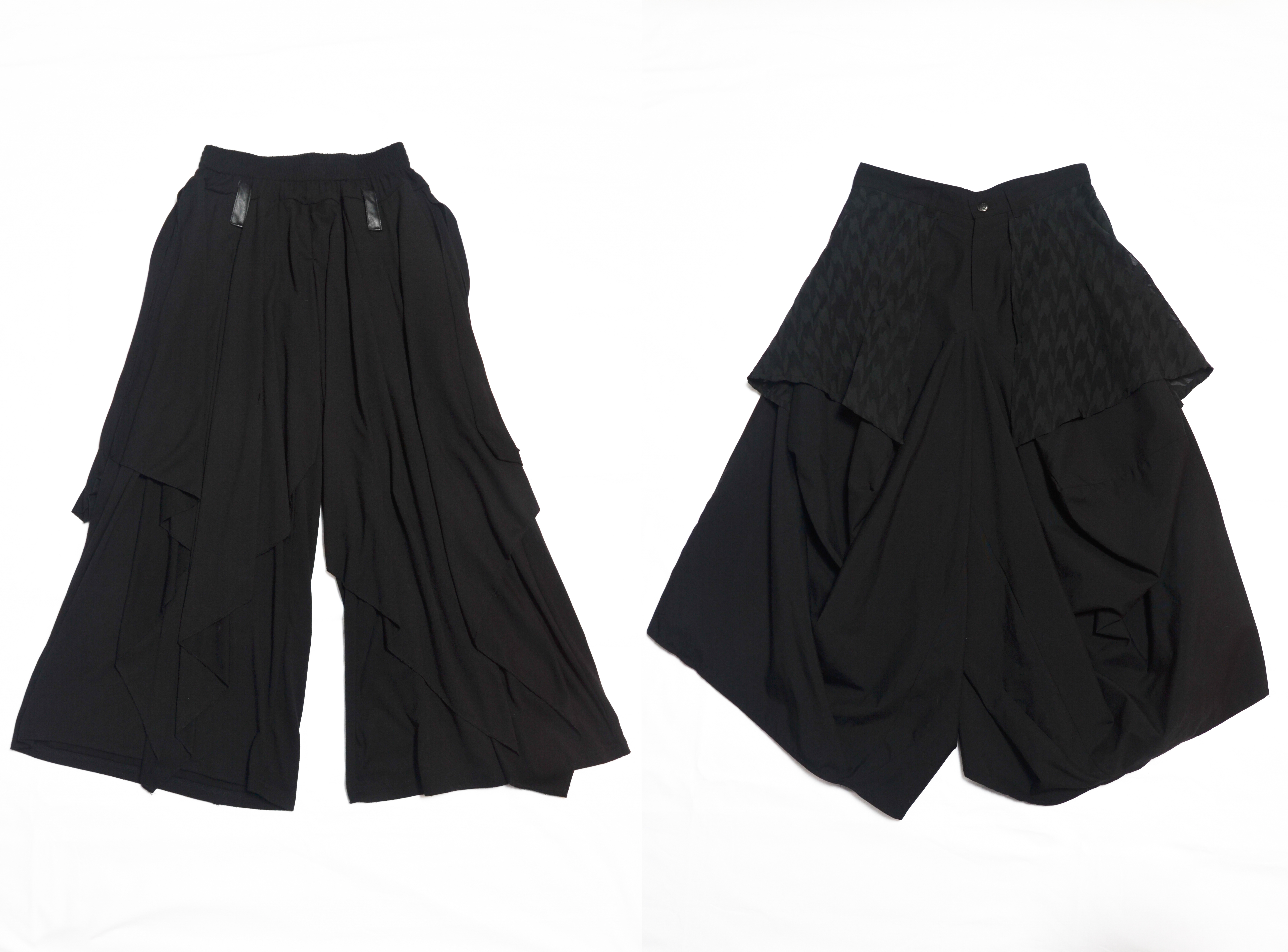 Drug Honey 2 Way / irregular flap wide pants (2018)
h.Naoto/gouk MINT Volume Transformation Sarrouel Pants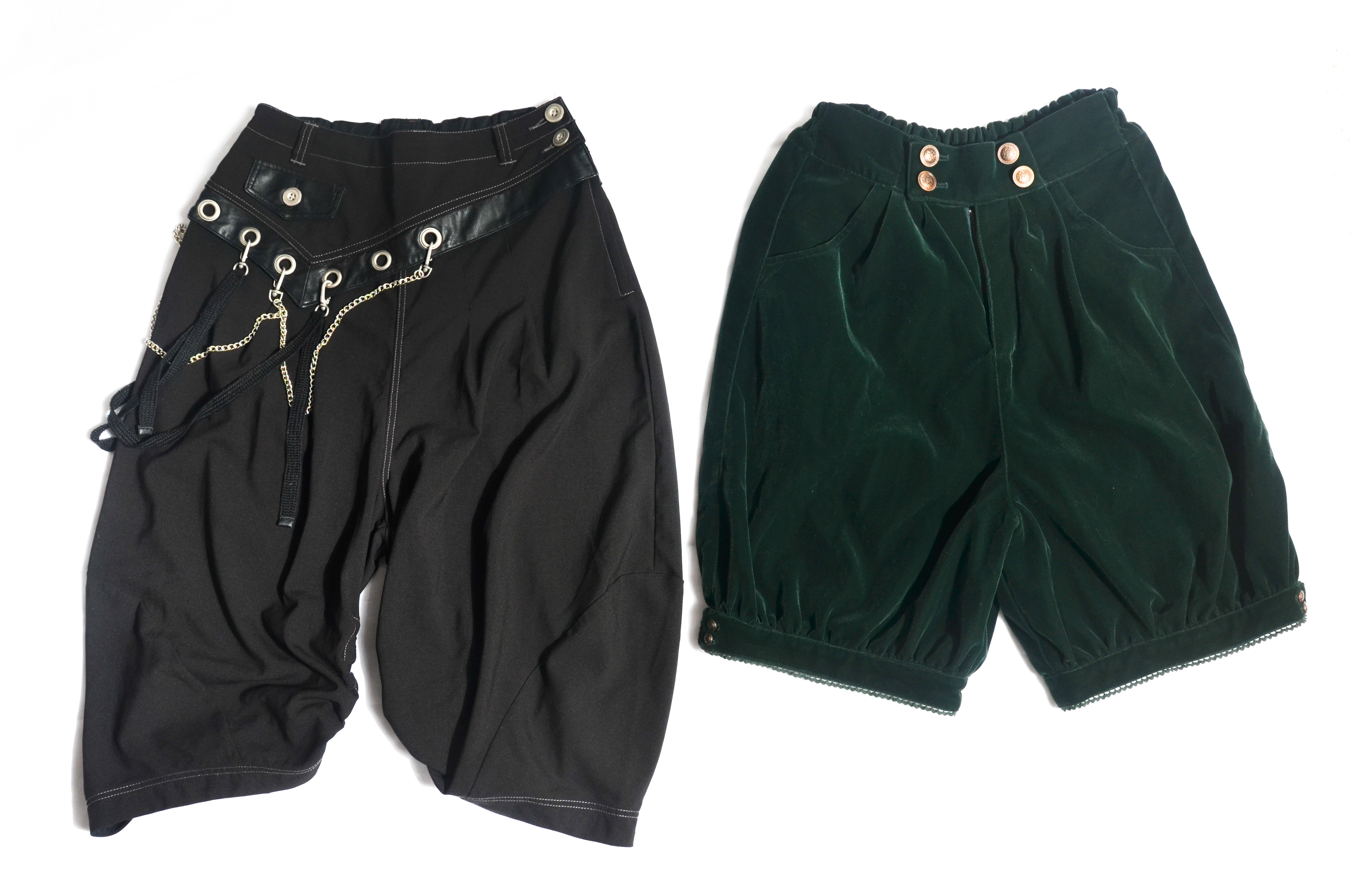 Algonquins Chain shorts
Putumayo Green velvet shorts
Buttcapes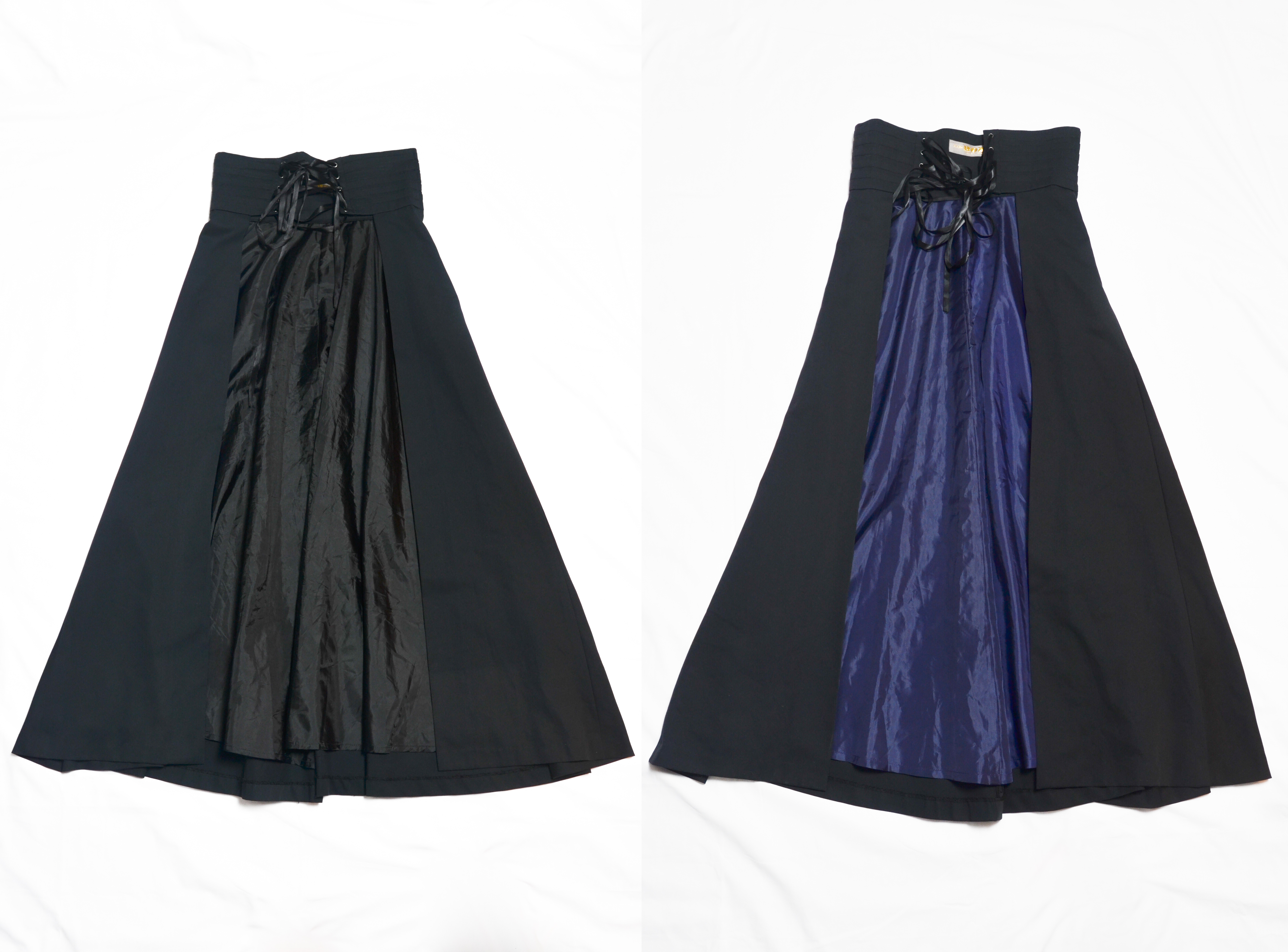 Atelier Boz Leister Overskirt Black x Black (2009)
Atelier Boz Leister Overskirt Black x Blue (2009)
Skirts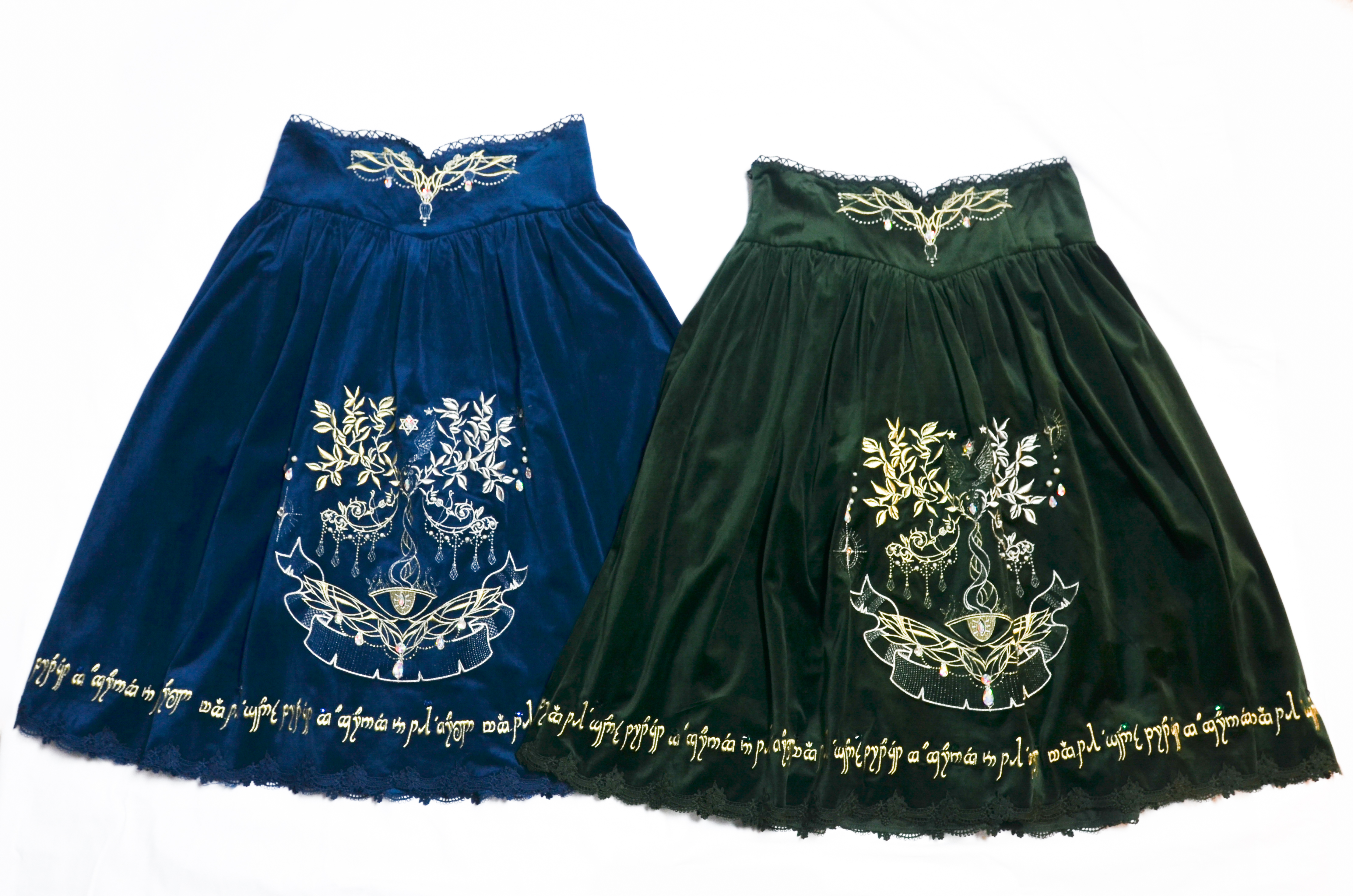 Ichigo Miko Gold and Silver Tree of Starlight (2016) Blue
Ichigo Miko Gold and Silver Tree of Starlight (2016) Green
Legwear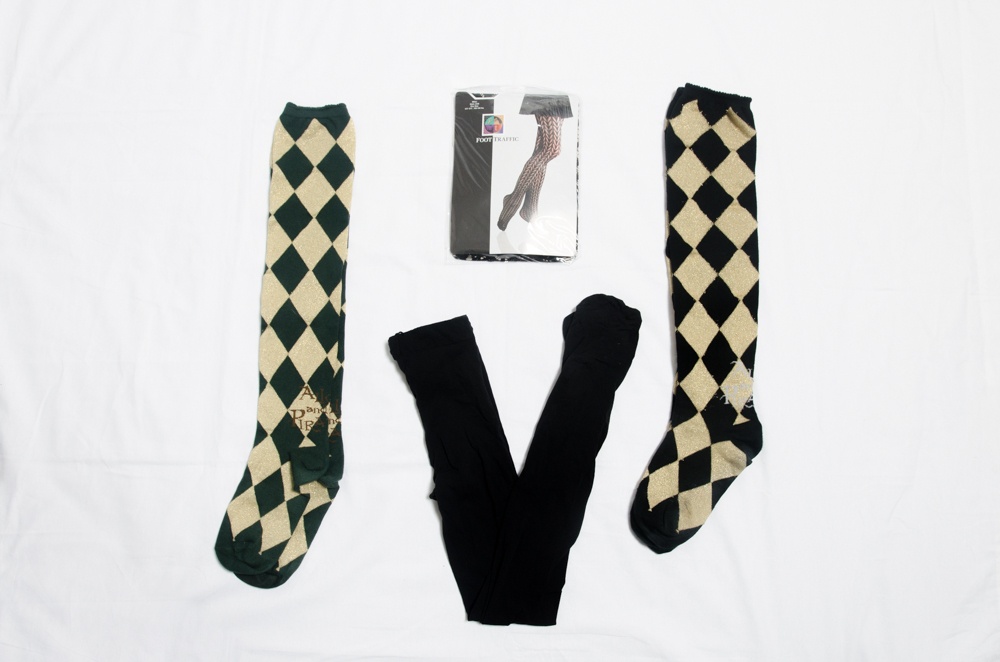 Alice and the Pirates A/P Diamond Lame OTKs Black x Gold (I'm assuming 2014)
Alice and the Pirates A/P Diamond Lame OTKs Green x Gold
Offbrand Black net tights
Offbrand Black tights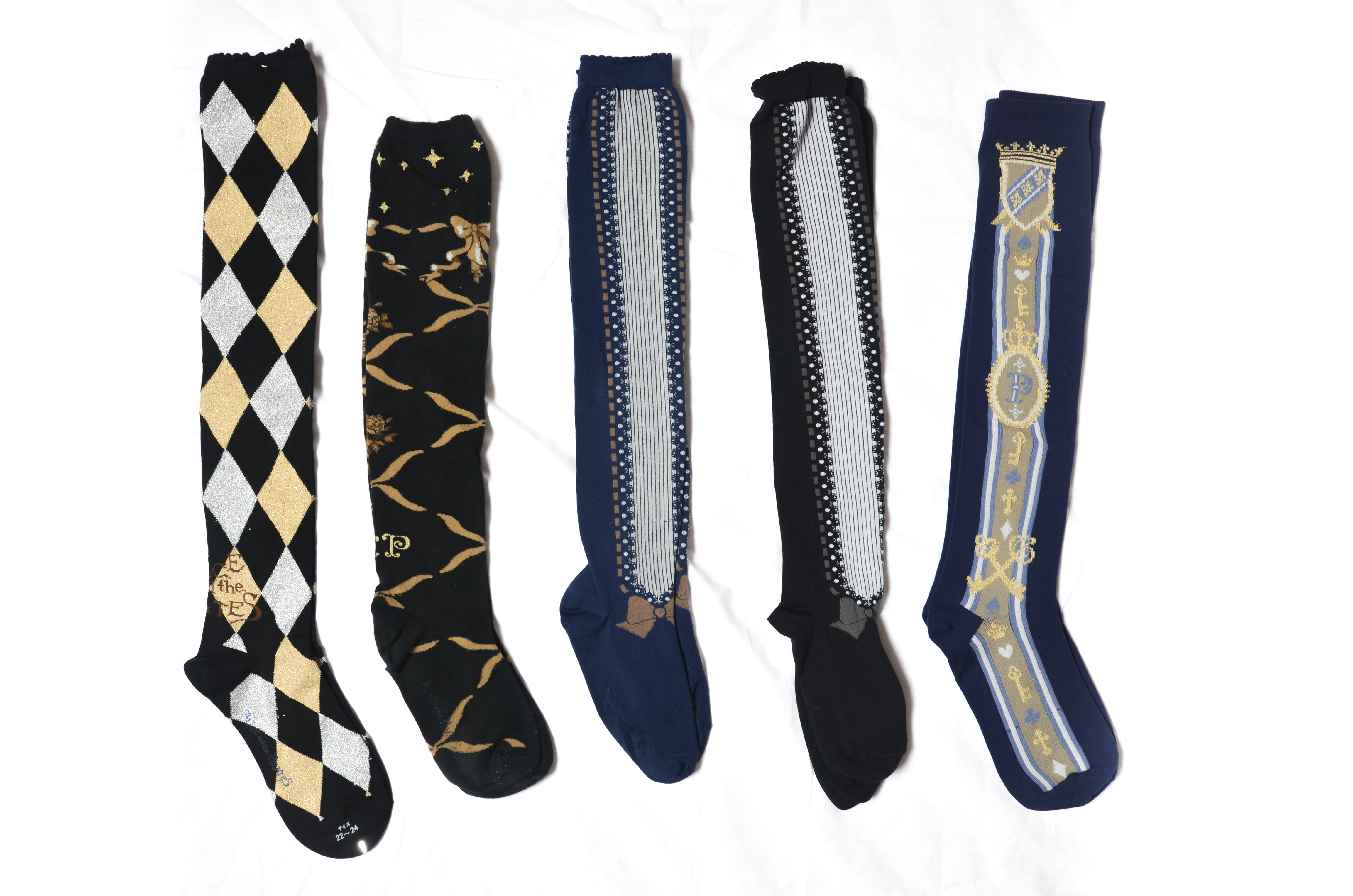 Alice and the Pirates A/P Diamond Lame OTKs Black x Silver x Gold (2019)
Angelic Pretty OTKs
Putumayo Ribbon Stripe OTKs (2014) – Navy
Putumayo Ribbon Stripe OTKs (2014) – Black
Putumayo OTKs
Bags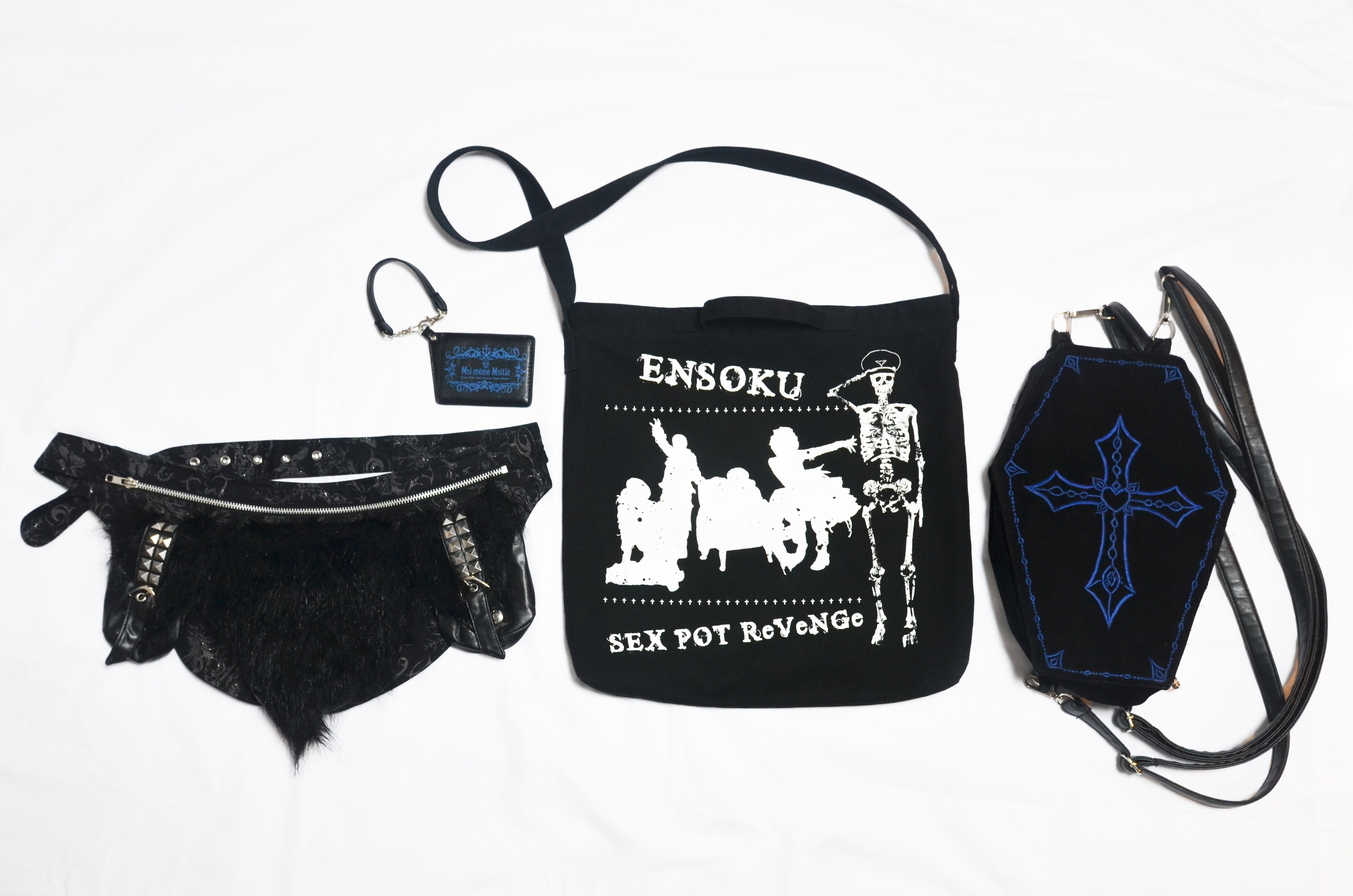 h.Naoto Sixh Fur hip bag
Moi-même-Moitié Leather passcase
SEX POT ReVeNGE x ENSOKU Collaboration tote bag
Puvithel Graverobber Coffin Purse (2017)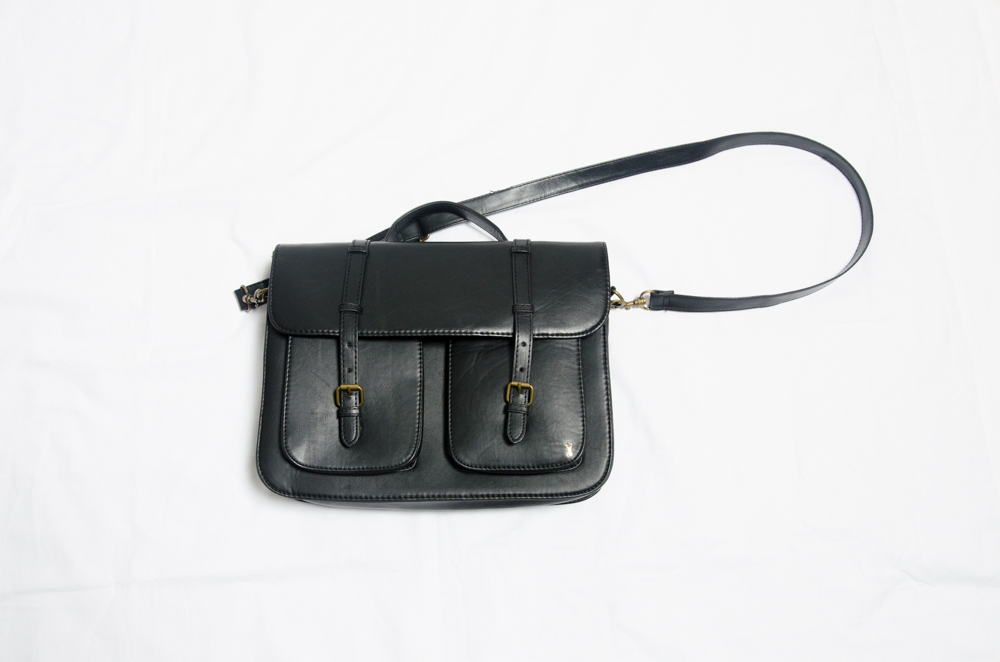 Typo Attachè (2016)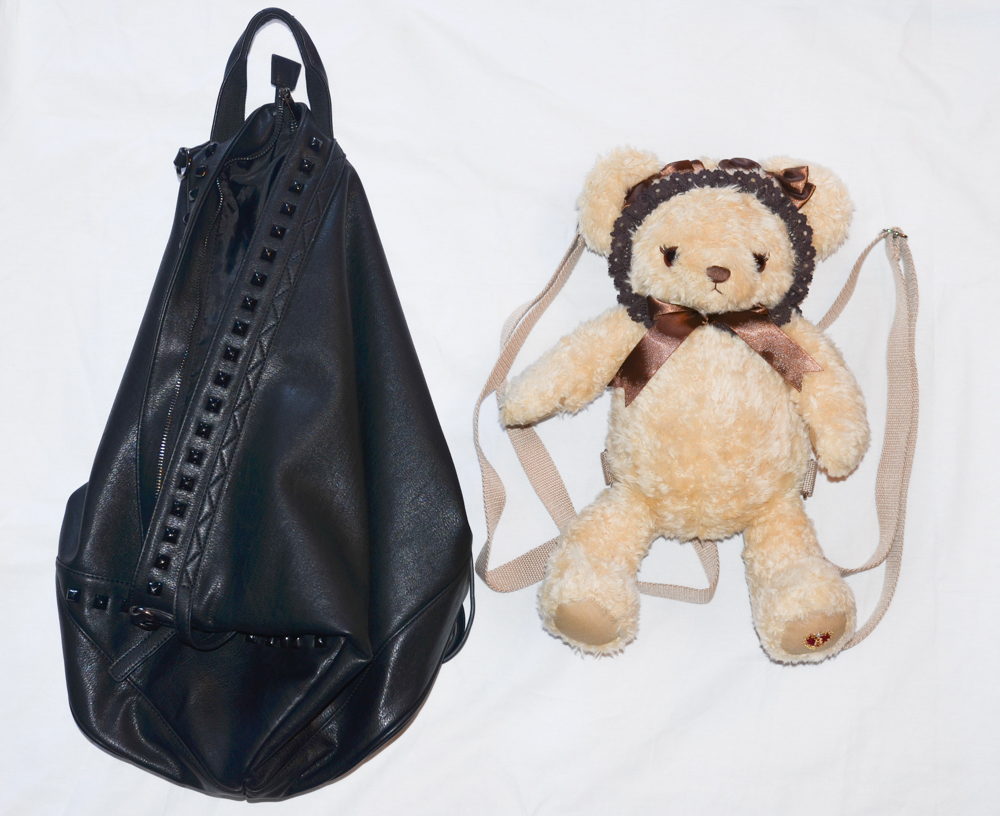 Civarize Leather 2-way bag
Baby, the Stars Shine Bright Kumakumya Mini Rucksack (2017)
Shoes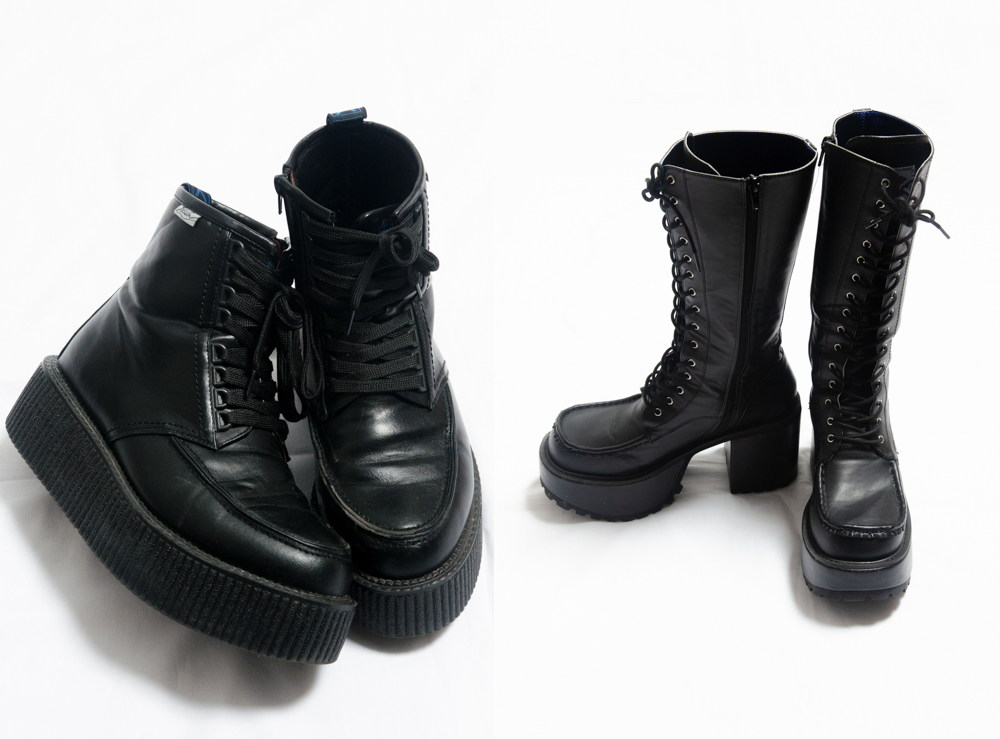 Yosuke Thick bottom lace up boots
Yosuke Thick bottom lace up long boots
Neckwear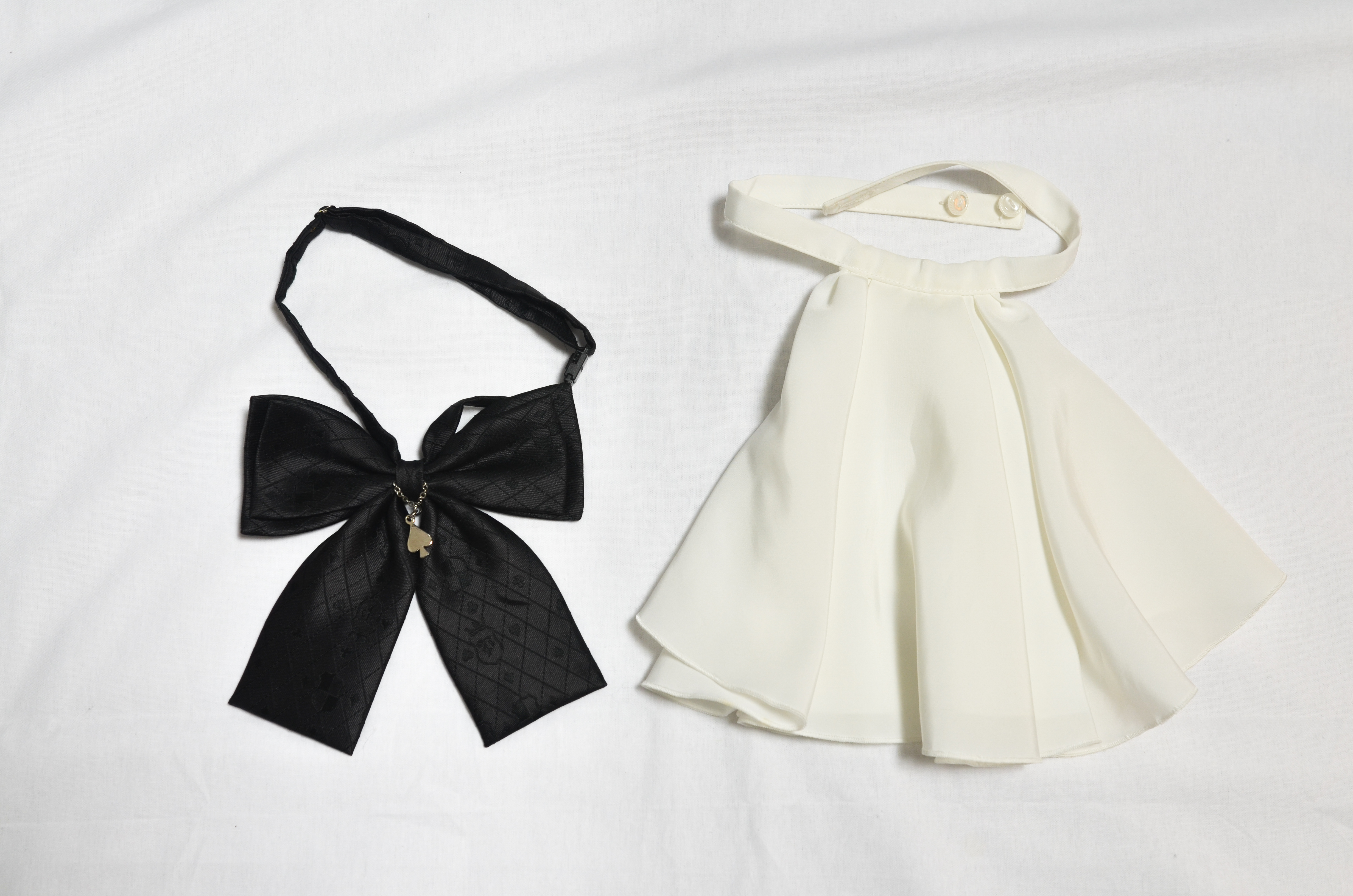 Putumayo Trump bow tie
Atelier Boz Mistress Blouse Jabot (2006)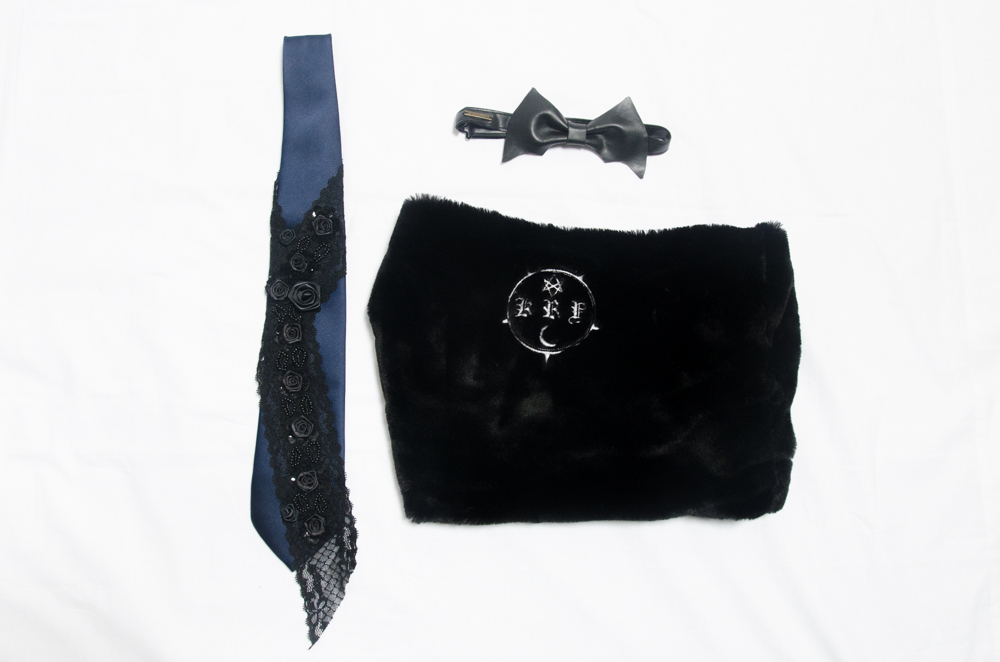 Black Peace Now Rose lace necktie
KRY Clothing Snood
Offbrand Leather bat bow tie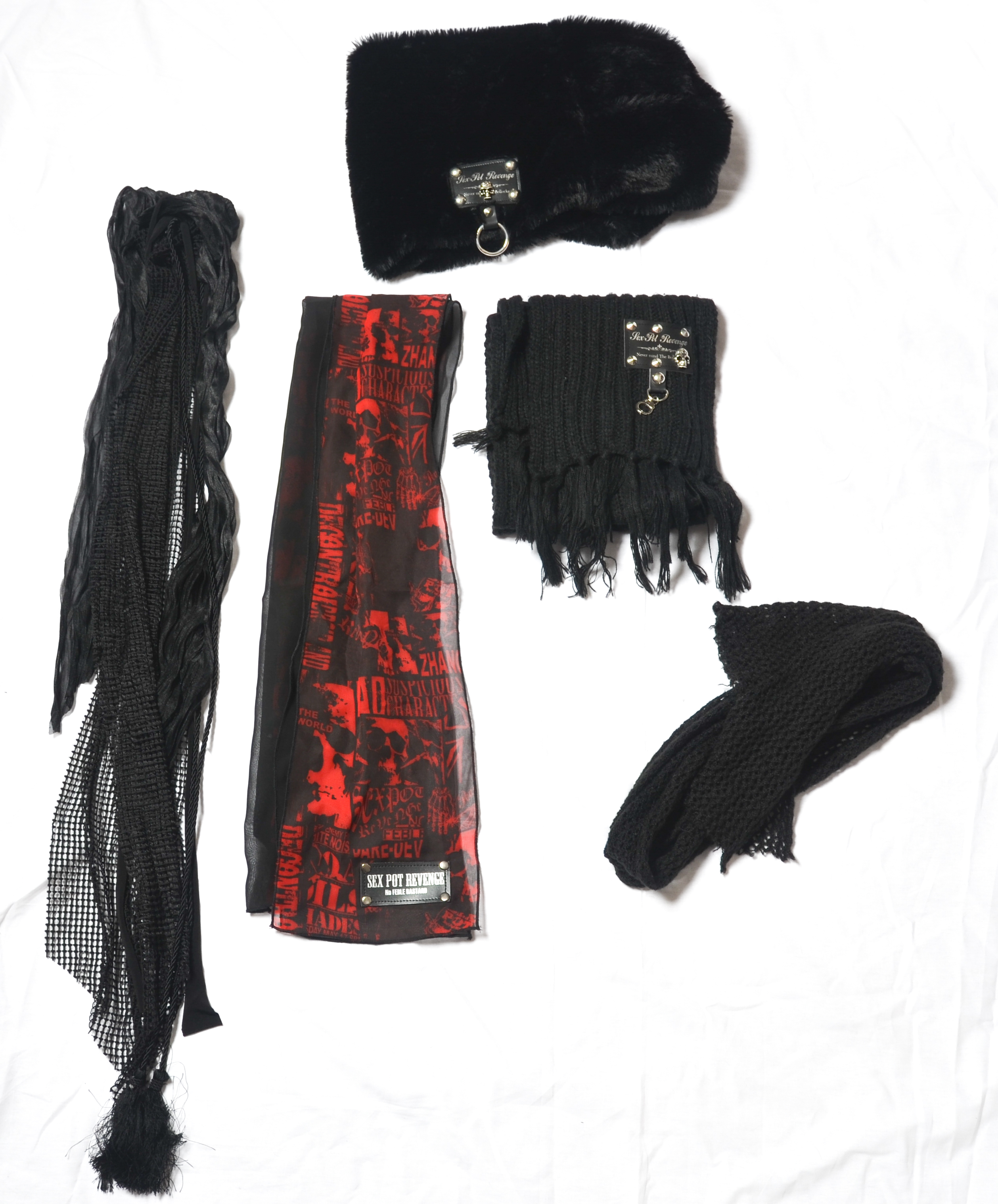 SEX POT ReVeNGe Snood
Offbrand Black mesh tassel scarf
SEX POT ReVeNGe Chiffon muffler
SEX POT ReVeNGe Black knitted muffler
Thrifted Black knit scarf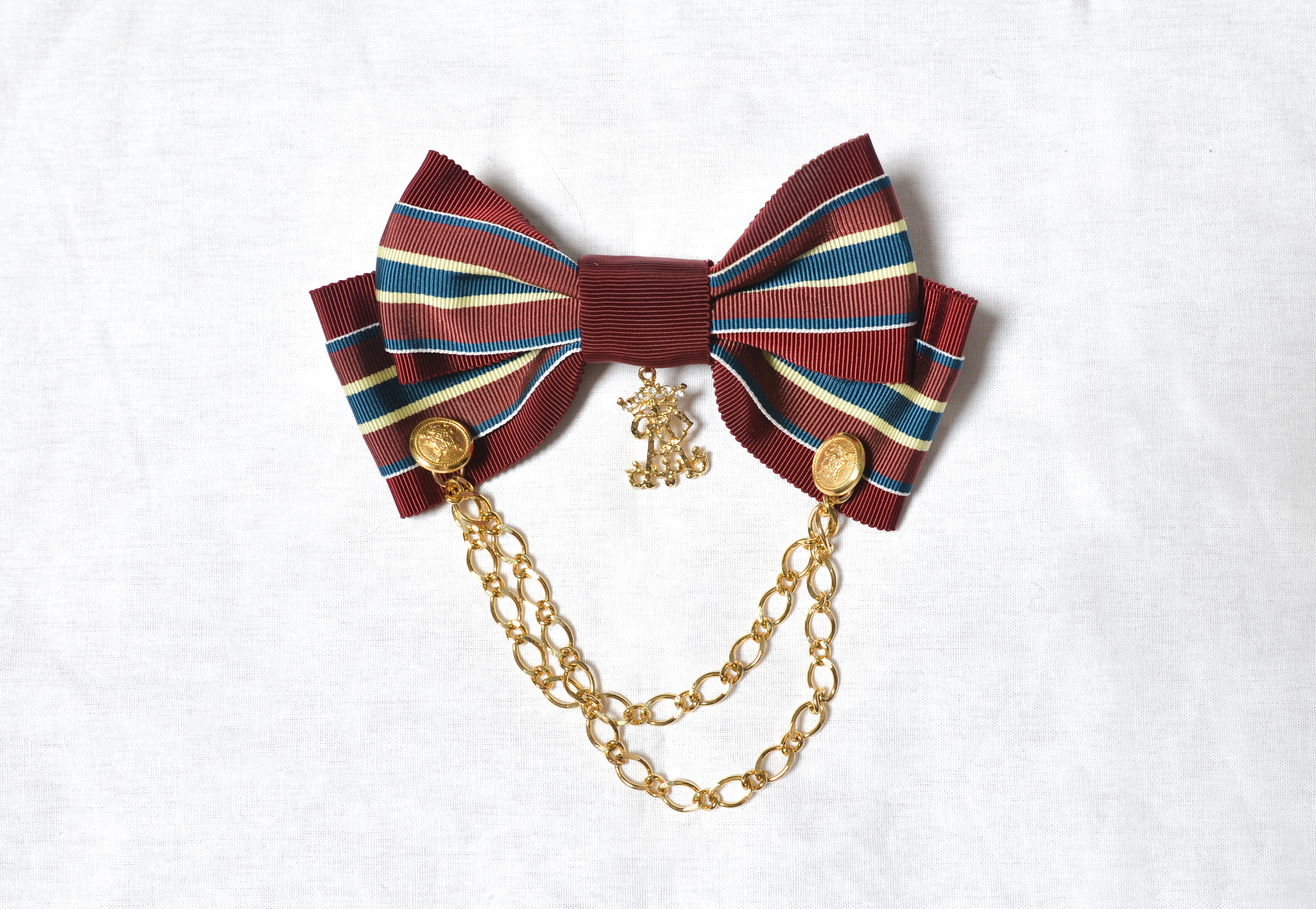 Alice and the Pirates Ariana Striped Butterfly Tie
Headwear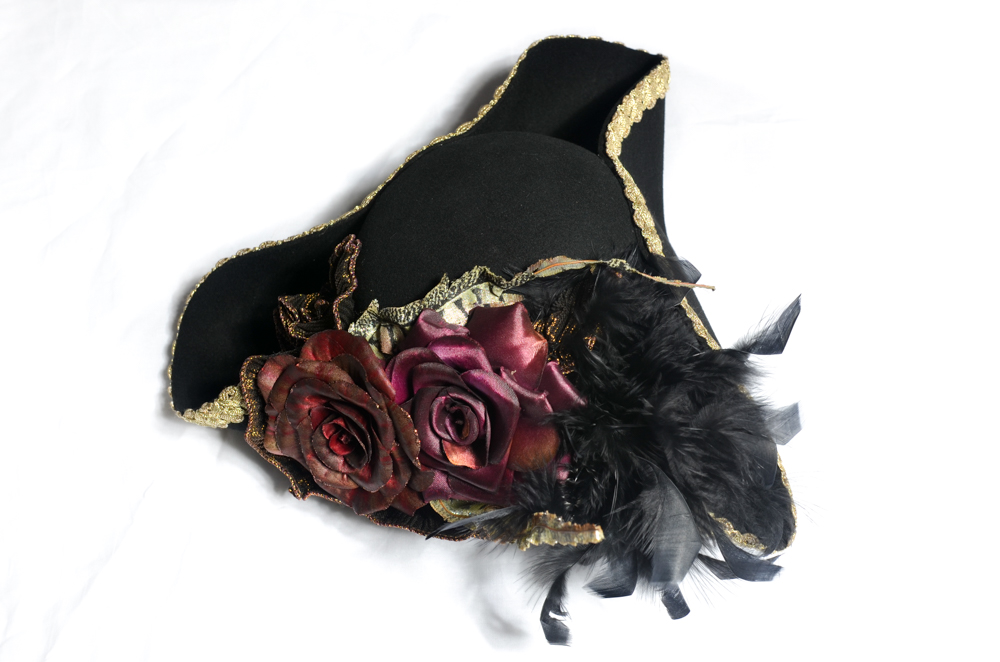 Corgi-Corgi Red Rose Feather Tricorn
Accessories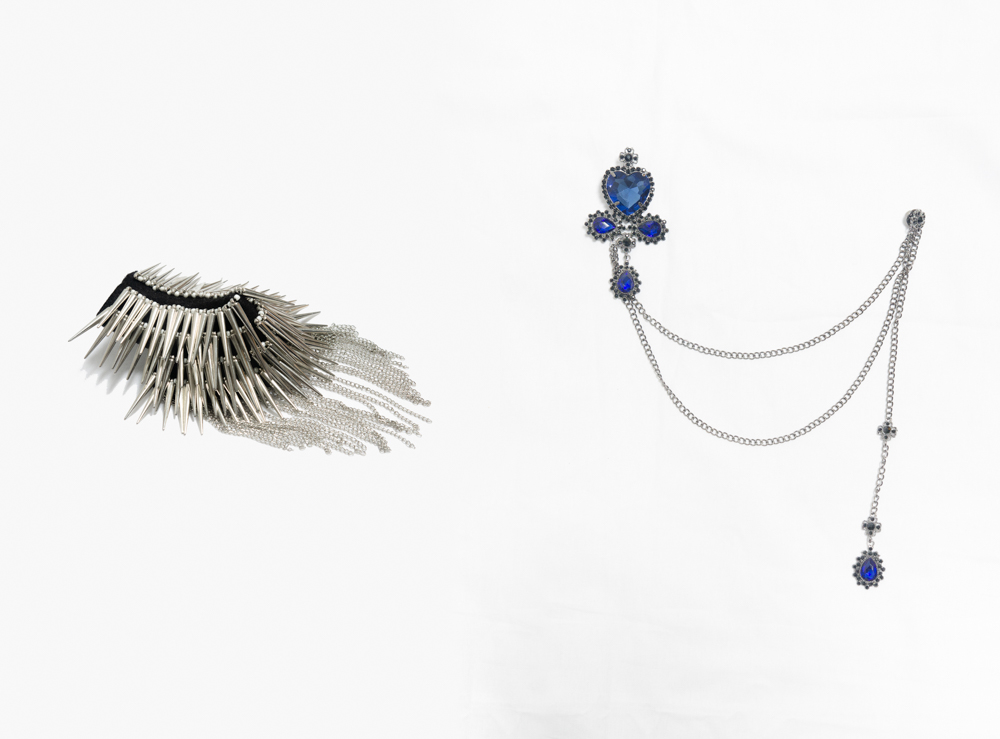 Offbrand/Handmade Spiked pauldron
Puvithel Crystal Heart Ouji Brooch – Blue (x2)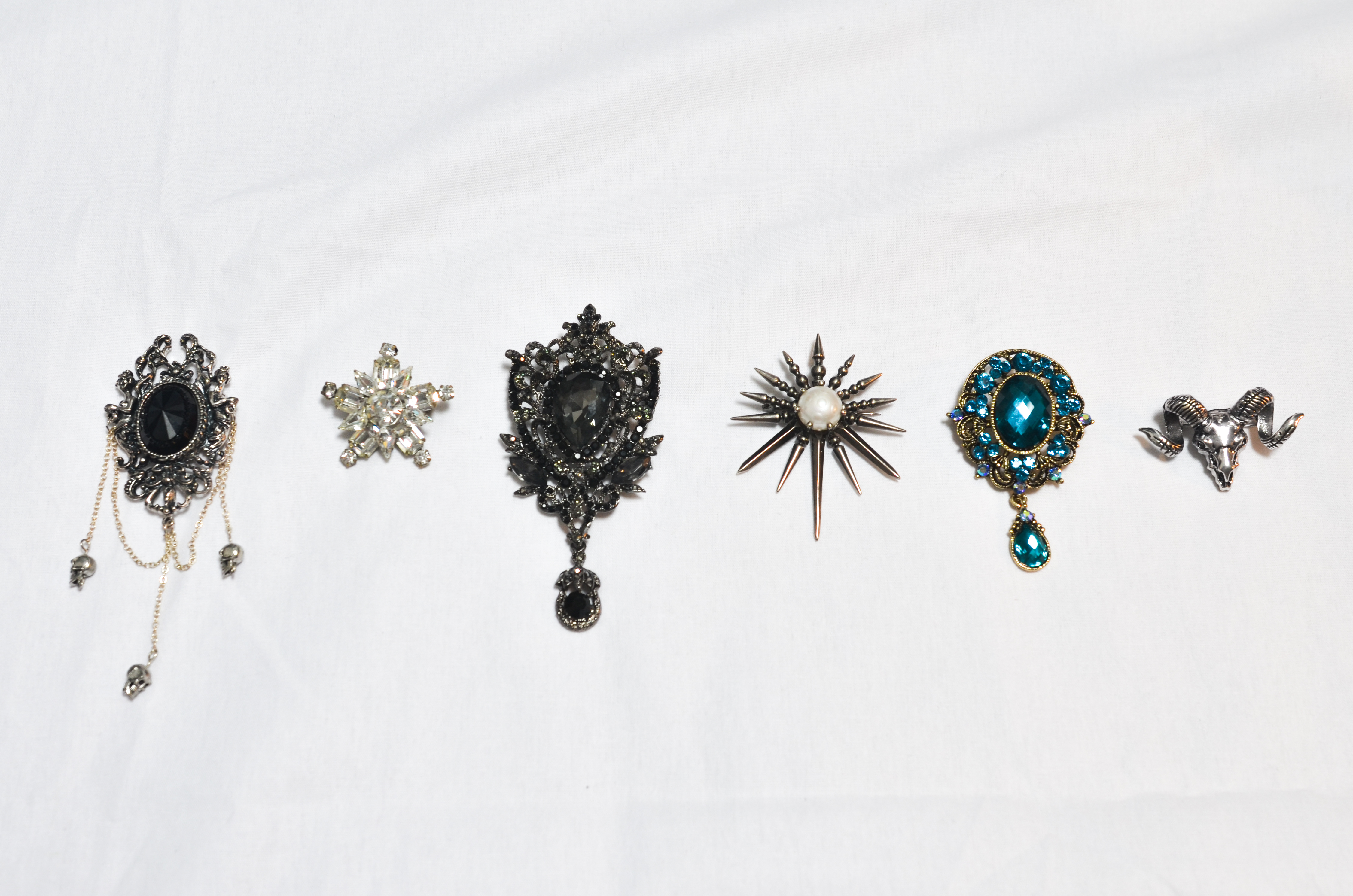 Offbrand Vintage skulls brooch
Offbrand Vintage snowflake brooch (This was actually my grandmother's)
Offbrand Black brooch
Offbrand Vintage Spike brooch
Offbrand Gold and blue brooch
Arca et Ovis Horned brooch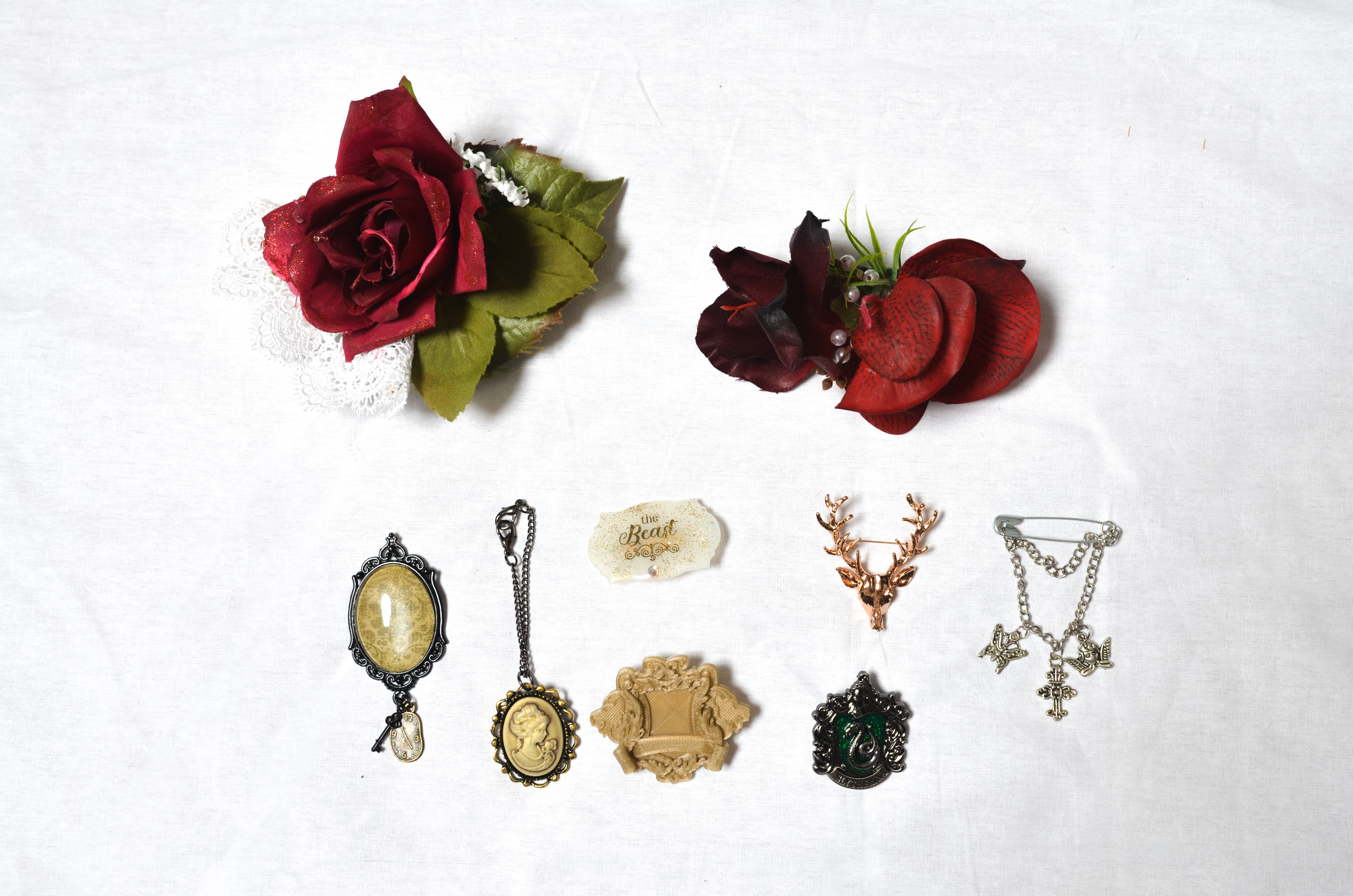 Handmade Rose doily brooch
Handmade Rose brooch
Offbrand Vintage cameo key brooch
Offbrand Vintage chain cameo
Handmade "Beast" nametag brooch
Handmade Marshall rank brooch
Offbrand Gold deer brooch
Offbrand Slytherin pin
Putumayo Chain pin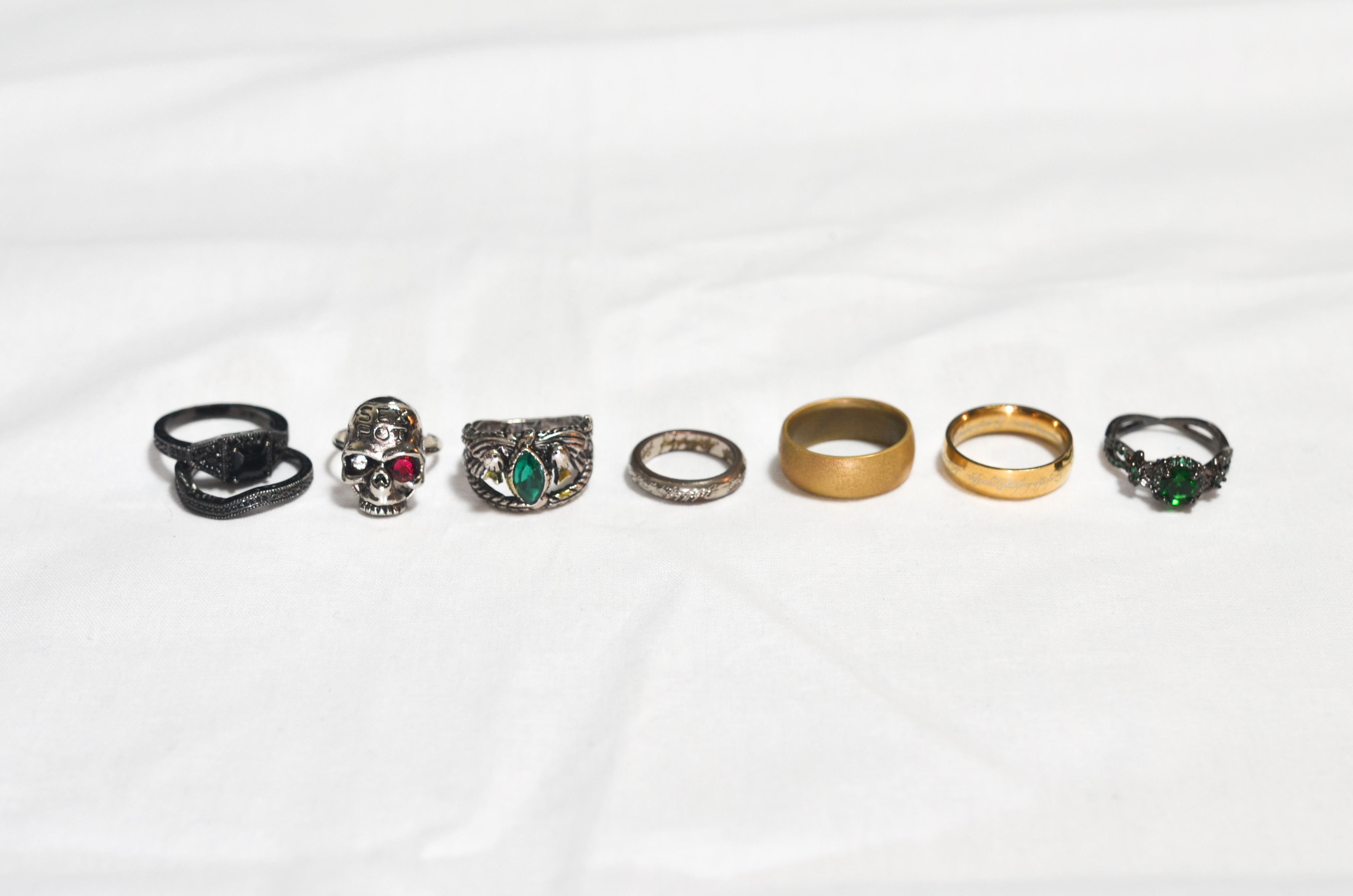 Offbrand Black stacked rings
SEX POT ReVeNGe Red gem ring
Offbrand Lord of the Rings: Aragorn ring
Offbrand Lord of the Rings: the Ring
Handmade Copper ring
Offbrand Lord of the Rings: the Ring
Offbrand Green and black ring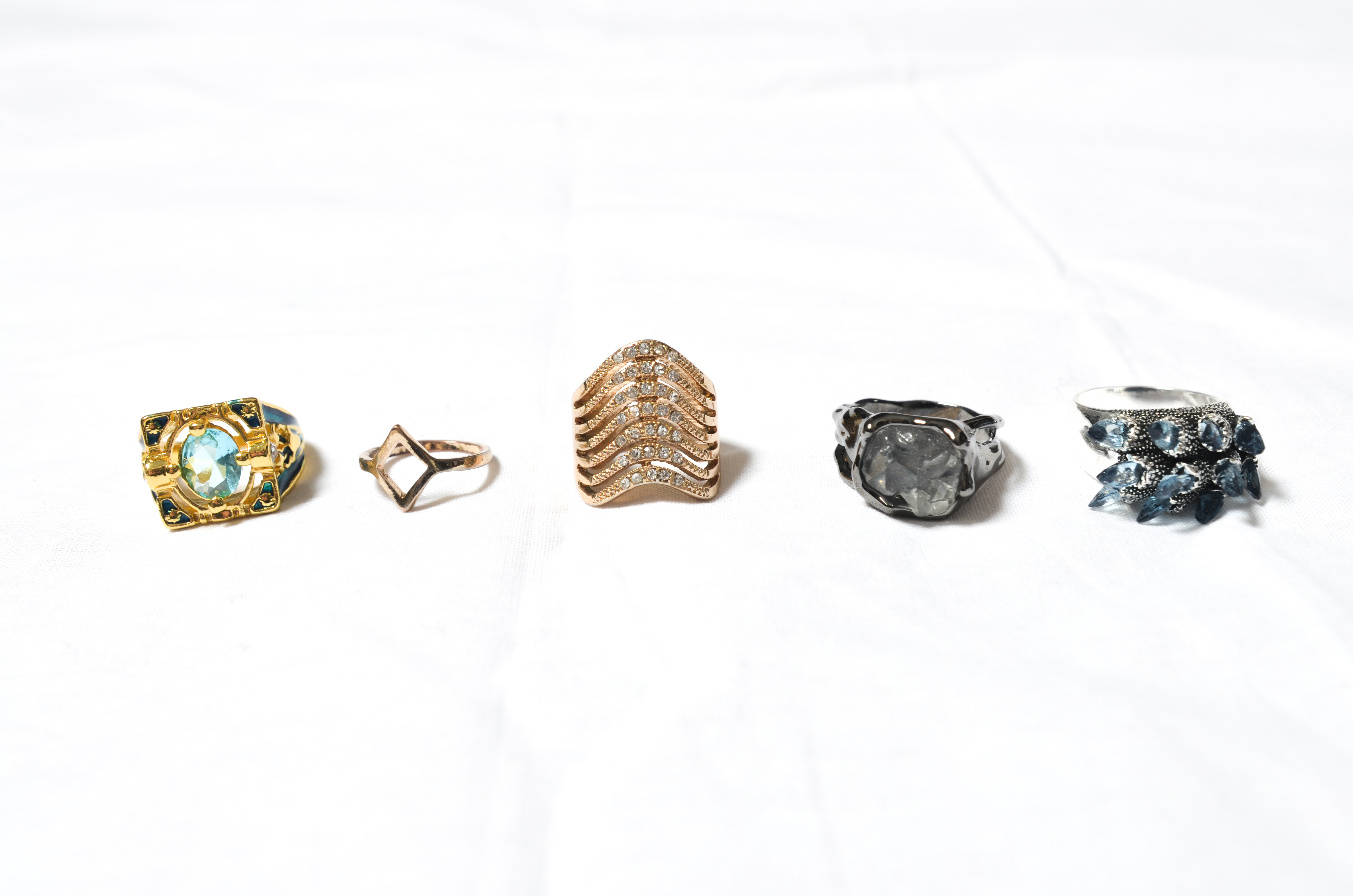 Offbrand Gold x blue ring
Offbrand Diamond gold ring
Offbrand Concentric diamond gold ring
Offbrand Misty crystal ring
Offbrand Ice dragon ring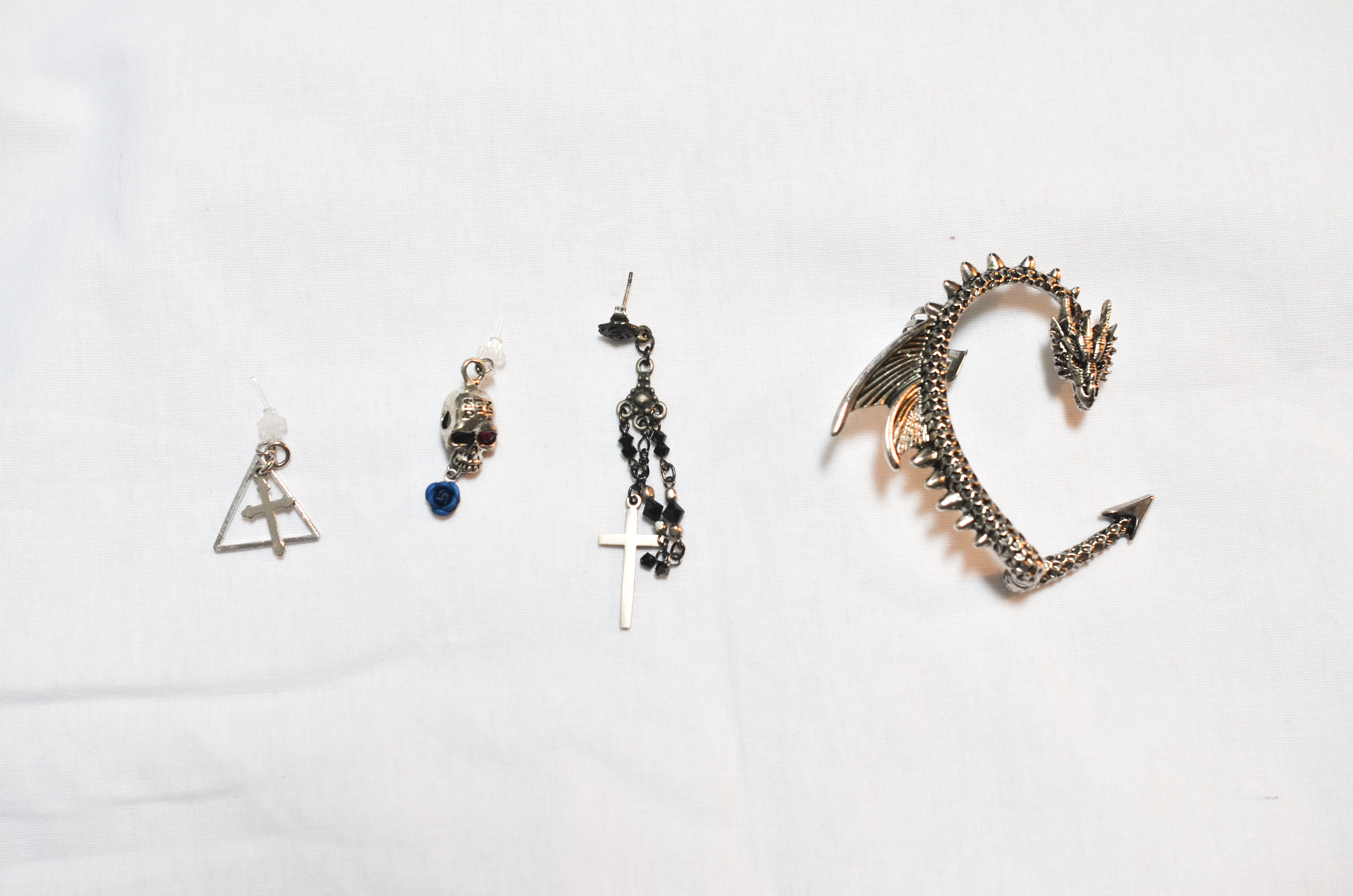 SEX POT ReVeNGe Cross earring (2018)
SEX POT ReVeNGe Blue rose skull earring (2018)
Moi Meme Moitie Rose and cross earring
Offbrand Dragon cuff earring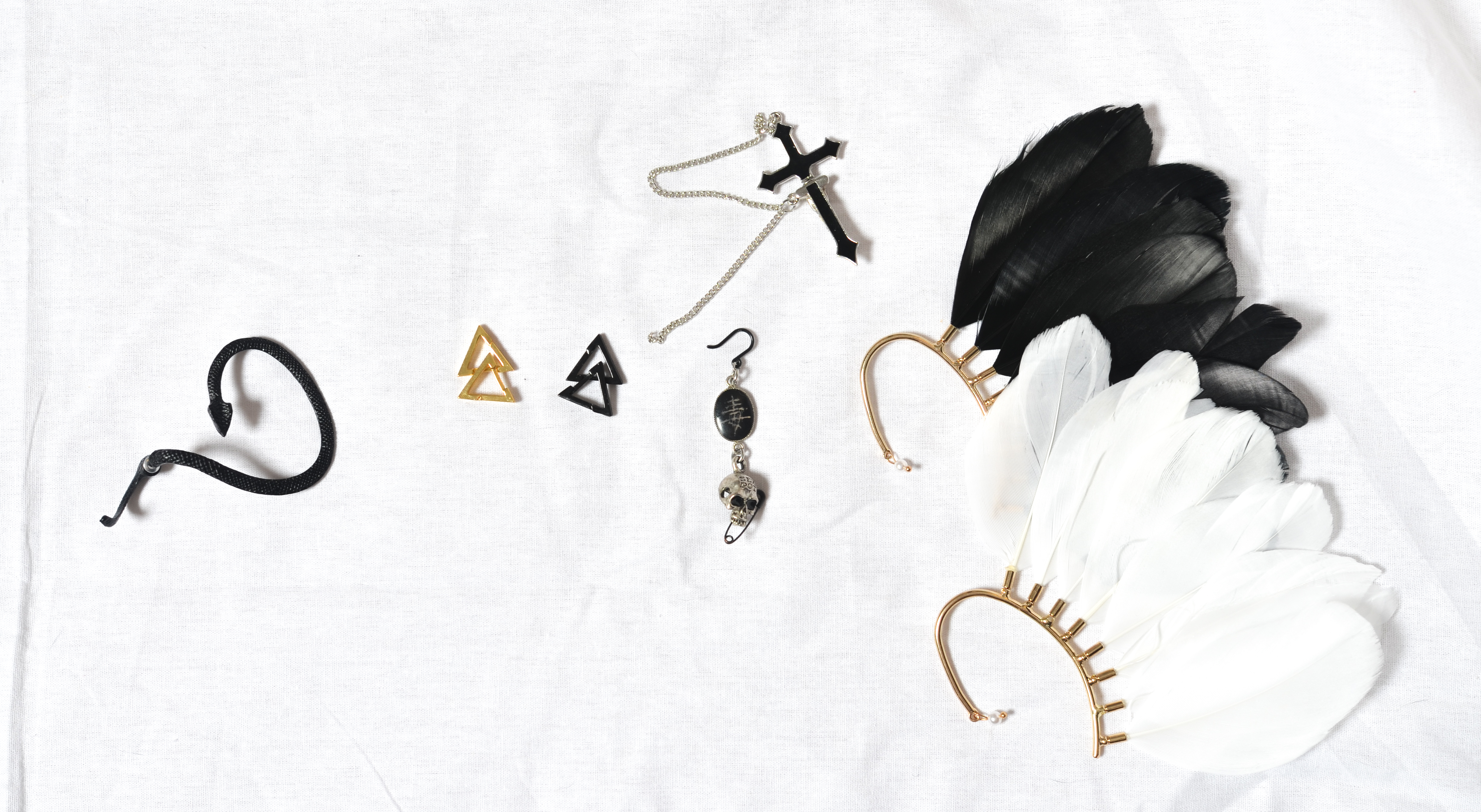 Offbrand Snake earring
Offbrand Gold triangle earrings
Offbrand Black triangle earrings
Offbrand Cross chain earring
SEX POT ReVeNGe Poison earring
Offbrand Black/white feather ear wraps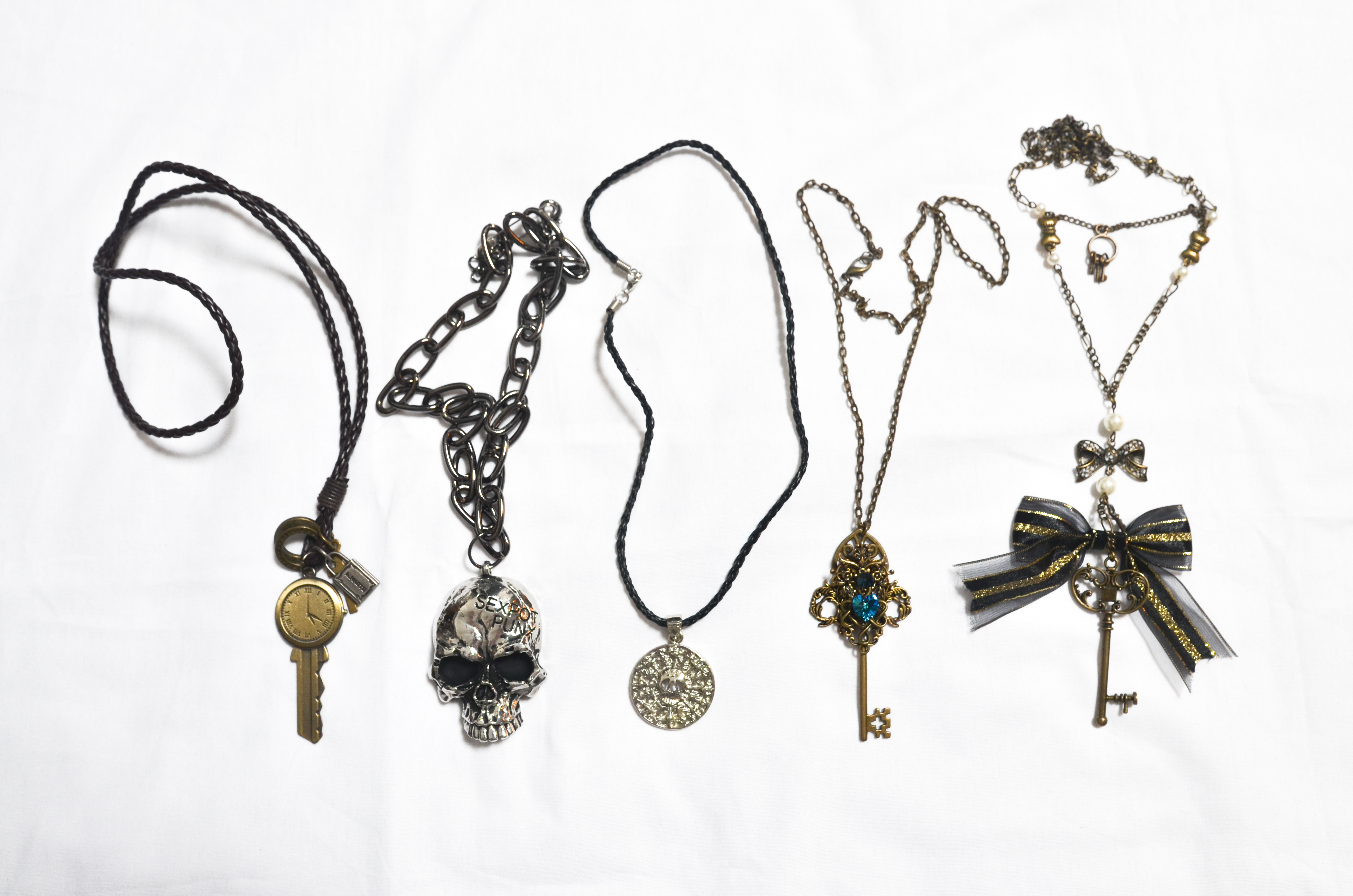 h.Naoto Steam Key necklace
SEX POT ReVeNGe Skull necklace
Offbrand Pirate coin necklace
Offbrand Blue antique key necklace
Tragedy Night Key to the King Necklace (2016)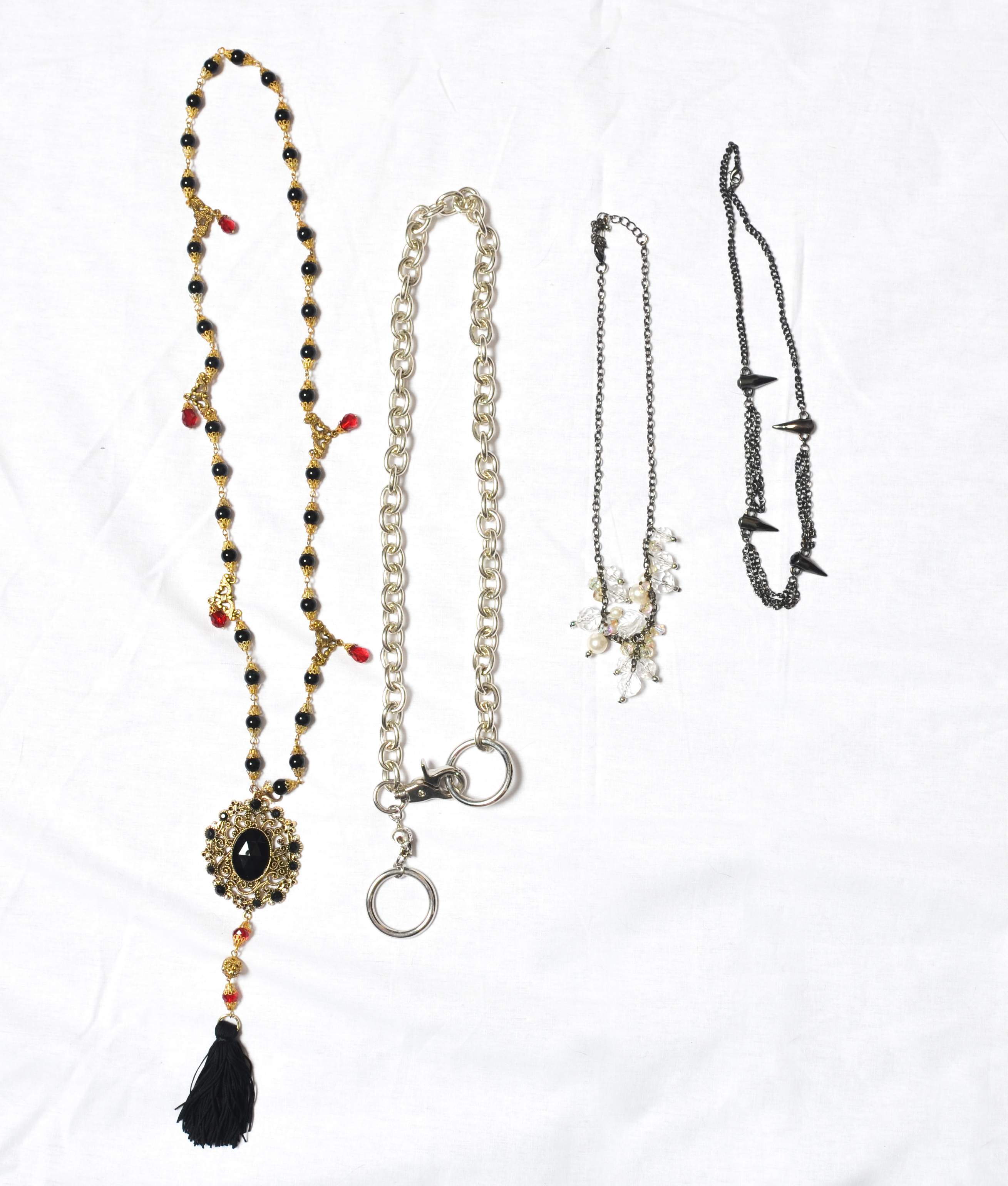 Handmade Waist chain
SEX POT ReVeNGe SID Chain necklace
Offbrand Crystal drop necklace
Offbrand black spike necklace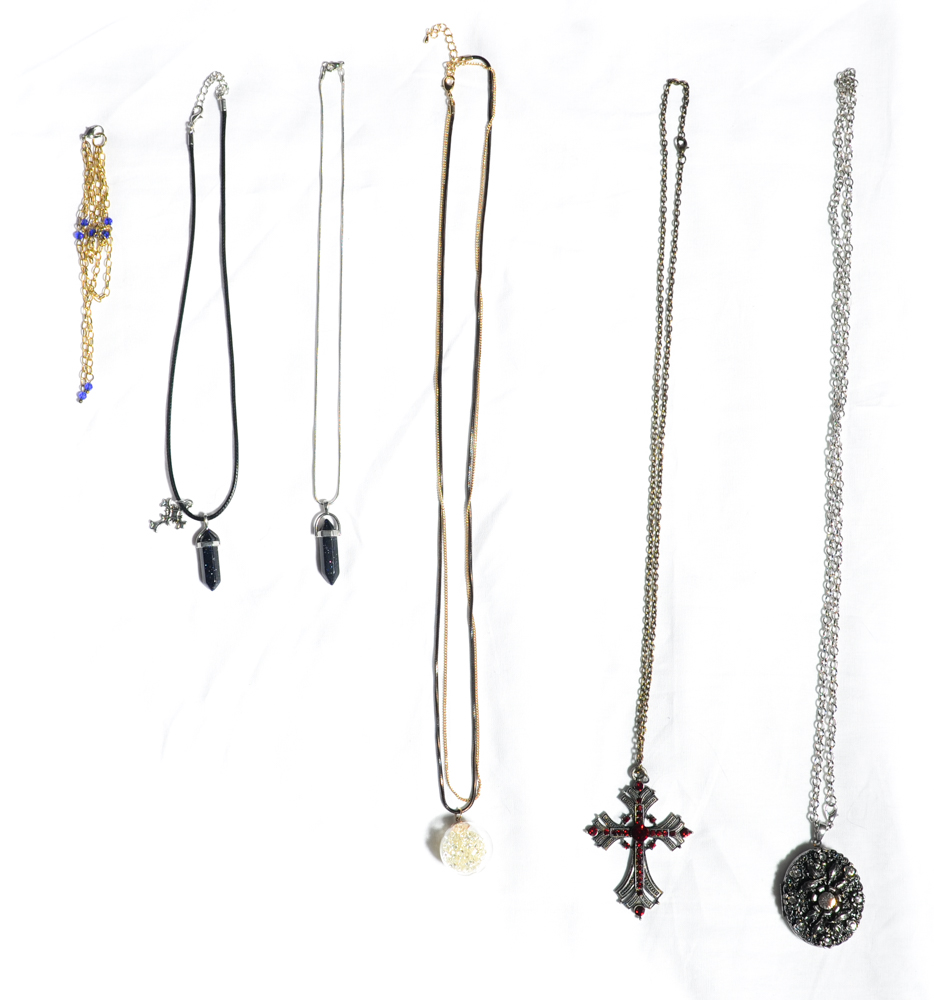 Handmade Chain clip
DZD Jewelry Black crystal cross necklace
DZD Jewelry Black crystal necklace
Offbrand Snowglobe necklace
Offbrand Ruby cross necklace
Offbrand Silver locket necklace
Now that I'm more comfortable with the styles I like to wear, you'll probably see more variety in my wardrobe when it comes to brands. I still plan to collect jackets, but I am finding that larger oujiable blouses are a bit more difficult to find, so I'll probably turn to taobao a bit in 2020. Overall, I hope to keep my wardrobe a solid collection of things that I adore.
Kal from Lightningsavage Photography specializes in creative portrait photography for J-Fashion enthusiasts and more. He has served as the J-Fashion event photographer for Oni-Con 2016–2020, as well as fashion shows, meetups, and personal shoots. He is also a co-owner of Kuroshiro Kawaii. You can follow him on Instagram at @lightningsavage_photography and @kaldec_
He is currently into visual kei and EGA fashions.