American based brand Puvithel makes clothing and accessories for a variety of j-fashion styles, including menhera punk, as well as EGA and EGL. Puvithel often collaborates with other artists in the j-fashion community. In 2019, Puvithel collaborated with Youtube artists Lovely Lor and Scarfing Scarves to make enamel pins featuring their unique styles.
Puvithel's site is fairly large, but its easy to navigate with drop down menus. Definitely take a peak in the "outlet" section, which has items that have been used in fashion shows or are otherwise minimally damaged.
Order, order!
The shop has a straightforward cart system that accepted both credit card and Paypal. It also allowed me to chose first class shipping, since my items were shipping within the United States and weighed under a pound. Obviously sometimes you want items as fast as possible, but if there's no rush its nice to have a cheaper option. 
I purchased two items. The first was one of the Lovely Lor pin sets in the the "Lovely" aka pink colorway. The set comes with three pins, which feature a stylized version of Lor's face in clown make-up, a knife, and a heart that says "Slay Lovely." This set was slightly more expensive that I would normally expect from a pin, but I believe this is because you're actually getting three.
I also purchased one of the last of the "Our Lady of Salt" pins, which features Tyler Willis and her curly locks enshrined in a halo with the title of the pin along the top. These pins are now sold out. (There are a few "seconds" pins left though!)
Heard it through the grapevine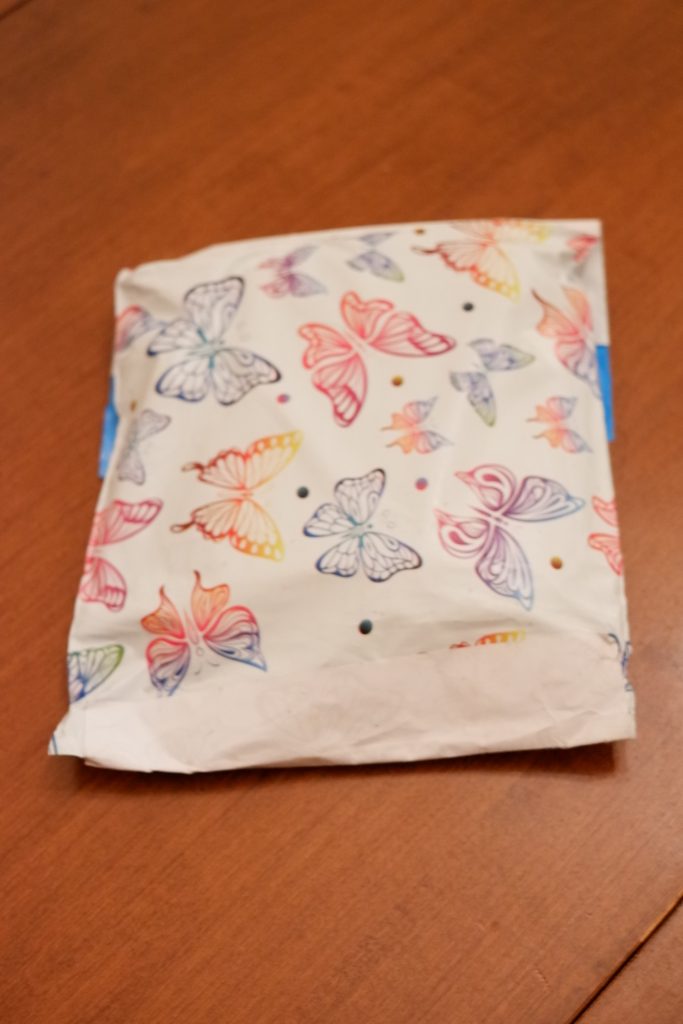 On January 17, 2020, I placed my order. I received an automated confirmation email, which let me know that the owner would be on vacation and orders might be delayed in January. The heads up was nice, though I didn't need the pins by any specific time. On January 22, 2020, I received an email letting me know that the order had shipped with a tracking number. Five days later on January 27, I received a notification that my order had been delivered. 
You've got mail
The package was a thin waterproof envelope. Inside, the goodies were in a piece of reinforce cardboard and wrapped in black sparkly tissue paper. In the tissue paper, the pins were tucked inside a Puvithel branded mesh bag. There was also a business/stamp card, which offered rewards for purchasing goods in the future.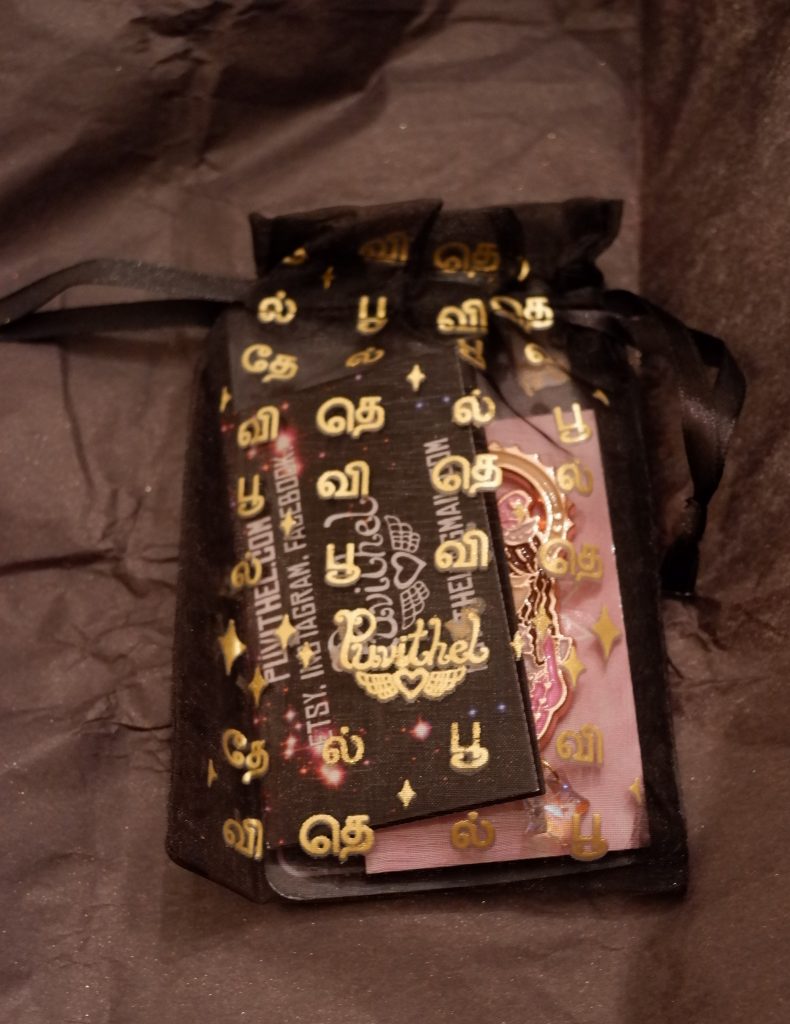 The Lovely Lor pins were HUGE. Though the website had the measurements, I didn't realize just how big they would be. All of the metallic surfaces were rose gold (and slightly difficult to photograph). The pins are fantastic. The art translates so well to enamel form and looks really striking even from a few feet away. These pins also glow in the dark, which I could not capture well in photos. But rest assured it looks cool as heck!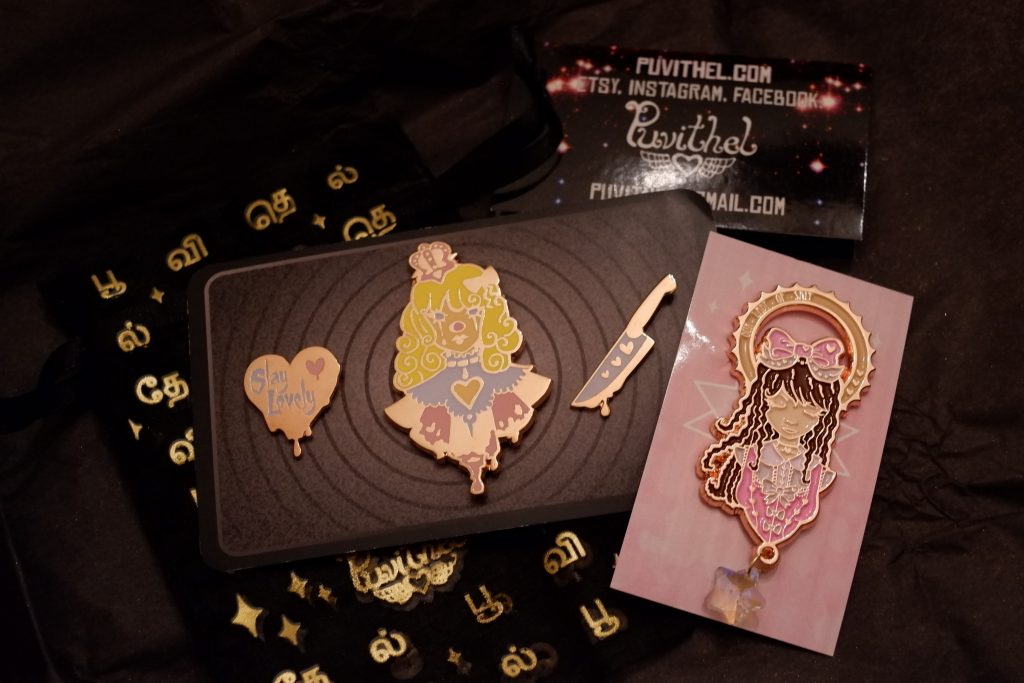 The Scarfing Scarves pin I had seen in person before, so I knew what I would be receiving. The art is extremely dynamic for a pin with the curls of Tyler's hair are flowing to one side. The pin also has a small crystal charm dangling, which is a darling detail.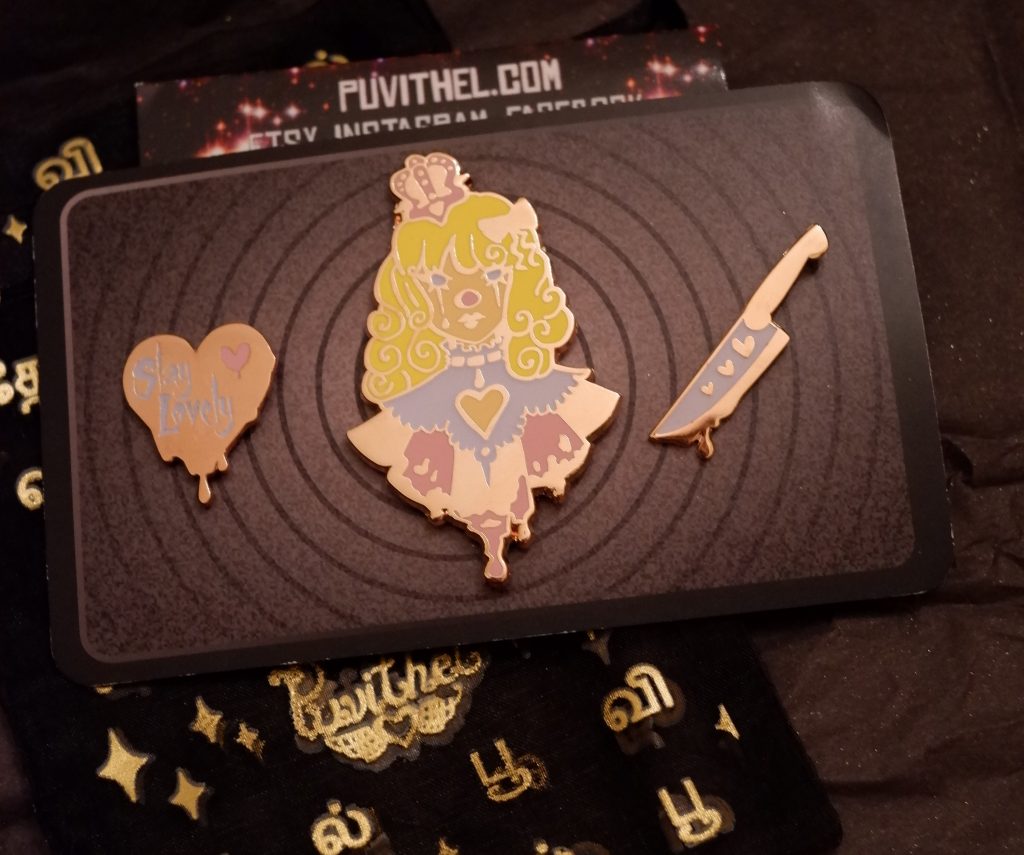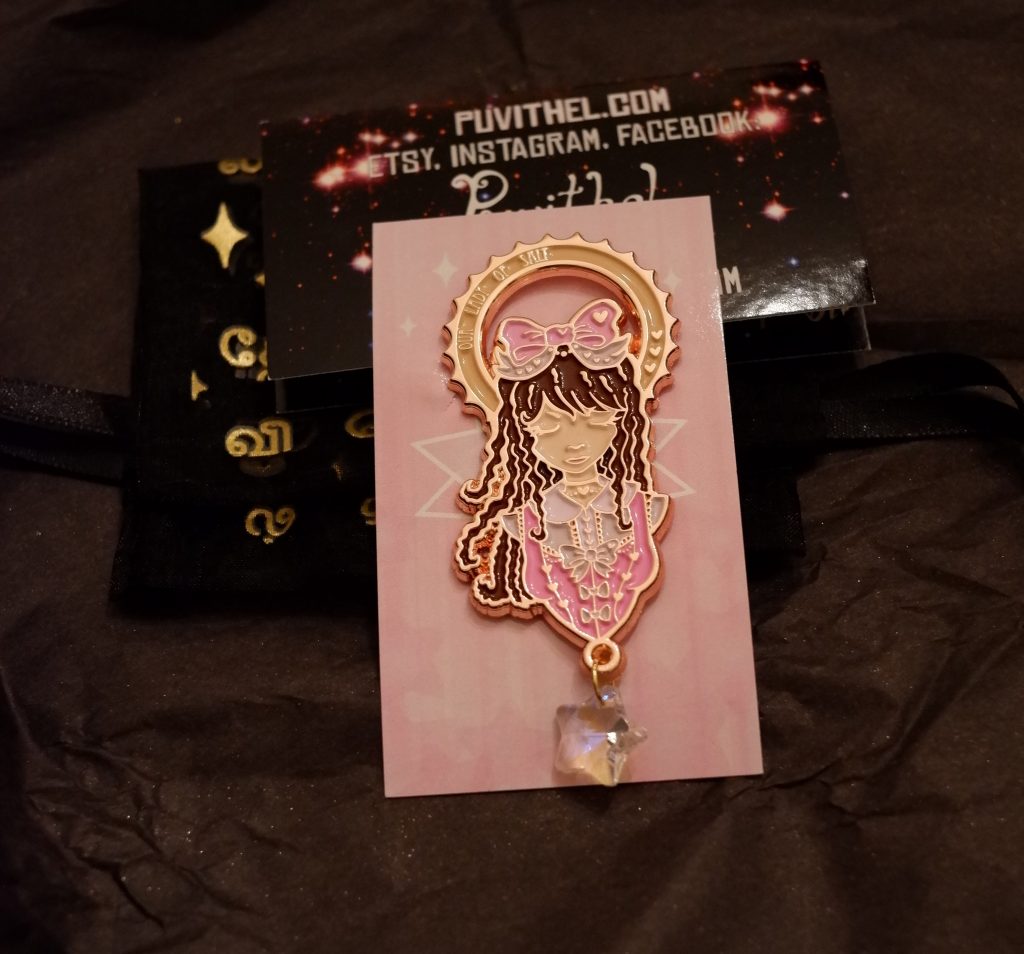 Closing thoughts
 I'm very impressed by the quality of the pins. The designs are great and I'm sure they're going to make a great addition to coordinates. I'm looking forward to wearing them among other lolita fans who can appreciate this particular combination of salty and sweet. 
By day, Jenna is a legal professional living in Los Angeles, California. By night (and weekends), she is a frill wearing monster who loves Innocent World and lolita indie brands. When she isn't taking mirror selfies of her coordinates, she enjoys reading comic books, playing board games, and snuggling with her pup, Lily. You can see her mirror selfies on her instagram @lovelylaceandlies and contact her at lovelylaceandlies@gmail.com.