I've already reviewed Violet Fane's A Cult from the Sea dress before, but I recently purchased an item from their new line, Memento Mori, and had to write a review about the whole process. 
Memento Mori
Violet Fane had been teasing a Victorian Mourning themed print for a couple weeks. The print, called Memento Mori, was avaliable for preorder on May 2, 2020. Given how much I loved my first piece from them, I knew I had to get something from this collection. This release included a skirt, a jumper skirt, several brooches, and a set of matching tights. I snagged a skirt as soon as I could.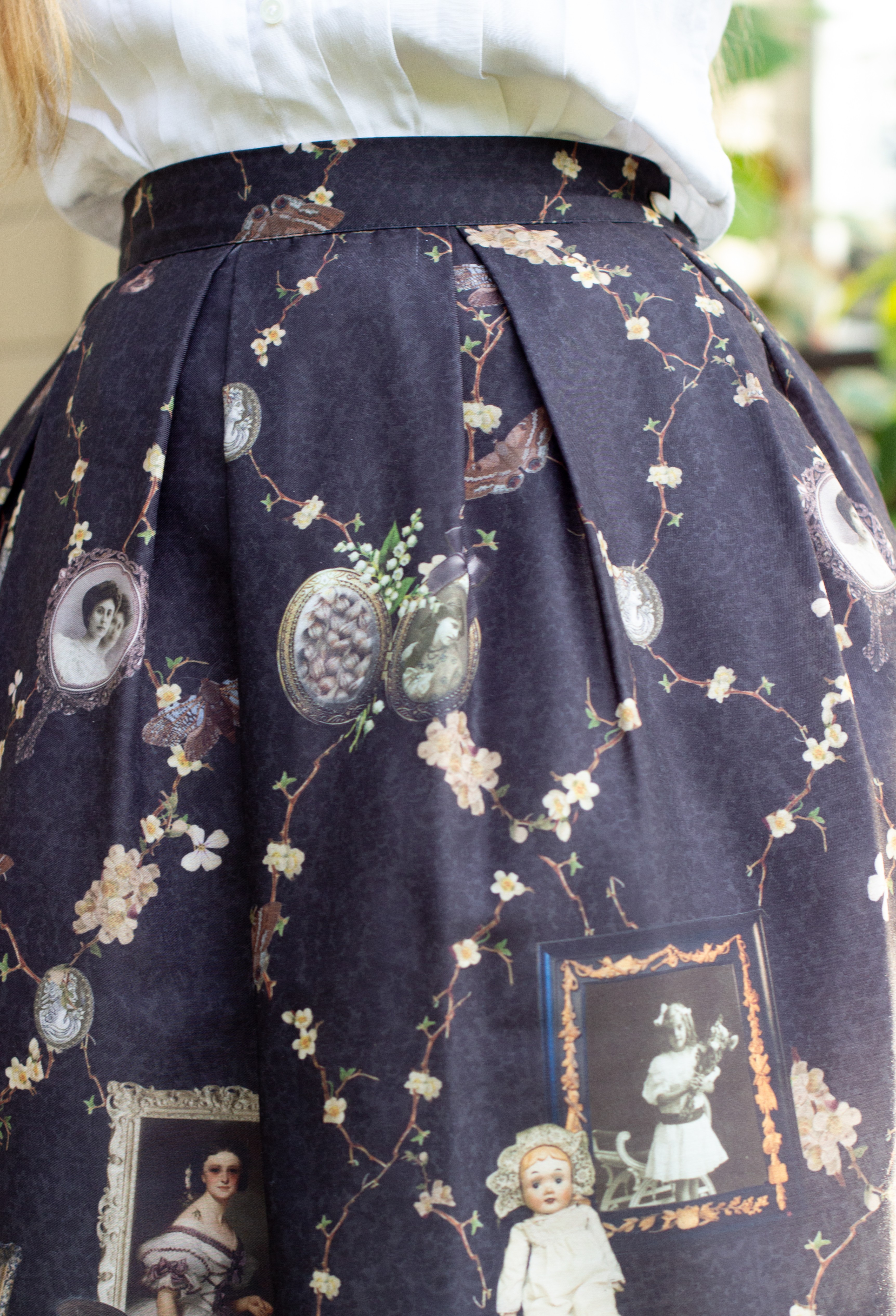 I mentioned in my last review that my order was delayed and I didn't find out until I emailed the brand directly. Obviously times have changed. Violet Fane was very clear that their manufacturing and shipping had been directly impacted by COVID-19 (this was on a large banner on their website). They also sent an email after I ordered (with some really adorable lineart pages for coloring to apologize). I did not have any idea when this dress would ship, but I knew it might be months. I settled in to wait. 
Wait time? What wait time?
Imagine my surprise when my package was dispatched on Friday May 8! The dress arrived to the United States on Tuesday May 12. I was floored by the quick turn around. The brand mentioned to me on social media that they had some units on hand from events that were canceled, so they made sure to prioritize preorders with those garments. Tremendous props to Violet Fane for shipping so quickly and efficiently in these weird times.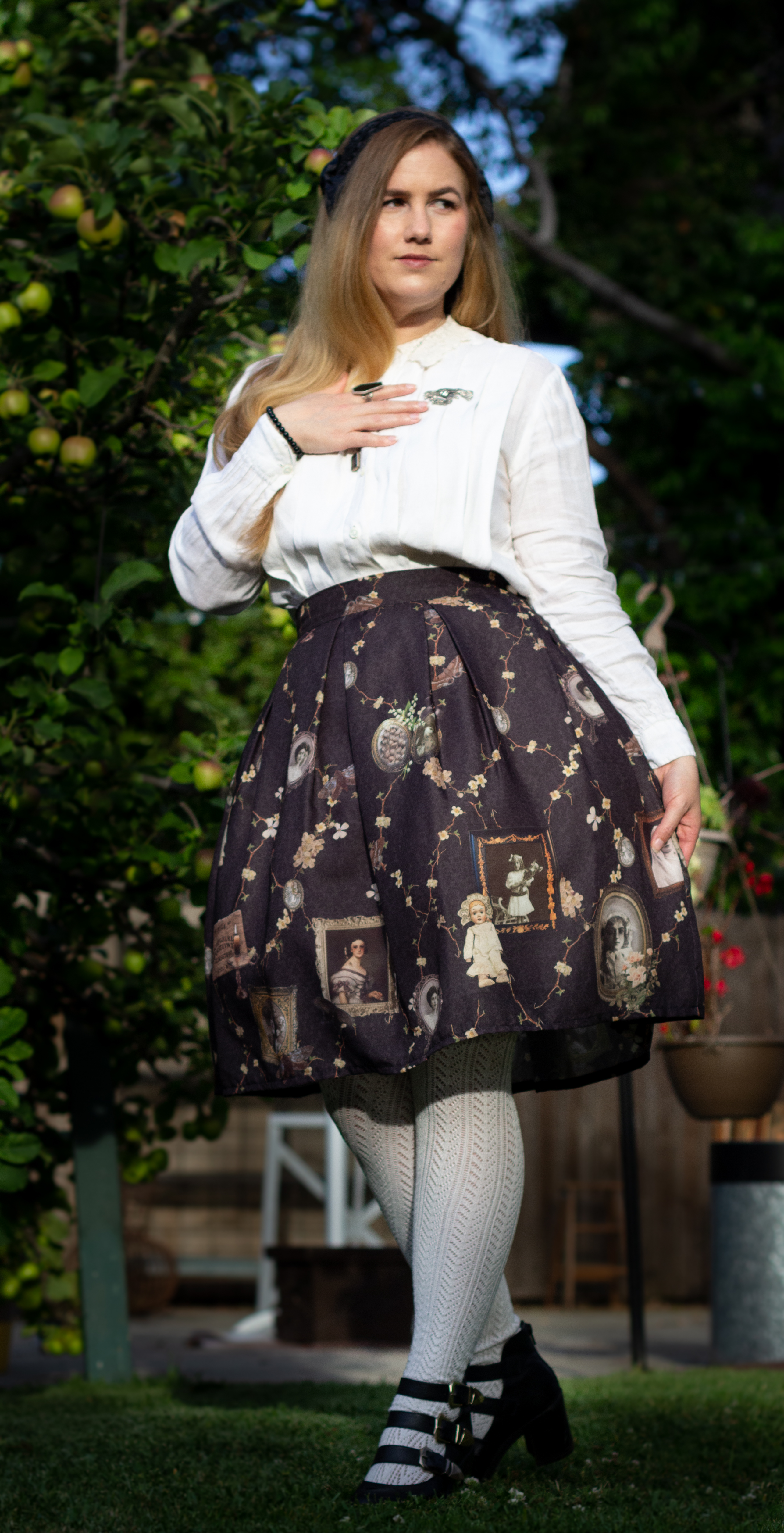 The Memento Mori skirt is printed on a high quality polyester with much more body than the previous release. This skirt is box pleated and has a zipper and button closure. There is also less shirring than the Cult from the Sea, although it still has plenty of stretch. It is lined with a polyester satin custom printed with a Violet Vane repeating pattern.  
The print is a repeating pattern featuring Victorian portraits, lockets, cameos, hair work jewelry, moths, and ouija boards. The background is slightly textured, so its not a solid color. The color is black, although it may look slightly washed out next to a true black fabric. The details work well for gothic, but the mourning aspects of the print are subtle enough to work well for classic looks too.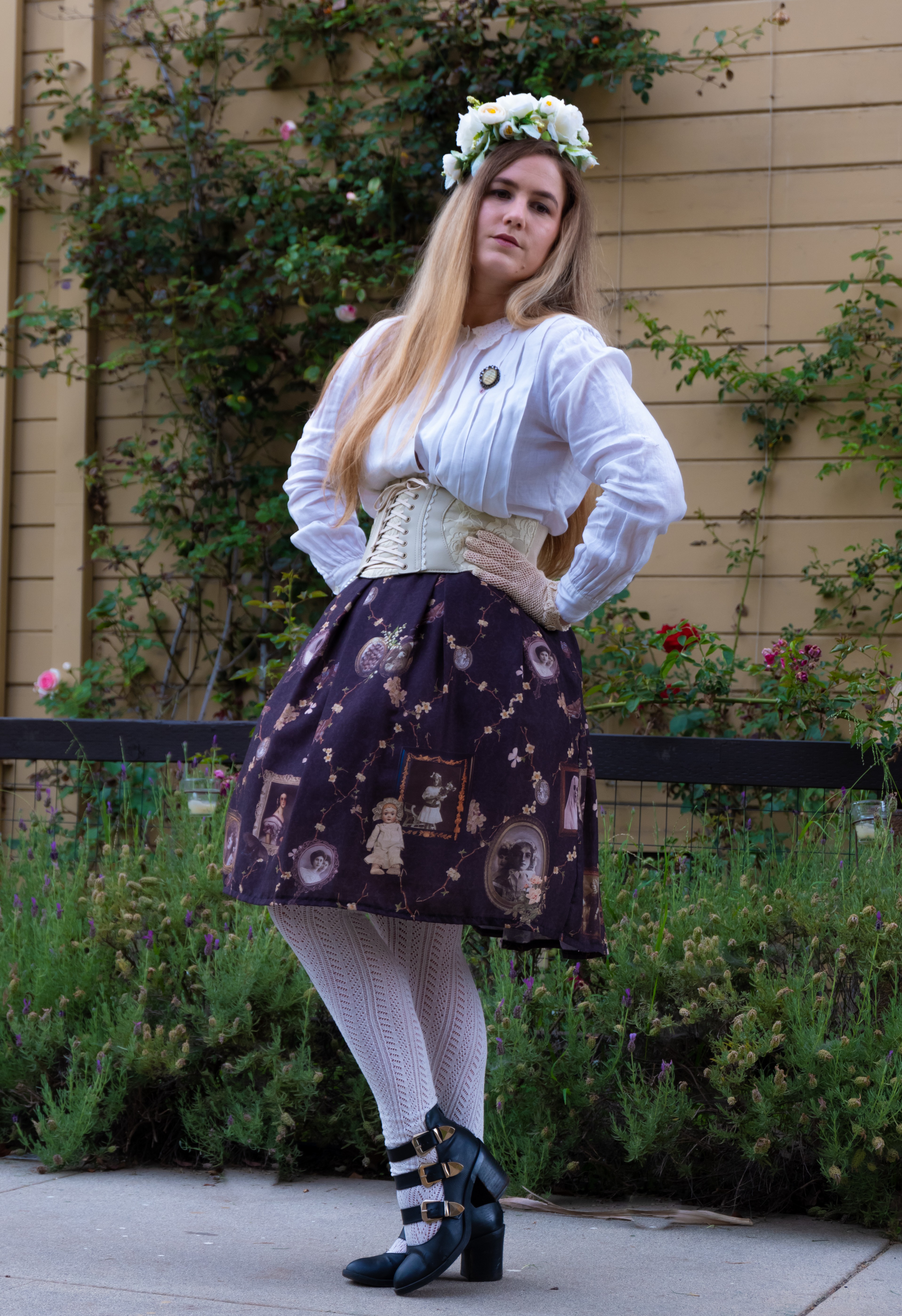 Devil in the details
The contrast between the two releases that I own makes me really appreciate how much attention Violet Fane pays to details. A Cult from the Sea had a fabric with fluid drape and random ruffles created by a gathered waist, reminiscent of a stormy sea. Memento Mori echoes the elaborate details of Victorian fashion with its crisp pleats and a decorative button. 
Closing thoughts
As usual, Violet Fane's print and garment quality is excellent. Despite the Trying Times We Live In ™, they also managed to ship my order from Spain to California in less than a week. Though Memento Mori isn't currently available, Violet Fane has several collections up for preorder right now, including rereleases of the Asylum and the Funeral. Follow them on social media for their latest news.   
By day, Jenna is a legal professional living in Los Angeles, California. By night (and weekends), she is a frill wearing monster who loves Innocent World and lolita indie brands. When she isn't taking mirror selfies of her coordinates, she enjoys reading comic books, playing board games, and snuggling with her pup, Lily. You can see her mirror selfies on her instagram @lovelylaceandlies and contact her at lovelylaceandlies@gmail.com.