Lets face it, getting clothes for other people is tough. Getting clothes for a lolita is even harder. Here are 5 gifts you can give the lolita in your life, if you aren't sure what their exact measurements. Some of these items do require to know whether your lolita wears a small, medium, or large, so hopefully you have enough time to slyly find out.
All shops featured on this list have a site in English with an easy to navigate cart system. There are plenty of other ways to shop for j-fashion, but I've tried to make it as easy possible for the uninitiated.
While the audience of this blog is mostly lolita fans, my hope that you can use these gift guides as a helpful hint for the well meaning friends and family who need ideas. Feel free to send this link to your parents, leave this tab open on your significant other's computer, or print out a copy for grandma. Maybe they'll get the idea.
Petticoats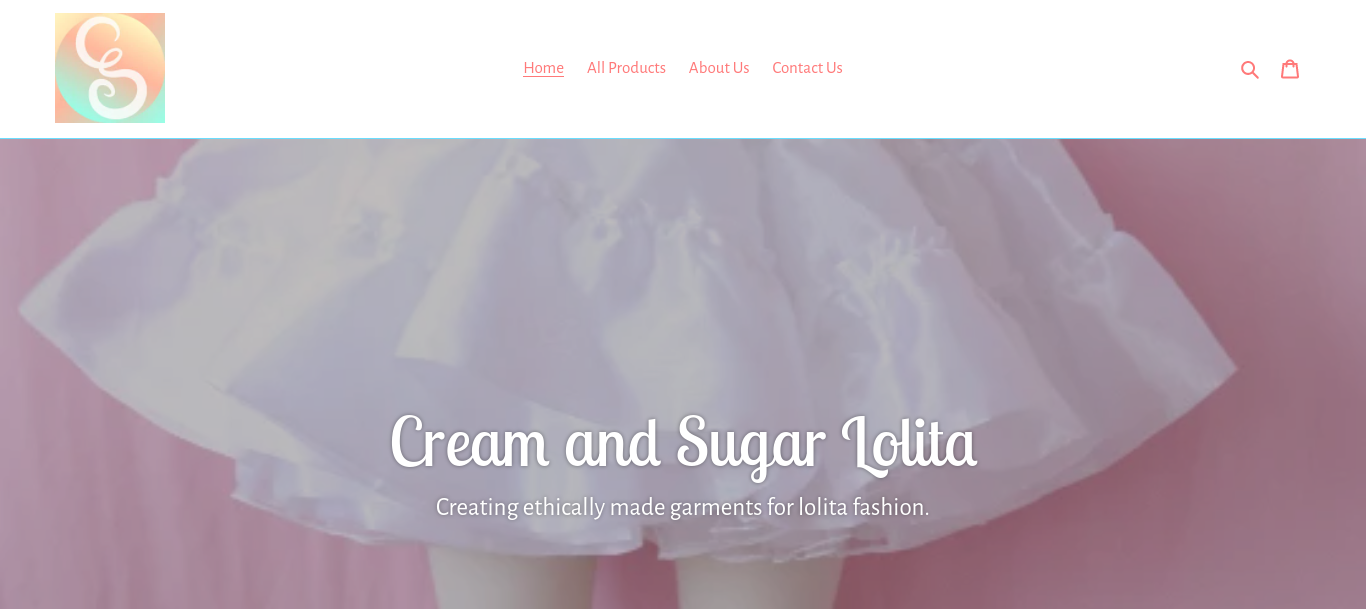 You'd be surprised how many lolitas have never purchased a decent petticoat for themselves.
The Black Ribbon ships from California and has several petticoat styles in stock at the time of writing. I'd recommend the "otome" or "fluffy" in white or black.
Cream and Sugar Lolita ships from Canada. Their petticoats are currently for preorder until November 30, so you may not have a physical object to put under the Christmas tree. *Cream and Sugar have closed their preorder early due to high demand. You can still preorder bloomers, but their petticoat preorder is closed*
Bloomers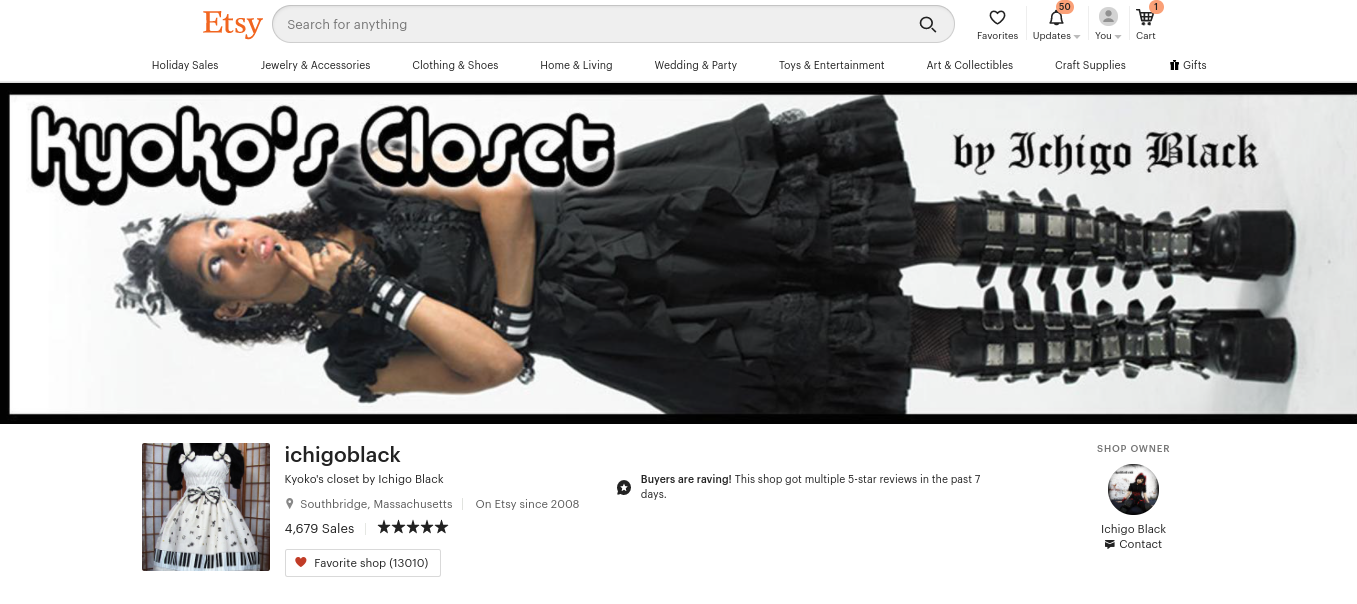 Like socks or tights, one can never have too many pairs of bloomers.
The Lolita Collective has some fun striped bloomers from Clock Monster on their site. Ships from Tennesse. These are perfect for the gothic lolita who can't get enough of Tim Burton movies.
Nemeth Wild makes bloomers and camisoles in black or white. Ships from Iowa. I have a pair and I love sleeping in them. They make cute pajamas.
Kyoko's Closet by Ichigo Black is a Black owned shop that makes cute bloomers. Ships from Massachusetts. They come in a variety of colors and lengths, perfect for the sweet, gothic, or classic lolita in your life. Their store front is on Etsy, so its super easy to shop from.
Bonus: If your lolita doesn't like bloomers, check out Fluffy Tori's collection of spandex shorts and sports bras. They're the kawaii equivalent of bike shorts! Find them at Kuro Shiro Kawaii, shipping from Texas.
Parasols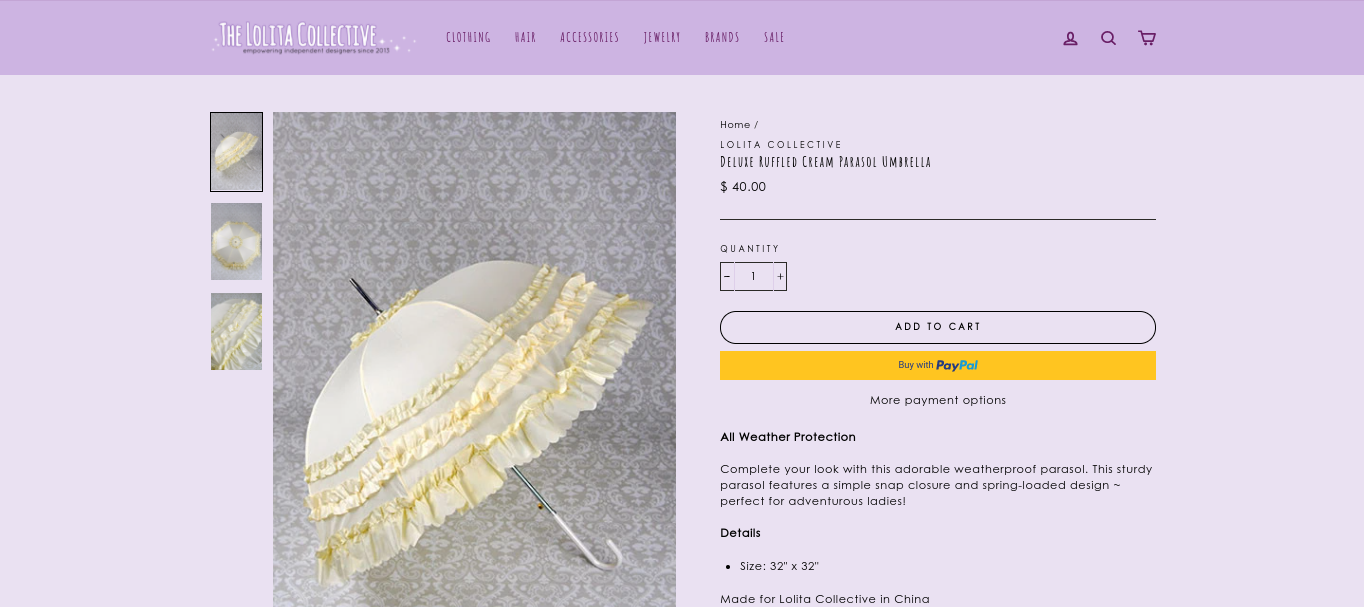 Great for keep the sun or rain off of your lolita's bonnet (or whacking someone who gets too close to their brand)
The Lolita Collective sells parasols that are springloaded and waterproof. They ship from China, so make sure you allow additional time for delivery.
Pins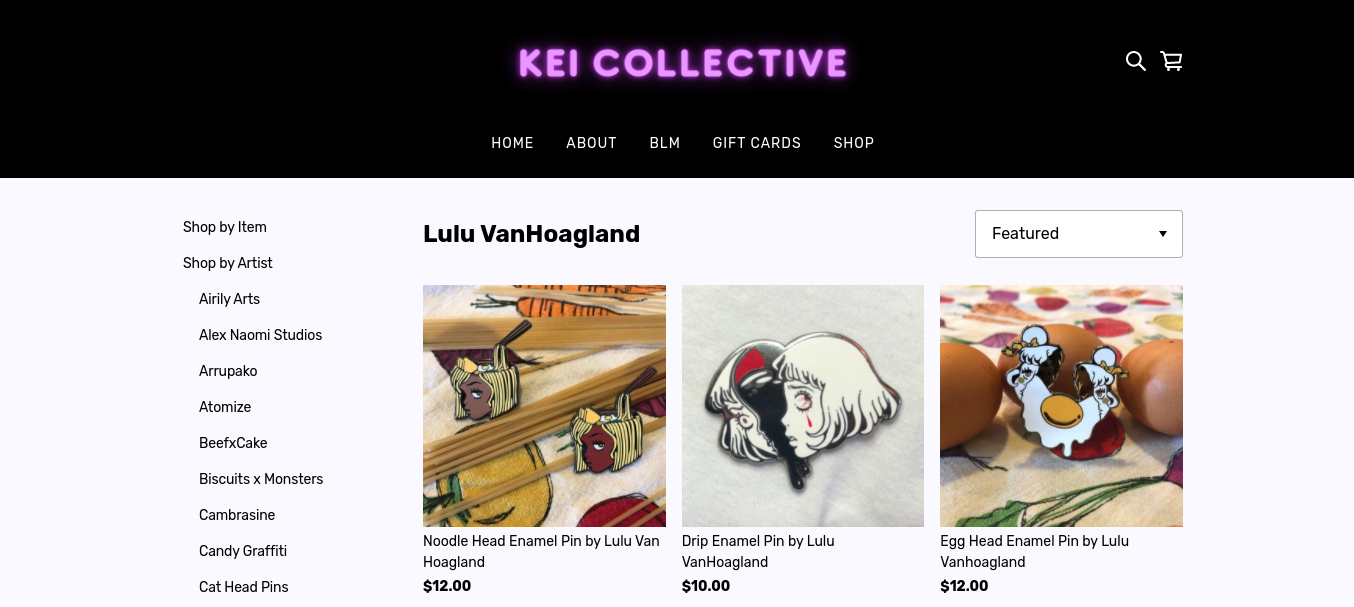 While not every lolita likes to accessorize in the same way, pins are an easy way to dress up a coordinate. I'm a huge fan of Lulu Van Hoagland's pins, which you can find at the Lolita Collective, the Kei Collective, and on her Etsy. The Kei Collective also has lolita pins from Coffee Cakey and you can find more of her work on her website. All these pins ship from the US. Fluffy Tori also has a collection of pins, including some kawaii as fluff pride pins and pronoun pins. These pins ship from Switzerland.
Bags
For the kawaii cat lady or gentleman in your life, the Lolita Collective has these floral cat bags from Japanese brand Across Seas to tote around while you run get more pet litter and tuna treats.
Enchantlic Enchantilly's clothes are gorgeous and their tote bag a great budget item if you can't spend big bucks on Japanese brand.
For the kawaii kid who loves Halloween but doesn't want to give up pink (or lavender), Midnight Springs's bat pouches and purses are the perfect gift.
Hope this list is inspiring and gives you some great ideas to gift to the lolita in your life!
By day, Jenna is a legal professional living in Los Angeles, California. By night (and weekends), she is a frill wearing monster who loves Innocent World and lolita indie brands. When she isn't taking mirror selfies of her coordinates, she enjoys reading comic books, playing board games, and snuggling with her pup, Lily. You can see her mirror selfies on her instagram @lovelylaceandlies and contact her at lovelylaceandlies@gmail.com.