Are you the only Lolita in your area or don't have any meetups or events near you? Don't be sad, you can still enjoy the fashion with or without Lolita friends!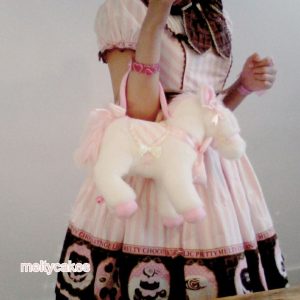 A Short Lone Lolita Guide
There are lots of ways that you can enjoy Lolita fashion, here are some examples below:
Redecorate your bedroom or any other room in a Lolita style. Just by adding pretty lacy or flowery bedding or black rococo style photo frames in your room will give you that Lolita vibe. One of the things I have in my room is pink flower fairy lights on my fireplace mantlepiece, I like to turn them on at night for a magical glow!
Learn how to sew! Creating your own Lolita pieces will not only give you a sense of accomplishment, but you get to wear your own unique designs.
Join an online community or social platform. You can share photos you have taken of yourself in your latest coord or outing and make online friends at the same time! Another idea is to write a blog about your experiences.
Buy Lolita magazines and DVDs. Even know some of our favourite, iconic Lolita publications have stopped publishing, there's isn't anything to stop you from buying an old Gothic & Lolita Bible magazine or reading KERA online. You can also buy iconic films such as Kamikaze Girls on sites such as Amazon.
Find Lolita-esque places to go. Try visiting a botanical garden nearby or a place that serves afternoon tea! You could visit with friends or family if you would like others to accompany you.
Pen pals/online pen pals are great! There are online groups that you can join to make Lolita friends. You can exchange cute letters or participate in Secret Santa's during the holidays!
Don't forget to love what you do, no matter how many Lolita friends or events are near you.
I also enjoy hearing from you, so don't be afraid to leave a comment on my social media!
Hello, I am a Sweet Lolita from the UK. I love to stalk the internet and find the best deal on one of my dream dresses! Aside from that my other hobbies are baking, sewing and figure skating (Go Yuzuru Hanyu!). I quite often participate in the Hyper Japan fashion shows in London, feel free to say hello if you recognise my name!
Thank you for reading my posts.