Business throughout the world have adopted a thoroughly American tradition: Black Friday. The fourth weekend of November is celebrated with sales. The lolita community is no exception. We've rounded up some deals and created 4 coordinates that include a mainpiece, legwear, and accessories, all for under $200. If you're considering dipping your toe into the j-fashion waters, or you're just looking to expand your wardrobe, consider this a sign that you should really buy that blouse and jumperskirt.
These deals were calculated without shipping and each coordinate doesn't include things like shoes, a petticoat, or a purse. Prices were accurate and pieces were in stock as of November 30, 2019 3:00 PM PDT.
Mastering the art of dress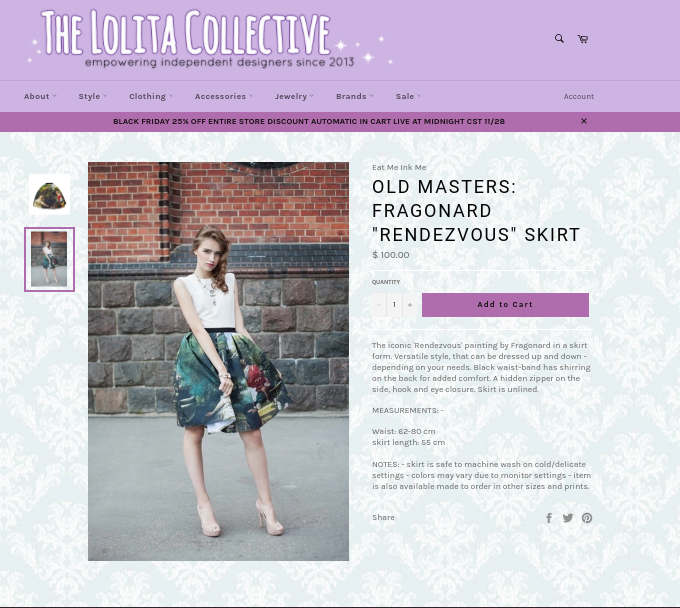 The Lolita Collective has 25% off everything in their store, which makes their collection of skirts, dresses, blouses, and more a bargain right now.
This skirt from Eat Me Ink Me features a print of the painting "Rendez-vous" by Jean-Honore Fragnord and just begs to be dressed up with lovely details and accessories.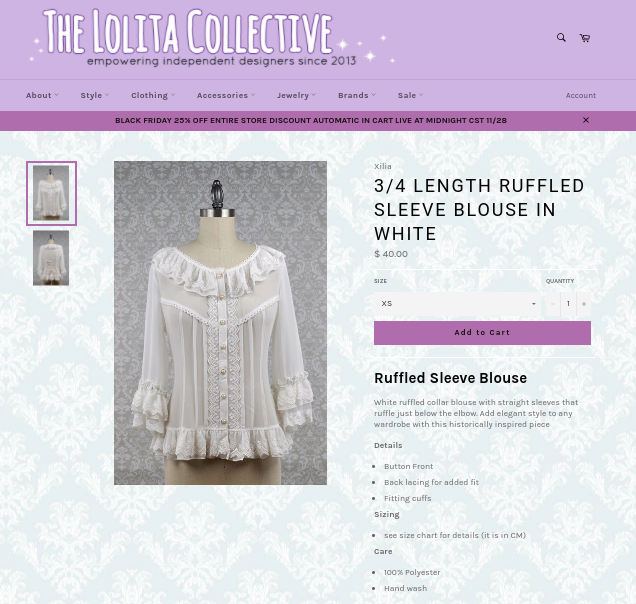 This blouse from Xilia (also available from the Lolita Collective) has classic pintuck and button details down the front to dress up the simple skirt.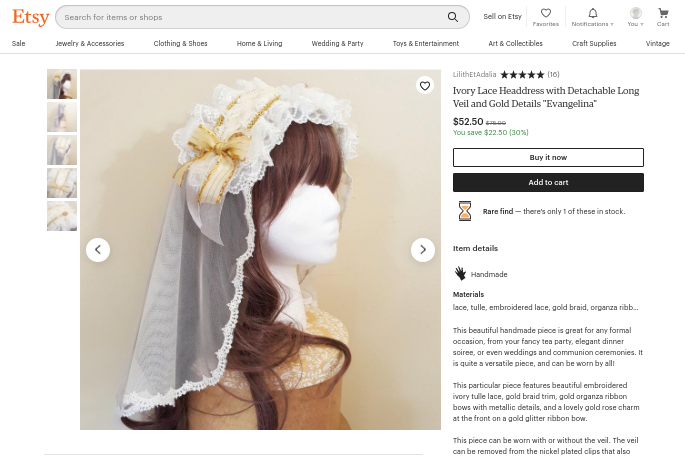 The gold details on this headdress from Lilith et Adalia go well with the gold buttons on the blouse. If you like this piece, act quickly: its one of a kind.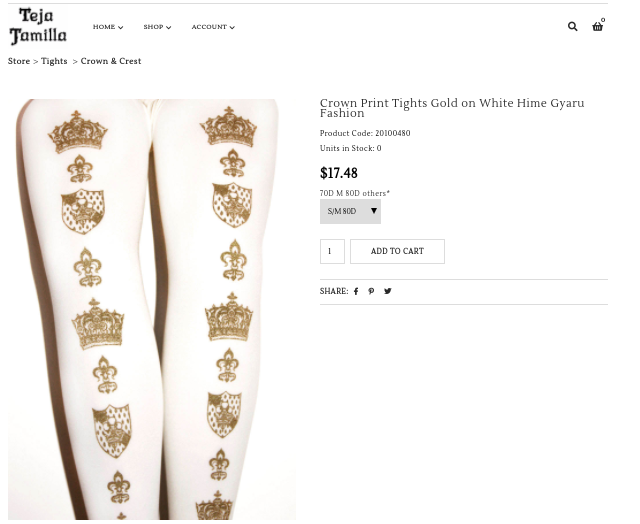 Screen printer Teja Jamilla's crown and crest tights add a regal element to the coordinate, and all items in the store are 20% off right now.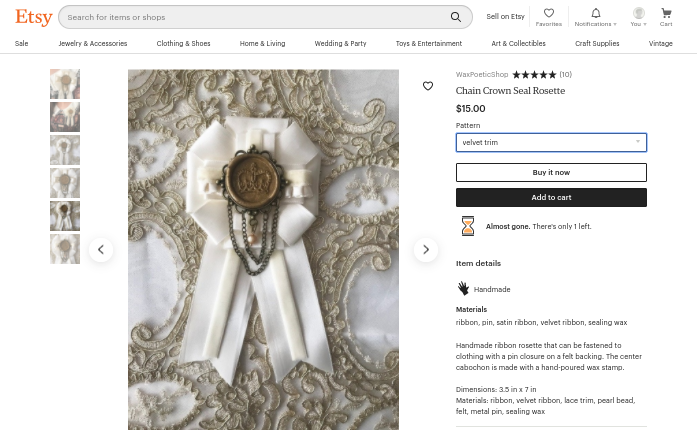 To finish off the look, this crown rosette from Wax Poetic will add another gold detail to the blouse, setting off the gold of the tights and the headdress.
Total cost: $189.98
Sugar and Spice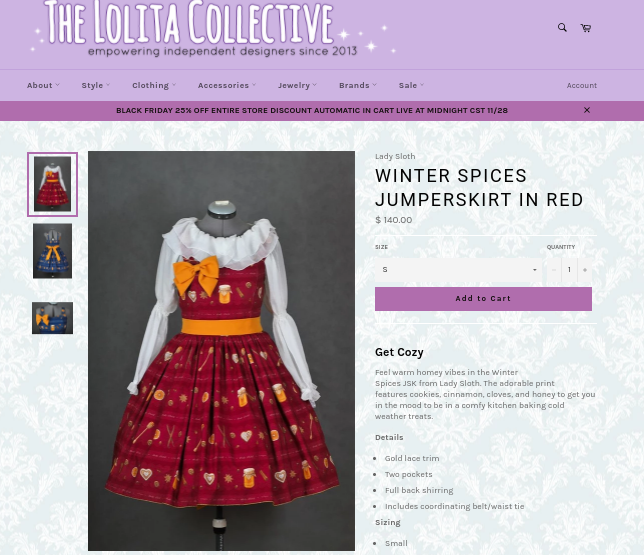 Lady's Sloth recently restocked on the Lolita Collective, including several versions of their Winter Spices print. This warm print is available in green and blue as well, but the red looks wonderful for Christmas.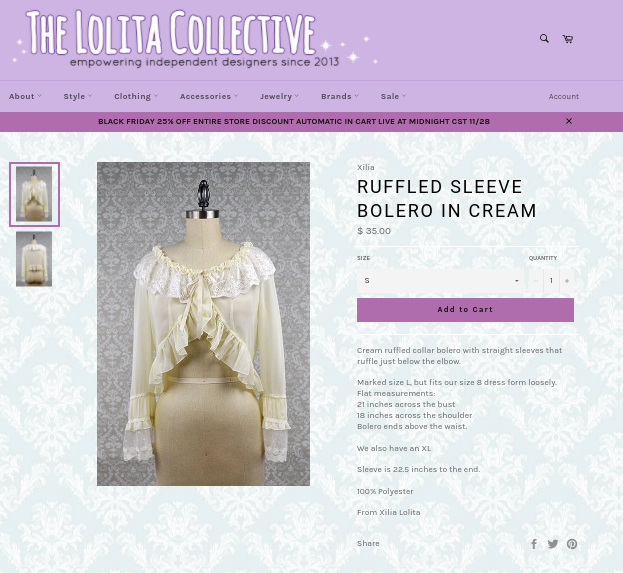 This bolero from Xilia really dresses up the print and adds interesting texture to the upper half of the coordinate.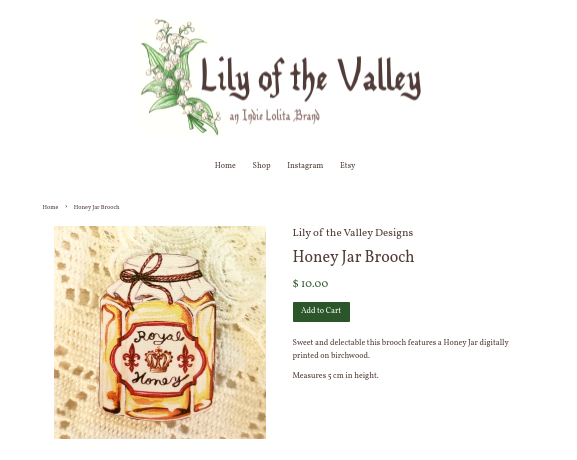 Honey is featured prominently on the print, so this wooden pin from Lily of the Valley Designs keeps well with the theme (plus, the pin is $4 off its regular price!)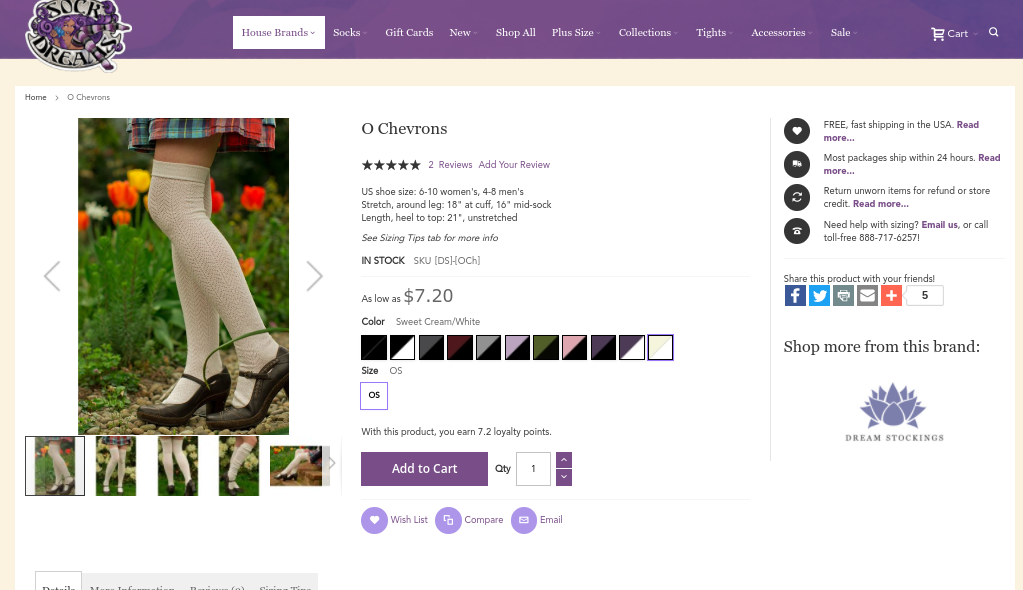 These over the knee socks from Sock Dreams are 20% off and have a wonderful thick texture that goes perfectly with the "winter" in Winter Spices.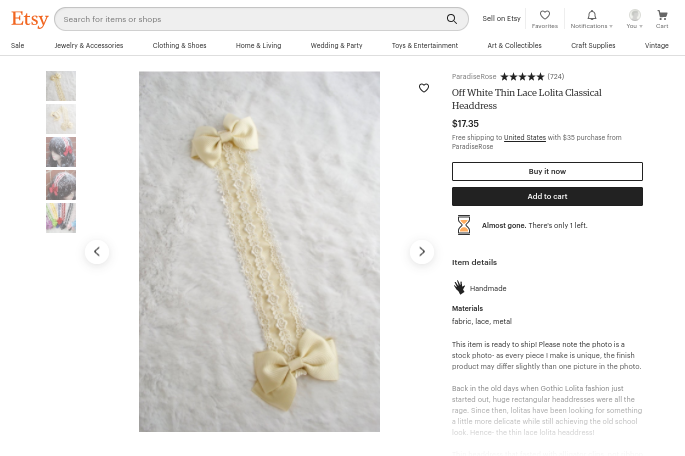 To finish off this coordinate, add an elegant lace headdress from Paradise Rose, whose store is currently 20% off.
Total Price: $166.20
Catty but cute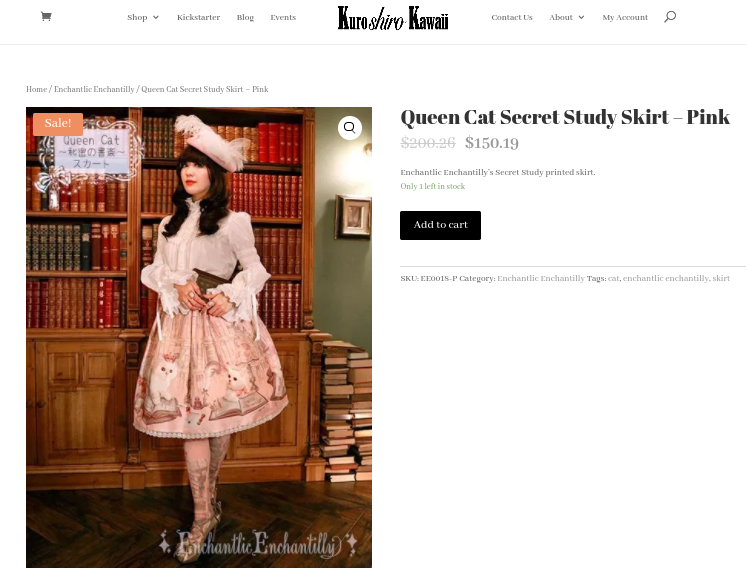 If you'd prefer Japanese brands instead, Kuro Shiro Kawaii has you covered. Their store is currently 25%, including this skirt from Enchantlic Enchantilly.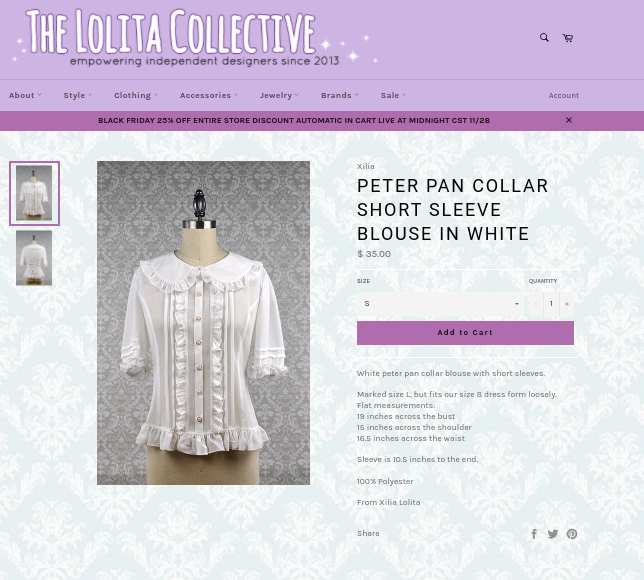 This Xilia blouse has a peter pan collar which goes well with the sweet pink print of the skirt.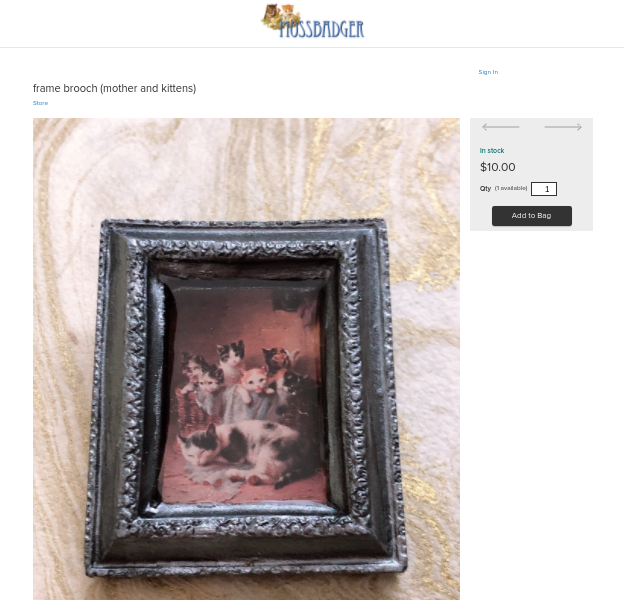 Mossbadger's store isn't on sale but they did have a massive restock for this weekend. When accessories are this cheap and go so well with the print, its okay to splurge a little. This brooch is one of kind, so buy it while its available.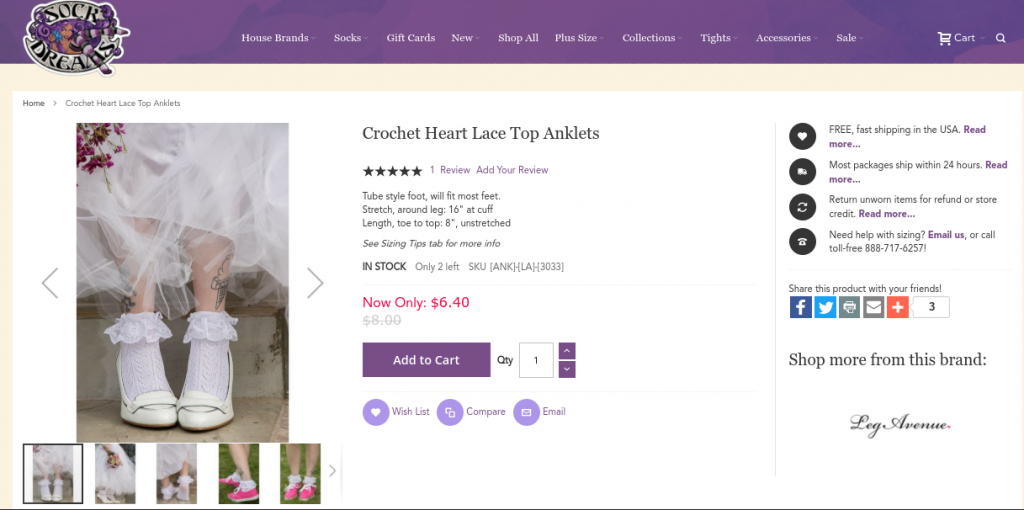 These crocheted ankle socks from Sock Dreams are a great cheap way to round out the bottom of your coordinate.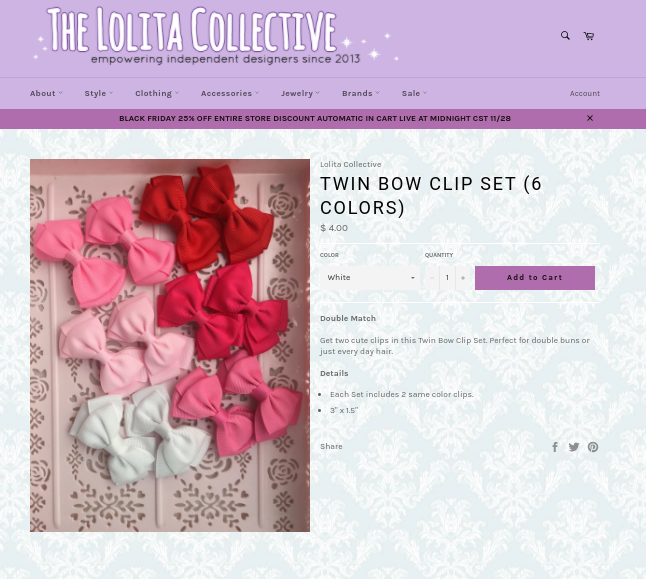 The Lolita Collective is also great for simple pieces that you can use again and again, like these simple hair clips. This dress would look great with an elegant hat or headdress, but it will also look adorable with pink or white bows.
Total cost: $196.84
Wonderful Wunderwelt
This coordinate is made entirely from items on sale on Wunderwelt right now. They're having a massive sale on certain items, with prices for skirts as low as 3,000 yen.
Romantic Alphabet is a busy print from Metamorphose, so I'll let the print do a lot of the work for this coordinate. It comes with a brooch on one side, which adds interest to the top of the coordinate.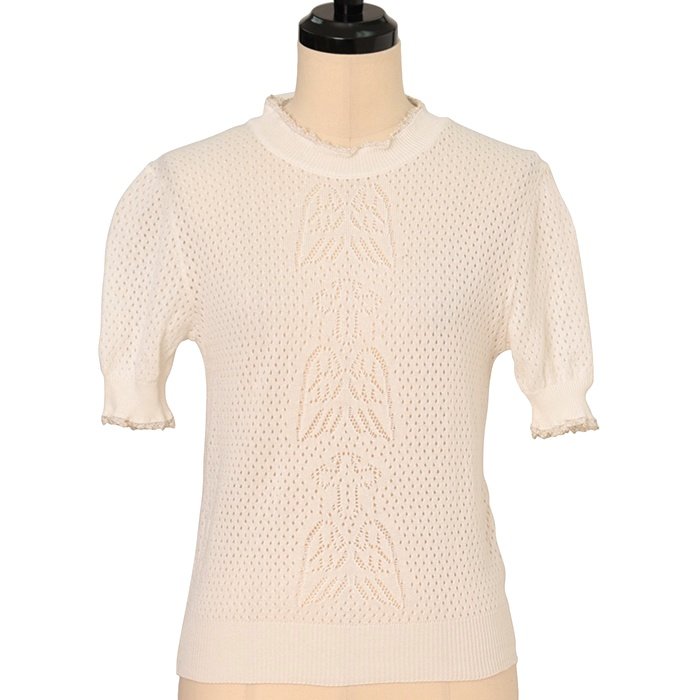 This cutsew from Jane Marple has a fabulous texture, which adds detail without overwhelming the print. The puff sleeves will also compliment the main piece nicely. The angel wings and crosses don't really go with the print, but they'll be covered by the bodice of the dress anyway.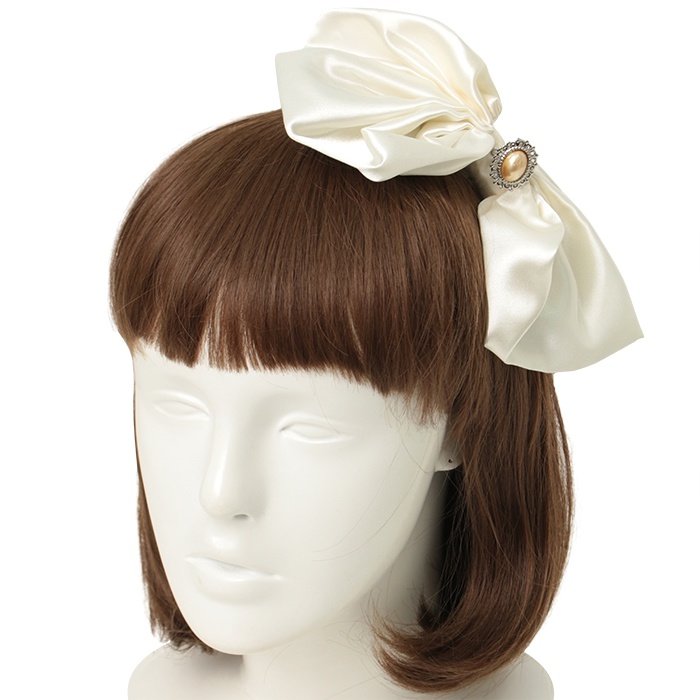 This headbow from Marble is simple, but the pearl accent in the middle is an elegant touch that looks lovely with the satin ribbon.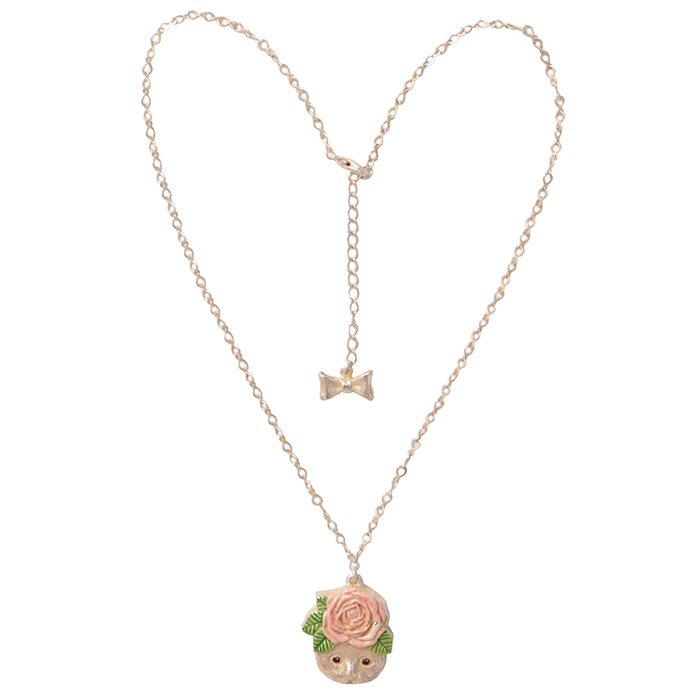 Because this print doesn't really have any sort of theme, I've decided to accessorize with pink roses. This necklace also has a cat, so you could also go in a total different direction if you wanted.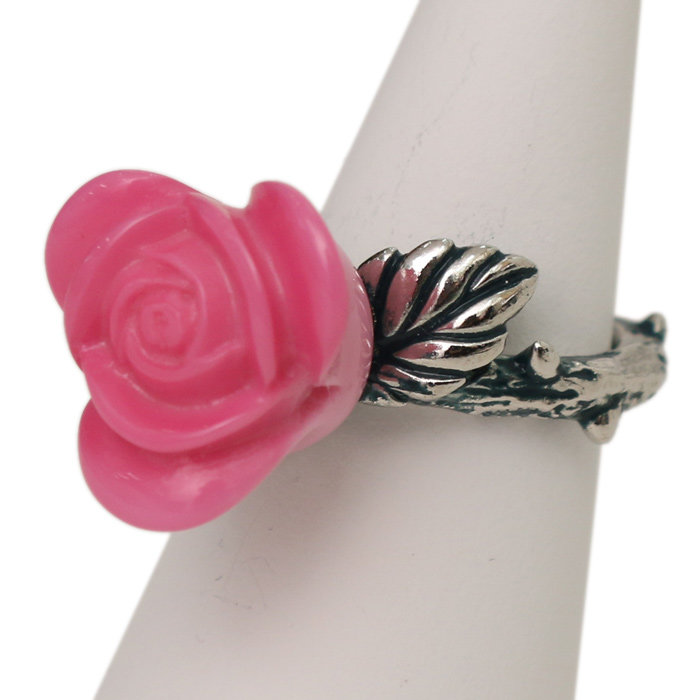 This pink ring is a pretty different color than our other accessories, but since its so small I think its fine.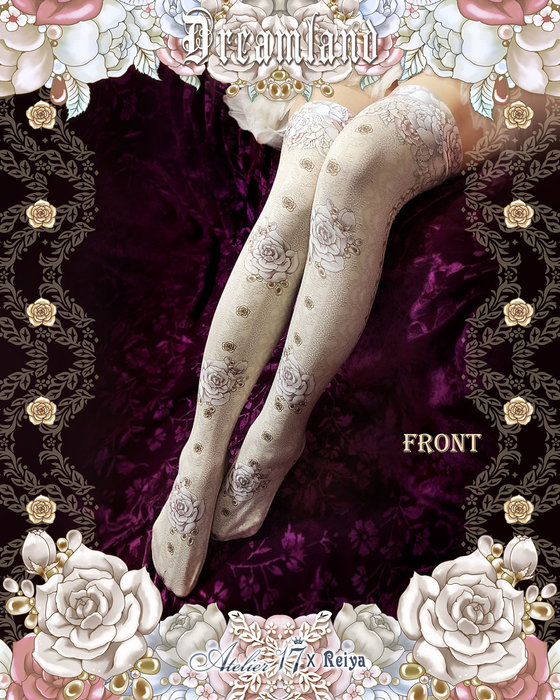 These socks from Atelier 17 are the only items that is "for sale" rather than one sale, but its hard to pass up the perfect over the knee socks to finish up this coordinate.
Total price: $188.98
These are only some of the dozens of sales I've seen this weekend, so check and see if your favorite brand has something going on this weekend. Whether you're shopping for yourself or for a friend, I hope that your item is in stock and in your size, and that customs doesn't charge you too much when your items ship to your country. Happy shopping!
By day, Jenna is a legal professional living in Los Angeles, California. By night (and weekends), she is a frill wearing monster who loves Innocent World and lolita indie brands. When she isn't taking mirror selfies of her coordinates, she enjoys reading comic books, playing board games, and snuggling with her pup, Lily. You can see her mirror selfies on her instagram @lovelylaceandlies and contact her at lovelylaceandlies@gmail.com.