Gothic and Lolita Bible (RIP) was quite famous for the random patterns it often offered in its issues. In GLB38, for example, one could find a set of Christmas themed models and patterns made by brands.
Today I'm going to show you one of Angelic Pretty's patterns for this issue, which was a quite cute Christmas Stocking to place near your fireplace.
Check out the model and don't forget to do it yourself!
Instructions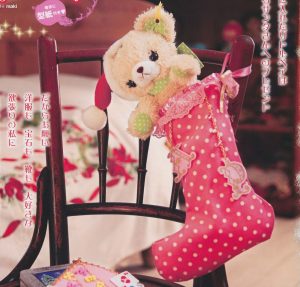 And a pattern you could use to make this stocking (don't forget to print the AP logo if you want to embelish this stocking with it).
Ok, now that you have the pattern, it's time to gather the materials (if you can't trace using the image above as a reference, just type "Christmas Stocking printable" on Google images an you'll find a bunch of printable sheets with this same pattern).
For this stocking you'll need:
50x50cm piece of pink fabric (outer fabric);
50x50cm piece of solid fabric (lining fabric);
Lace;
Ribbon;
Gold Chain;
AP letters printed or drawn.
Instructions:
First, draw the stocking pattern over the outer fabric. Cut it twice, leaving an one centimeter margin.
Align both parts and sew them together, leaving the top part opened.
Now, do the same with the lining.
Fill the outer part with the lining and hand-sew the top part.
Now, use the lace to make a nice finishing at the top, folding it in order to hide the sewing lines.
Decorate it with the ribbon, chains and AP letters, following the main picture as a reference.
That's it! Your custom AP Christmas Stocking is ready!
27-years-old Brazilian, trying to survive with a black and navy wardrobe during the summer. I work as a freelancer writer in fashion, games and education. During my free time I enjoy sewing, writing fiction, drawing and, of course, playing lots of video game.