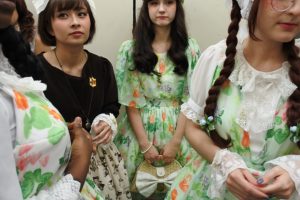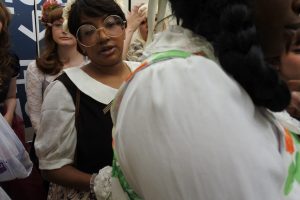 Models heading down to the fashion show in the backstage elevator. -all photography & artwork by Lucy Kagan – cottonbookclothing.com – @cottonbook on instagram
In Spring, when I signed up to present my first two collections at the Rufflecon 2017 fashion show that was still far away in November, I was nervous. Would it go well, would people like it? Would all that sewing and preparation be done in time?!
My first year at Rufflecon, I had modeled for a Chinese indie brand called Long Ears and Sharp Ears. The next year, I was on staff for managing the changing room, and then the backstage directions. While being a model is work, and staffing a show involves a whole lot of planning and coordination, being an indie brand is a whole world in and of itself, and there's a lot that goes into a fashion show from start to finish. Since this was my first year running my indie brand Cottonbook in addition to my first year doing a fashion show, I can look at the very beginning up until the show itself to see a snapshot of the process.
Back in December of 2016, I decided to do what I had put on the back burner since high school – start a brand with my own prints and my own designs. More than anything, I love drawing, so this brand would revolve around illustrations I wanted to see on dresses. On top of that, I had really been longing for a comfy way to wear lolita on weekends when I didn't want to go out and do a lot, just shopping or meeting up with friends. After some drawing, some fabric sampling, and some prototyping, the fall collection, named Forager, for Cottonbook was born. I envisioned a comfy life in a cabin in the woods near a meadow, living there and wearing something like this, so when the first samples by my seamstress friend Michelle were done, my friends Bonnie and Mariah and I walked out into a local state park to take photos in the forest.
However, now that it was summer, I needed to get to work in order to show a second collection at the fashion show. If Forager was the AW17 look, this would be the SS18 dress. Thinking we needed a showstopper for Rufflecon, I created fancier versions of an earlier cotton sateen prototype I had been planning, now made more flowy and light in chiffon fabric. My seamstress was backed up with work, so I knew I would need to make these ones myself, and let me tell you, chiffon is a nightmare to sew with! On top of that, I still needed to secure all my models so I would know exactly how to fit everyone properly and be prepared. Some weren't sure if they would be able to make it, so I was a little anxious up until the month before.
To take off some of the heat, I assigned Bonnie, who had done the official Forager photography, to be my stylist, and I created an inspiration board and sketch of what I was imagining. By the time of the dress fitting in October, Bonnie had a detailed document for each look including hair, makeup, and accessories. We made notes of what needed to change to make each look perfect, and I got to work sewing again. My seamstress even made a custom blouse to go with the Forager JSK, and pulled through for me just in time!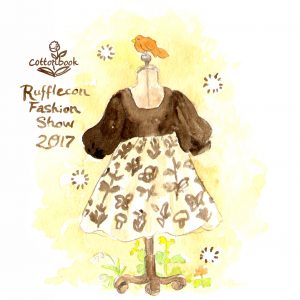 Finally, the weekend arrived, and things were different this year. The show was broken up into several time slots in order to accommodate the long list of designers showing, and our time slot was at prime lunch-eating-time, 1pm on Saturday. Who was going to rush back from lunch to see a little no-name indie brand they had never heard of? I was a bit nervous, and telling all my friends, hoping it would stick in their minds. At 8AM, we had a 15-minute rehearsal slot, so I hounded my models to be there on time. When we arrived, there was some confusion on our part – we thought we'd be the first show of the day, and though our time slot was for 8AM, another indie brand was rehearsing seemingly at the same time! The fashion show staff cleared it up – our rehearsal time was first, but their showtime at 1pm was first. We made it through one or two quick walkthroughs before time was up, which certainly seemed short, but there were many others needing to rehearse after us.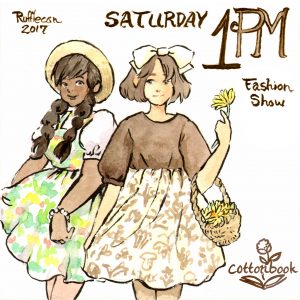 At 11:30AM, the changing room was open to us, and I rushed to the room."Are any of my models here?" I asked before I could focus my eyes, expecting one of my crew would respond. "We don't know who you are!" someone called back. Clearly, none of my group had arrived yet. The makeup artists, a staff member, and some of our other 1pm indie brand's models were preparing for the busy day ahead. I set about hanging up dresses, getting out makeup, and procuring a steamer for the wrinkled garments. My models began to arrive and knew what to do thanks to our planning during the fitting session. Still, we needed a steamer, but there wasn't one available to us in the room, and I still wanted to get a little makeup done. Things became a frenzied blur – I ran to get things, I answered questions left and right, models with free hands helped me steam dresses, and Bonnie level-headedly applied everyone's makeup and accessories as planned. Finally, it was time!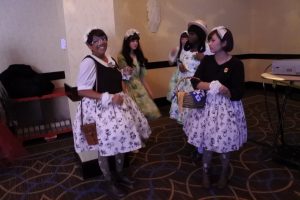 We waited quietly backstage as the guests found their seats, the show started, and the first designer went on. We checked our accessories, reviewed the plan, and joked about how cold it was. At last, we were on. The master of ceremonies welcomed us on and the music I selected, Picnic by Gutevolk began. And that was it! Each of my models, Sophronia, Bonnie, Mariah, Stephanie, and Abigail took to the runway and made my dreams come true. Nothing felt better than seeing everything I loved come together just the way I wanted it to. When we all walked out together to take a bow, I couldn't see how many or how few people came out at 1pm to see my little tiny brand debut, and it didn't seem to matter. Through the support of my friends, something of my own creation, my own dream world, came to life for a moment, and as we walked away from taking group photos at the official Rufflecon photo station, I was so happy that I didn't remember to get individual photos. Oh, well. I won't forget the show.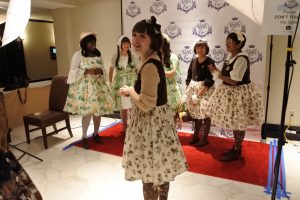 Lucy is a full-time textile designer & illustrator, and the creator of fledgeling indie brand Cottonbook. She loves lolita, otome, and mori girl, and is obsessed with clouds.